The tragedy of Funnyman: How the the creators of Superman tried to make lightning strike twice
The 75th anniversary of the Siegel and Shuster comeback that never came.
For Popverse's first birthday, we are making several of our most popular members-only pieces available to the general public at large for a limited time. These pieces represent some of the best writing here at Popverse by our team, and are just sample of what you can enjoy on a weekly basis by coming a paid Popverse member.
In 1938, the Cleveland, Ohio based writer/artist team of Jerome Siegel and Joseph Shuster debuted their greatest creation to the world: an all-powerful champion of the oppressed with an 'S' emblazoned in a triangle on his chest, identifying him as the one and only Superman. But before that original strip would even run in Action Comics #1, they would lose control of their greatest creation which would change the cultural landscape forever – signing over the rights to National Comics publishers Jack Liebowitz and Harry Donenfeld for $130.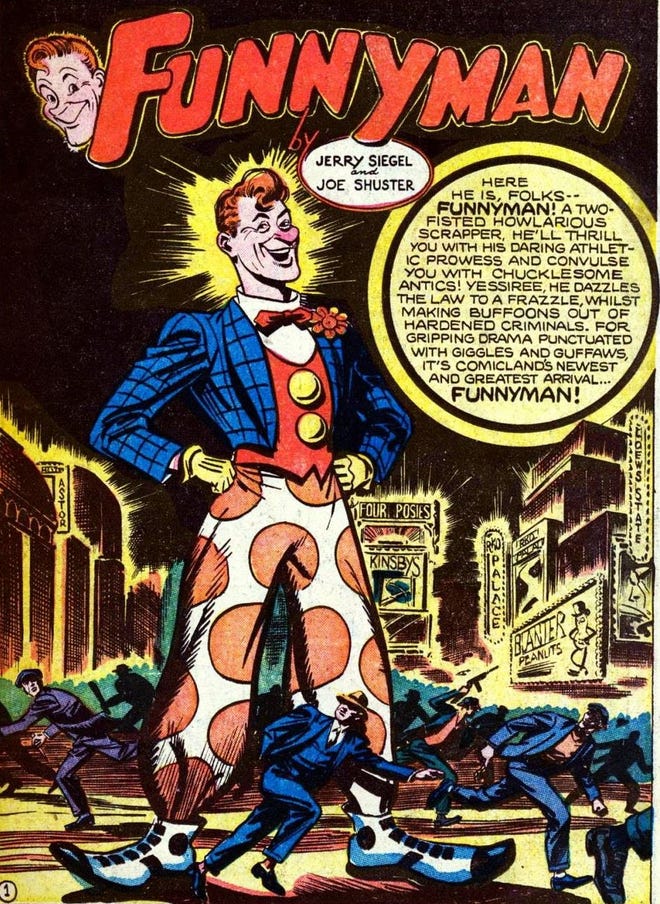 Mind, that's about $2,750 counting for inflation by today's standards, but still just pennies compared to the billions of dollars in licensing and merchandising that the Superman brand has made the modern day DC Comics and its parent companies today. Siegel and Shuster attempted to sue for their rightful piece of the greatest icon of the 20th century, but court after court found the contracts they signed were ironclad. So, here's the question. As a creator, what do you do when you find that you've irrevocably signed away your greatest, once in a lifetime idea?
Answer: get right back to work, and pray that 'once in a lifetime' happens twice.
Dying is Easy, Comedy is Hard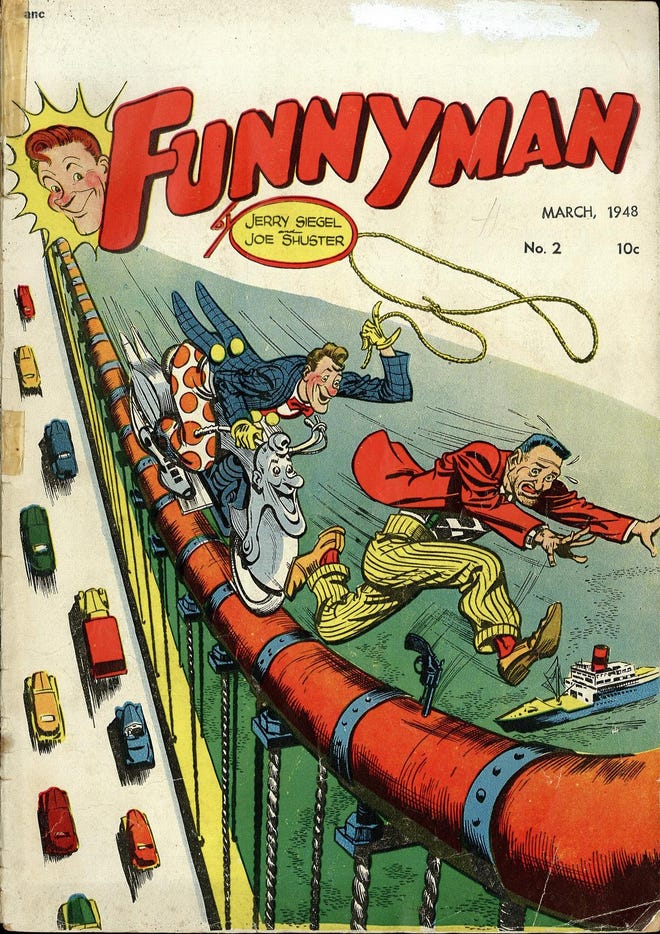 Before making his name (if not his fortune) in the nascent comic book market, Jerry Siegel thought of himself primarily as a comedy writer. Before 1938, Siegel worked on a number of humor books, and even developed a mail-in ten-week correspondence course on how to understand the basic elements of comedy. Siegel's love of comedy is apparent in the first year of Superman stories in Action Comics, with his Man of Steel's impish delight at the peril in which he places his enemies, and his gleeful duplicity of Lois Lane in juggling his identities before her eyes. But with his work-for-hire Superman title increasingly focused by editorial fiat on more serious-faced, nationalist messaging as America entered World War II, Siegel began developing a new outlet for his comic predilections – one which he and collaborator Joe Shuster were determined to hold on the rights to this time, no matter the offer.
In developing his new series, Siegel took his comic cues from the greatest comedians of his day, but none impressed him so much as Danny Kaye, star of timeless comedy classics like The Inspector General and The Court Jester. Siegel had first seen Kaye live before his star rose to the cinematic heavens live, in performance at Radio City Music Hall, and had been entranced by his easy comic style ever since. If they were to capitalize on the superhero trend, then Siegel and Shuster's new hero would have to be anchored to their comedic voice in his very bones. The 1947 film The Secret Life of Walter Mitty, in which Danny Kaye plays the title character who dreams of a life of adventure, was the key to their final pitch. Siegel and Shuster's adventure-seeking hero would be as similar as possible to Kaye in all but name, his signature charm and comic timing captured on the page in the guise of an inverse Superman – suave in his daily life, clownish in his superhero persona. Just as Superman was everything a man could be, made super, their new hero would be named for his own raison d'être: Siegel and Shuster would bet it all on Funnyman.
Siegel and Shuster published the first issue of Funnyman with Magazine Enterprises, a publisher founded by their Superman editor Vin Sullivan. Sullivan founded Magazine Enterprises precisely for ideas like Funnyman, encouraging comic creators to build new intellectual properties rather than resting on the laurels of established icons. With assurances that creative rights to Funnyman would remain with Siegel and Shuster, the Superman team introduced their hero to the world in Funnyman #1.
The Funnyman Routine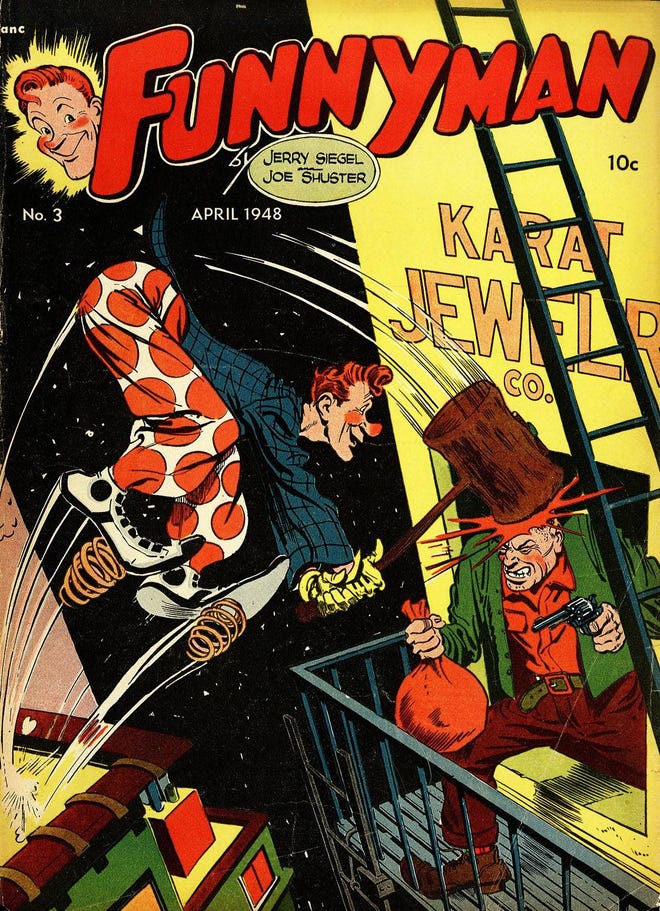 Red-headed, debonair comedy club owner Larry Davis is more Bruce Wayne than Clark Kent in execution, smoothly handling talent, customers, and the ladies before slipping away into his double life. After accidentally foiling a crime in his own club, Davis gets the taste for fighting evil, and in the superhero tradition develops his own alternate identity for fighting crime, with joke shop gimmicks and pun-laden quips and disguised by a long, Cyrano de Bergerac style prosthetic nose. Chief among Funnyman's supporting cast is his smitten talent manager June Farrell. As drawn by Shuster, June's visual similarities to Lois Lane are no coincidence: the character is named after actress Glenda Farrell, who originated the popular early film character Torchy Blaine – herself one of the key inspirations for Lois. Funnyman's chief nemesis, 'Doc Gimmick,' is armed with as many gags as his heroic counterparts, but with none of his signature humor.
The comic book conventions continue to pile up with the momentary inclusion of such concepts as a 'Funnyboy' sidekick and a home base of 'Funnymanor,' doubling down in each issue on its gentle satirization of National Publications staples. In the very first issue, Funnyman contends with knockoffs of his own valuable intellectual property in Funman, Comicman, and Laffman, a thinly veiled critique of the many creators and publishers attempting to cash in on Superman's popularity over the past decade. Even the growing trend in 'true crime' comics is lampooned by the Yiddish phrase-spouting Funnyman, often more an editorial mouthpiece for the jilted Siegel and Shuster's feelings about the industry than a plain effort to entertain. They do say to write what you know.
Although perhaps an even more personal creation than Superman in his reflection of a decade in the comic book industry, Siegel and Shuster's Funnyman would only run with Magazine Enterprises for 6 issues. Perhaps an unfair runway for launching a new character by today's standards, but by issue six Superman had already become an unstoppable phenomenon as a driver for sales of Action Comics. Audiences were failing to respond to Siegel and Shuster's visibly Jewish-coded superhero the same way, and publication stopped. Funnyman would continue for a brief time as a syndicated newspaper strip, but would soon be supplanted by another creation of theirs – the feckless Reggie Van Twerp, a miserable lout whose get-rich-quick schemes often entailed failed attempts to marry into money. Don't look him up, absolutely nothing about Reggie Van Twerp is entertaining or interesting.
"Comics will break your heart."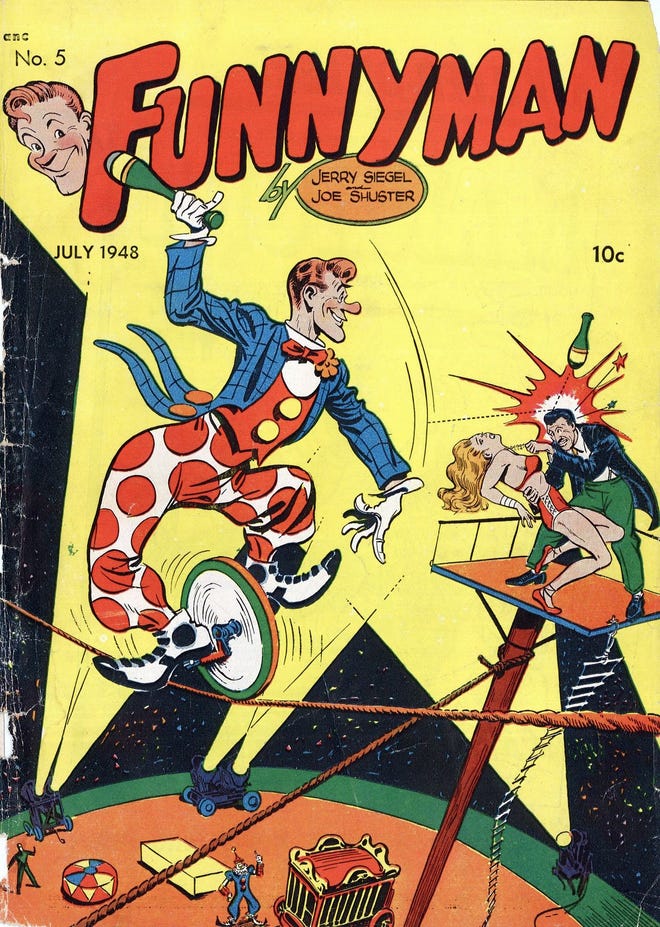 After the failure of Funnyman, Jerry Siegel would eventually return to DC for a second stint as a work-for-hire writer, filling in much of the world of the Silver Age Legion of Super-Heroes. By 1966, Siegel would leave comics behind entirely, working until the end of his life as a file clerk in Los Angeles for no more than $7,000 a year. Joe Shuster's fate was even less fortunate: a severe condition of macular degeneration had impaired him even from the early days of his career on Superman, and he found himself unable to find regular work after Funnyman. Siegel and Shuster sued National Publications, later known as DC Comics, for financial compensation throughout their lives. With the help of Batman artist Neal Adams, they secured a livable stipend from DC (if comparatively meager compared to the property's true value) in the years leading up to Superman: The Movie, as an effort to avoid negative publicity from Superman's creators. An arrangement with the Siegel family has ensured that his heirs see regular compensation for DC's use of Superman to this day. Shuster, who died $20,000 in debt despite his stipend, had that debt cleared by DC in exchange for an agreement not to pursue any further legal action.
So, why didn't Funnyman work? It's hard to say why any project would fail to find an audience. If we knew how to measure that, every new comic would be a hit. Maybe the reasonable bitterness which Siegel and Shuster harbored for the comic business leaked too heavily through the page. Maybe the element which was meant to set Funnyman apart- his comedy- didn't do enough. Every hero from their own Superman to the stereotypically grim Batman already quipped while fighting villains. ("You may be The Joker," Batman tells his arch-foe as he decks him in their very first encounter, "But I'm the King of Clubs!")
Or maybe it's just that comic audiences weren't quite ready yet for this particular brand of comedy. Funnyman's backbone of Jewish Borscht Belt style comic trappings from the peppering of Yiddish language to European vaudeville archetypes, as well as its heavy reliance on satire of ongoing cultural trends, would be the very foundations of a comic book empire only 5 years later. You'd recognize it as MAD Magazine. We're not saying that MAD is the result of an industry picking Siegel and Shuster's ideas clean once again. After all, Funnyman itself is all but plagiarism of Danny Kaye's likeness rights. But it does point to the idea that they might not have been as off-track as you might imagine. A movement in the cultural zeitgeist demanded a takedown of the superhero and comic book medium as it had become one of the most popular forms of media, and it may have just been a matter of striking at the right time.
The sad truth is that, sometimes, that once in a lifetime idea really is just that. So take this cautionary tale to heart. When it comes along, make sure you hang onto it for dear life – or you may just find you've made yourself a clown.
This article would not have been possible without the resource of Siegel and Shuster's Funnyman: The First Jewish Superhero, from the Creators of Superman, by Thomas Andrade and Mel Gordon published by Feral House in 2010.