FX brings Mallori Johnson and the cast of Kindred to NYCC for Q&A and exclusive footage - watch it on Popverse
Octavia Butler's time-warping drama Kindred is headed to FX this fall, but not before stars Mallori Johnson, Micah Stock, Gayle Rankin, Austin Smith, Sophina Brown and Sheria Irving join executive producer and writer Branden Jacobs-Jenkins on stage in Room 405.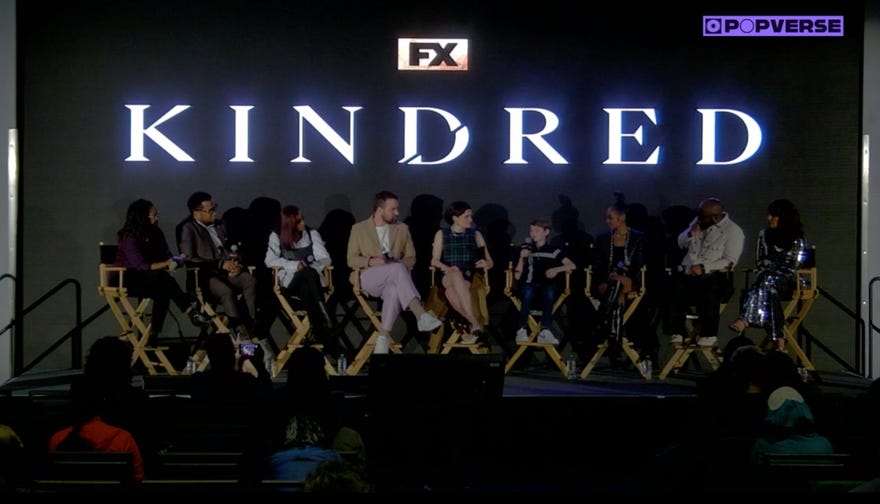 Based on the Octavia Butler novel of the same name, Kindred focuses on the struggle of Dana, a woman being violently pulled back and forth in time. Mallori Johnson, who plays Dana, will be at NYCC to promote the upcoming Hulu & FX series, along with co-stars Micah Stock, Gayle Rankin, Austin Smith, Sophina Brown and Sheria Irving, plus writer Branden Jacobs-Jenkins. Don't miss it!
Popverse is filming this and many other panels at New York Comic Con this year (see the complete line-up here). Popverse and NYCC are providing these free for everyone to watch live, with the companies hosting the panels only blacking out the screenings, trailers, and new footage - as they intend for it to only be seen by those in attendance in the panel room.
After the panel is finished, you can watch these panels in one of two ways - by becoming a Popverse member at the 'Fan' level (or higher), or by buying a NYCC digital ticket. The NYCC digital ticket gives you access to all of the filmed panels from New York Comic Con 2022, as well as the recent Emerald City Comic Con and C2E2, as well as access to long-form interviews and original reporting from the Popverse editorial team. The Popverse annual membership does that for the entire year, and would include live video panels from the upcoming MCM London Comic Con, as well as next year's Emerald City Comic Con and C2E2.
Subscribe to Popverse to read this article
Become a member and get first access to tickets and badges to our events, photo ops, exclusive content, and more.