Garth Ennis revives British comics history with the new Battle Action anthology
The co-creator of Preacher and The Boys returns to his own youth for his latest project, Battle Action
After a career that's included critically acclaimed runs on Preacher, The Punisher, and The Boys – to say nothing of his Hellblazer run, Hitman, or his Dynamite series of war books, Battlefields – it's fair to say that a new project by Garth Ennis is something worth paying attention to.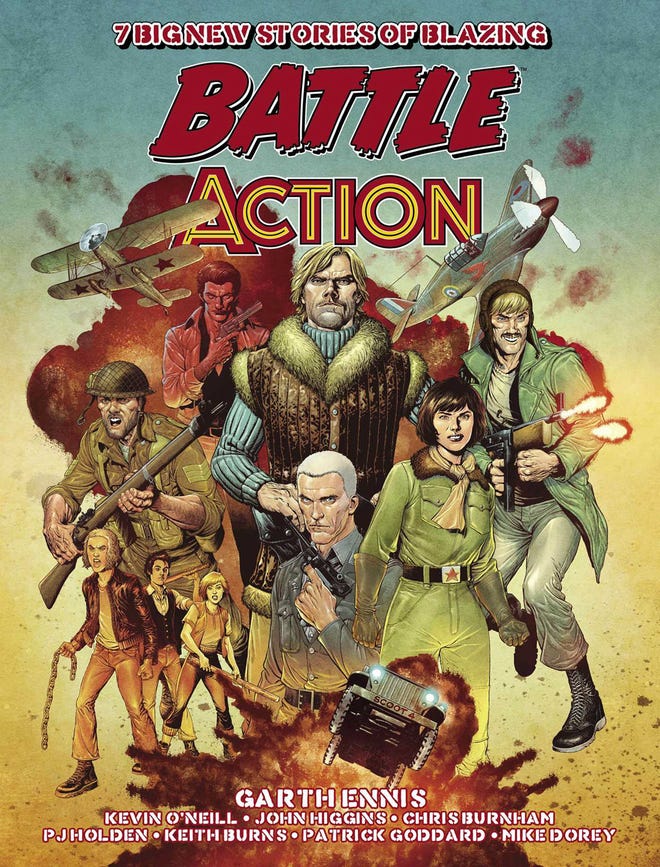 That's especially true of his latest book, Battle Action – a revival of the early '80s British anthology comic of the same name, with Ennis writing seven short stories featuring characters from that title, some of whom haven't been seen in close to four decades. Building off Ennis' own childhood fandom for the title, and earlier revivals of the two earlier British weekly series that led to Battle Action – Battle Picture Weekly, and Action – the new hardcover from 2000 AD publishers Rebellion gives the writer a chance to revisit some old favorites while introducing a new generation of readers to some of British comics' grittiest, most uncompromising heroes. (Not to mention, a line-up of great British comic artistic talent.)
Ahead of Battle Action's print release in the US, Ennis answered a few questions about the project for Popverse. Before we start, though, a note: it's perhaps a given, considering the historical inspiration and roots of this project, but the taciturn Ennis's responses require a little explanation for audiences unfamiliar with the ins and outs of British comics history in a couple of places; I'll be providing that where necessary in italics [like this].
Popverse: Battle Action continues your work on classic British properties from the '70s and '80s, after working on both the separate Battle and Action specials in 2020; I know that you grew up reading a lot of this material, just as you did 2000 AD before you worked on that title back in the '90s; what is it about these characters that brings you back as a writer years later?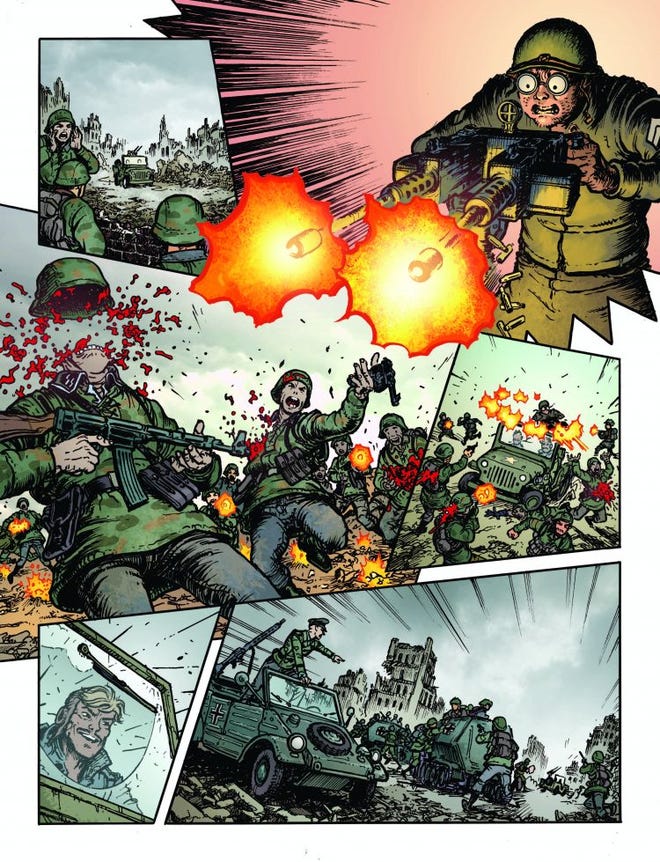 Garth Ennis: Like so many writers in comics, I'm drawn to the characters I grew up on – I have ideas for stories about them that I've always thought would be interesting, things I've wanted to see the characters do, and so on. The difference in this case is that the Battle Action characters' stories ended along with the comic in the late '80s, and they've been left in limbo ever since. There's no 30 years of continuity, no spin-offs or relaunches, no movie or TV adaptations. They've just been left in limbo. Which to me seems like a shame, because they're some of the very best characters in comics history.
Battle and, especially, Action are titles that contemporary audiences are unlikely to have any familiarity with, even though they're indirectly responsible for both 2000 AD and, eventually, the so-called British Invasion of the US comics industry. Is there part of you that feels like projects like this are important in terms of educating today's readers, or keeping the titles alive — or is this more about simply getting the chance to take on characters that are particularly exciting to write?
Very much the former. I'd like people to know that the British writers who reinvigorated US comics in the eighties and nineties had a starting point, and that Battle Action was it: Before Vertigo there was 2000 AD; before 2000 AD there was Action; before Action there was Battle. When Action went off the rails it got folded into Battle, right at the start of the most interesting period in the older comic's history.
[Action's going "off the rails" is a reference to the fact that, within weeks of the title's launch in 1976, Action became the target of campaigners incensed by the level of violence in the comic. Unusually, the criticism led to the subject being discussed by the British government. Concerned that the controversy would lead to boycotts by major retailers, publishers IPC initially suspended the title before resuming publication with a sanitized version that disappointed fans. With sales falling, the decision was made to merge Action with the popular Battle Picture Weekly anthology, with the resulting combination retitled Battle Action.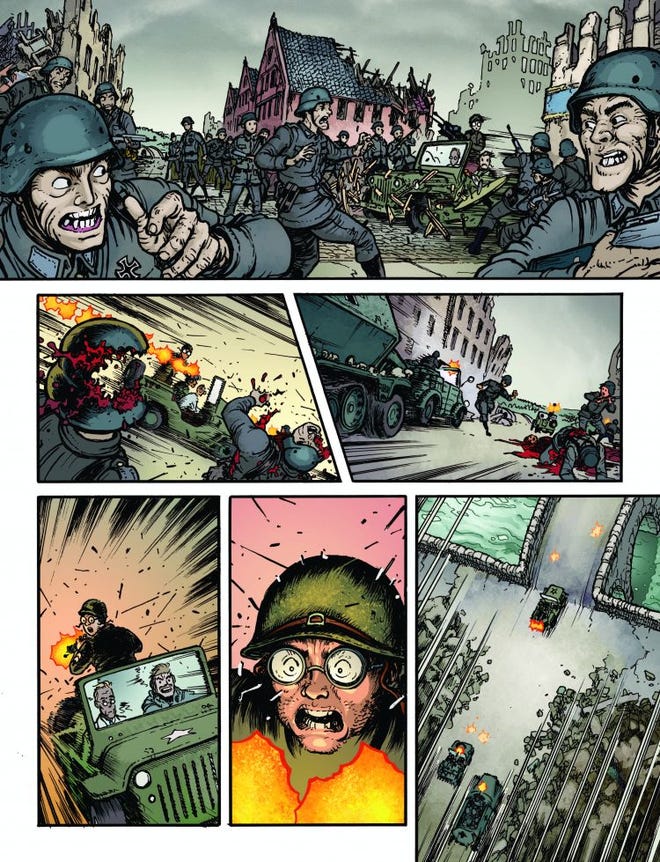 The man behind both the creation of Action, and the series' initial dedication to what was at the time unusually violent and "gritty" storytelling was none other than Pat Mills, who would go on to create 2000 AD a year later, and write a number of that series' initial lead strips. Years later, he'd co-create Marshall Law for Marvel's Epic imprint alongside Kevin O'Neill.]
This isn't the first time you've written Johnny Red, and you've got a history of war comics at multiple publishers. At times it feels as if you're singlehandedly keeping the genre alive; what makes war comics such a draw for you? Is it something that you think has a core, under-served audience and could explode in popularity if given a chance?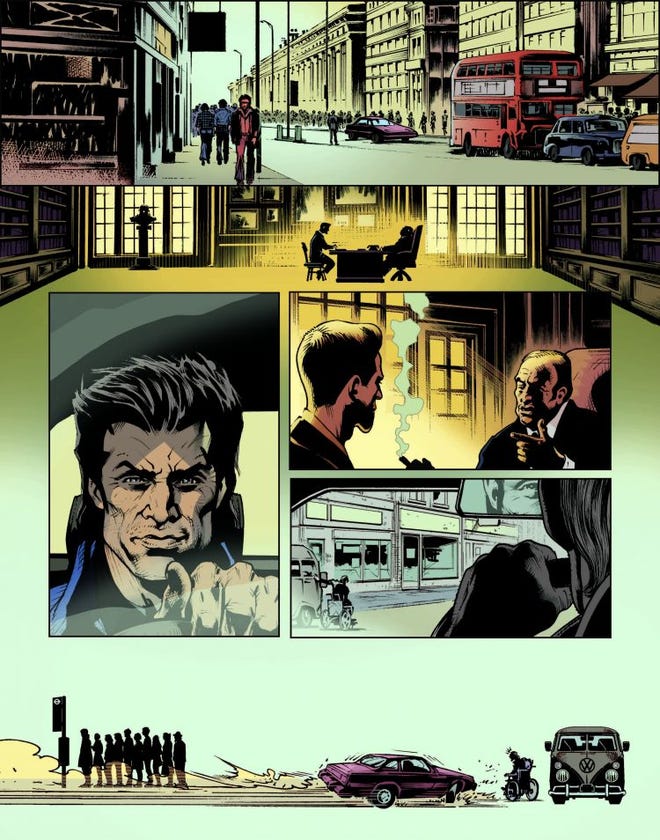 I don't really think in terms of audience or market, but war was one of the genres I grew up on, in much the same way that everyone else in the business was raised on super heroes, and so I'm always going to have a taste for war comics.
I find fiction based in reality a hundred times more interesting than fantasy; knowing that real people did the things in these stories, or at least something like them, is endlessly fascinating to me. See also: crime, and – blurring the lines a little bit – the more down to earth end of the horror genre.
Kids Rule OK is an unexpected selection for a strip in the special, in that it never actually appeared in Battle Action, per se; it lived and died in Action alone. What made you want to include it in this special?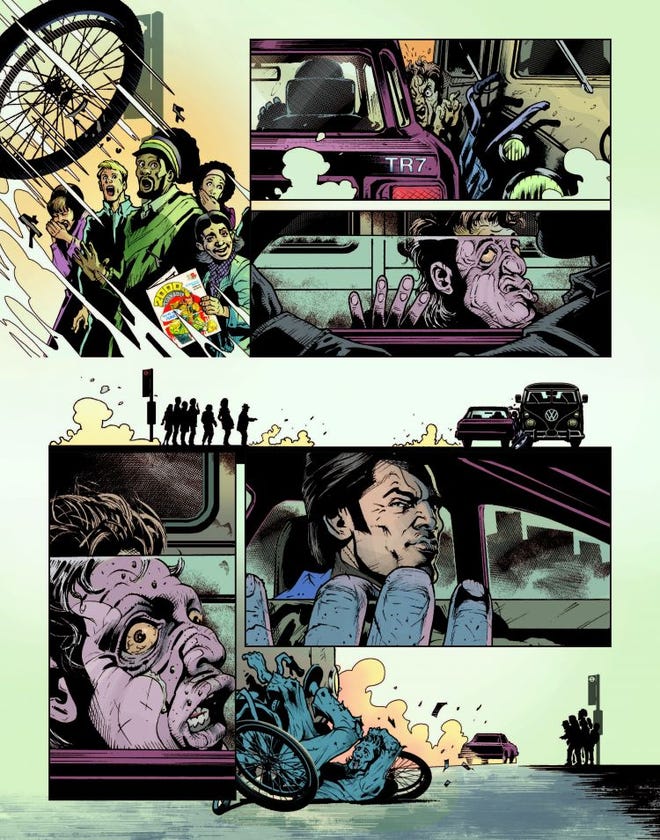 I didn't read Kids Rule OK as a kid and have limited interest in the story even now, but the fuss that it caused is something that does intrigue me. The misinterpretation of the famous Carlos Ezquerra KRO cover, often held up as one of the culprits behind Action's demise, is a piece of mistaken identity that still leaves me shaking my head. So the strip was a chance for some commentary on that, and on the whole sorry affair of Action's grisly fate. Working with Kevin was the icing on the cake.
["The famous Carlos Ezquerra KRO cover," as Ennis puts it, is the cover to the issue dated 18th September 1976. Bearing the tagline "AGGRO! is a way of life in Kids Rule OK!" it features a man lying on the ground, terrified and protecting himself from a rampaging teenager in a leather jacket, swinging a length of chain. Beside the man is a policeman's helmet, leading some to assume that the man was actually a policeman – he was, after all, wearing a blue suit just the same color as the policeman's helmet – and that the teenager was attacking the police; combined with the burning city and horde of unstoppable, angry teens in the background, it was mis-read as some as a call to action (no pun intended) to Britain's youth to start rioting and overthrow society.
Ridiculous, yes, but this was exactly the same era in which the Sex Pistols were launching similar fears via their music. Britain's establishment was, seemingly, just very afraid of everything at that time.]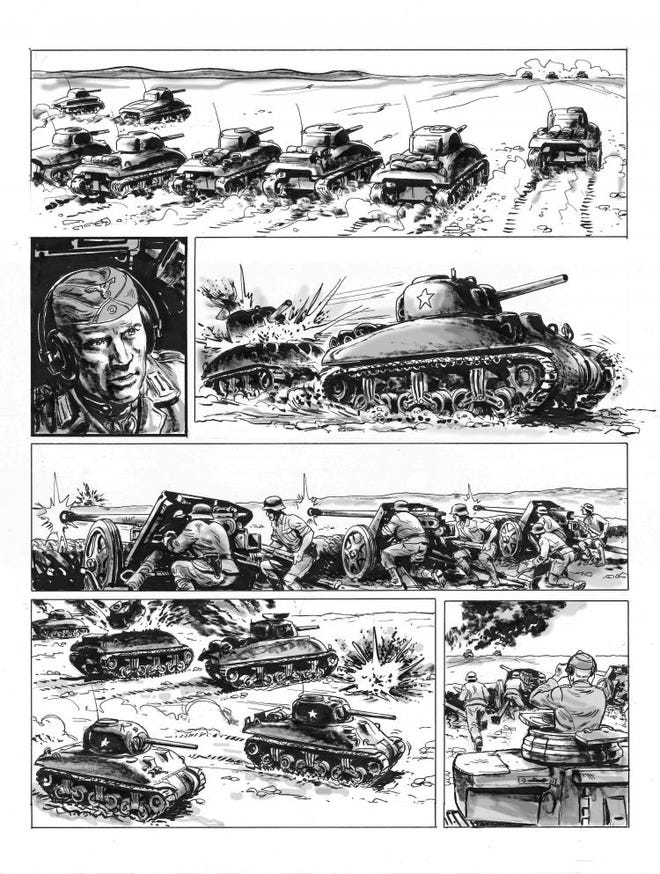 You get the chance to work with an astonishing line-up of artists in this special: PJ Holden, Chris Burnham, John Higgins, in addition to O'Neill — did you have any say in your collaborators?
I seem to recall that I chose Keith, PJ, Mike Dorey and John, while editor Oliver Pickles conjured up Kevin, Chris and Patrick Goddard. Well done, that man.
Would you come back to do more Battle Action, if given the chance? Could this be an annual experience, if the opportunity presents itself?
That would be lovely. I wouldn't necessarily want to write all the strips next time, so it would be nice to bring in some new writers – possibly handling some different characters as well. But so long as Rebellion want to publish Battle Action, I'll be more than game to write for it.
The digital version of the Battle Action special is available via 2000 AD's webstore, with the hardcover print edition available via Diamond Comic Distributors.
---
Read about one of Garth Ennis's earliest epic events, as Popverse remembers the 1992 Judge Dredd storyline Judgement Day.