Wonder Woman Historia's Gene Ha talks his creative process and favorite art tools
"If you're an artist working with a writer who hasn't done comics before you have to explain different techniques you can use," Gene Ha says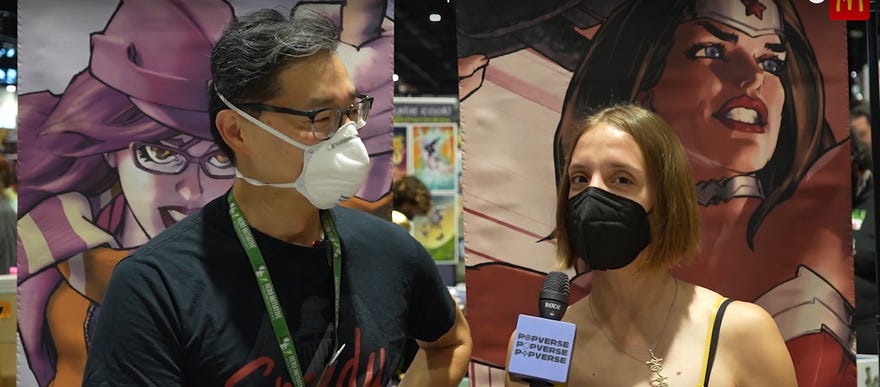 Thank you to McDonald's APA Next for sponsoring this article and video. Popverse was paid for our time in creating this.
Comics artist/writer Gene Ha made a name for himself with superhero work with characters from DC and Marvel, and has parlayed that into his own creator-owned work with the riveting original graphic novel series Mae. Over the past few months, Ha has found a balancing act in returning to DC to draw the award-winning series Wonder Woman Historia while also continuing to tell his own stories with a third volume of Mae.
So how does he do it? The writing, the art, and the combination of the two? Luckily, Popverse's Ashley V. Robinson caught up with the Chicago area author to talk about his approach - and what others can learn from it.
"If you're an artist working with a writer who hasn't done comics before you have to explain different techniques you can use," says Ha, who has worked with everyone from Alan Moore to Kelly Sue DeConnick, "to get the character across using visuals instead of prose."
Watch our full nine-minute interview with Ha, recorded right inside his convention booth where he's well-known to sketch, paint, and draw at virtually every convention he attends.
This video and article is sponsored by McDonald's APA Next Education program. APA stands for Asian Pacific American, and McDonald's has been supporting APA students with higher education resources for 15 years. Through this partnership with McDonald's, Popverse is further spotlighting education about Asian Pacific American cultures, and also empower aspiring comic creators to pursue their passion.
---
For more on McDonald's APA Next program, visit www.apanext.com. This and further stories in the continued partnership with McDonald's and Popverse can be found at this dedicated Popverse microsite.