Given: How to read and watch the popular boy love anime and manga
Given will give you gay romance, drama, and rock n' roll
Natsuki Kitsu's boy love (i.e. gay male romance) manga Given tells the story of basketball player and guitarist Ritsuka Uenoyama, whose passion for music has waned. One day, he meets Mafuyu Sato and hears him sing for the first time. As they get to know each other, Ritsuka finds passion returning in more ways than one.
Given was adapted into an anime series in 2019, followed by a movie sequel in 2020. Both are available to watch on Crunchyroll. The series has resonated with fans due to its down-to-earth gay characters, emotionally affecting storyline, and fantastic rock soundtrack.
It was recently announced that Given will be ending with Volume 8 in the March issue of Japan's Cheri+ magazine. Given is also licensed in English by Viz Media's SuBLime imprint, which released Vol. 7 of the manga on January 10th.
So, if you've ever wanted to explore Given for the first time or revisit it again, here is a reading and watch guide.
How to watch the Given anime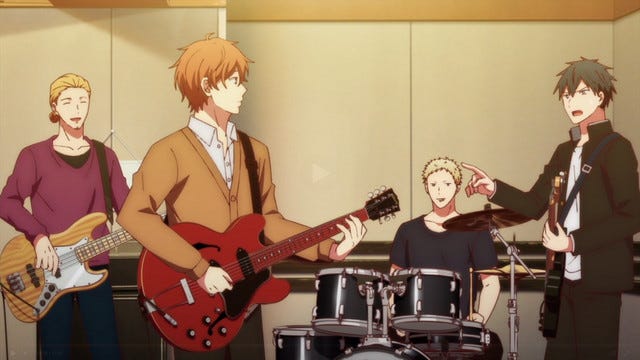 Given Season 1 (Episode 1)
Ritsuka Uenoyama meets Mafuyu Sato one day in his normal napping spot. Ritsuka ends up fixing Mafuyu's guitar, which leads to Mafuyu pestering Ritsuka to teach him guitar. After seeing how passionate Mafuyu is, Ritsuka starts to remember how he felt when he first started playing music.
Given Season 1 (Episode 2)
Ritsuka introduces Mafuyu to his other bandmates, Haruki Nakayama and Akihiko Kaji. After some convincing from the other two, Ritsuka finally agrees to teach Mafuyu how to play guitar.
Given Season 1 (Episode 3)
Ritsuka and Mafuyu meet outside by chance as Mafuyu runs into an old acquaintance named Hiiragi. While avoiding Hiragi, Mafuyu confesses his fears about being unable to express himself through music. Ritsuka consoles him, resulting in Mafuyu joining the band.
Given Season 1 (Episode 4)
Using the melody that Mafuyu sang as a guide, Ritsuka tries to compose a new song for the band. Through an acquaintance of Haruki's, the band is offered the chance to perform their first live show.
Given Season 1 (Episode 5)
The band decides to do the live show. An unspoken romantic tension between Haruki and Akihiko appears as the two of them reminisce about how they first met and formed the band with Ritsuka. Ritsuka hears dark rumors about Mafuyu's past boyfriend from a classmate.
Given Season 1 (Episode 6)
Mafuyu reunites with his childhood friend Hiiragi and they discuss music and their mutual childhood friend Yuki. Mafuyu is asked to write the lyrics for the band's new song, but struggles to find inspiration. Ritsuka starts feeling jealousy when Mafuyu later mentions how he used to have someone he loved.
Given Season 1 (Episode 7)
Ritsuka realizes he is in love with Mafuyu, while Akihiko reminisces about his past romance with a violinist named Ugetsu. Ritsuka's unspoken feelings for Mafuyu negatively affects his guitar playing.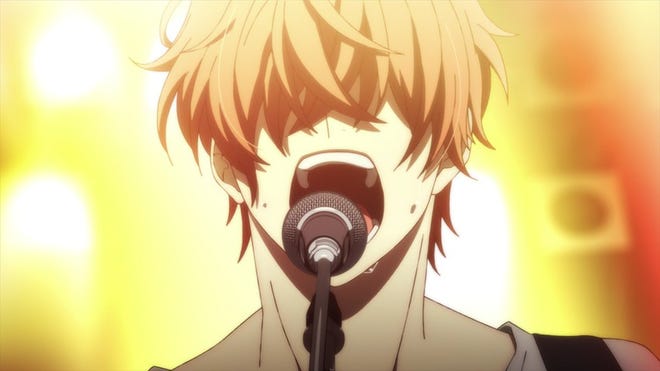 Given Season 1 (Episode 8)
Hiiragi and Mafuyu meet again and the truth about Mafuyu's past is revealed. Hiragi tries to empathize with Mafuyu about their mutual grief and guilt over Yuki's passing, but Mafuyu rebuffs him. The day of the concert arrives and Mafuyu still doesn't have the lyrics to the new song.
Given Season 1 (Episode 9)
Mafuyu has a realization after talking with Ritsuka. When the band finally performs, Mafuyu sings lyrics off the cuff based on his experiences with Yuki. Afterwards, Ritsuka makes an unexpected move towards Mafuyu.
Given Season 1 (Episode 10)
Ritsuka overthinks his actions towards Mafuyu. Meanwhile, the band celebrates their first live performance and discusses their future. After Mafuyu mentions how he obtained Yuki's old guitar, they name the band "Given". Mafuyu confesses to Ritsuka.
Given Season 1 (Episode 11)
Ritsuka is shell-shocked but happy that Mafuyu returns his feelings. He tells Akihiko and Haruki, who give him their blessing despite previously not allowing relationships between band members. Secretly, Haruki wants the same thing, but with Akihiko.
Taking place after season 1, this movie focuses on Given's next upcoming live performance and the characters Haruki and Akihiko.
How to read the Given manga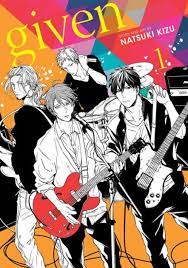 Ritsuka Uenoyama is bored with life, especially playing guitar. One day, he finds his favorite hidden napping spot occupied by Mafuyu Sato, a strange boy cradling a broken-stringed guitar. Then on a whim, he asks Mafuyu to sing, the power of that song pierces him to the core.
As the band races toward their first live concert, Mafuyu struggles to write lyrics for their new song. Meanwhile, Uenoyama hears rumors about Mafuyu's past and is bewildered by his own feelings.
Uenoyama realizes he's in love with Mafuyu and steals a kiss from him backstage at their first live performance. However, he hasn't shared his feelings with Mafuyu and has no idea how Mafuyu feels about him.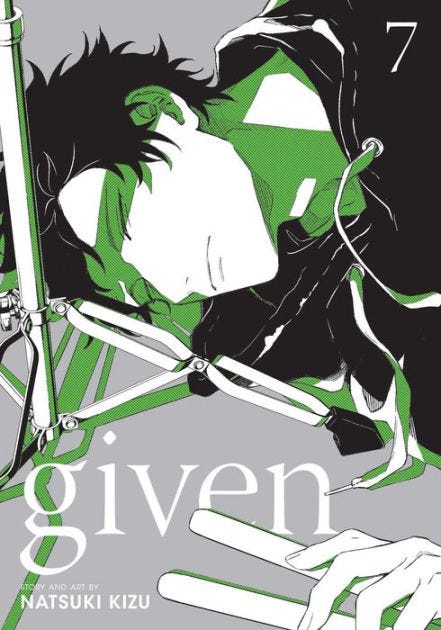 As the band focuses on preparing for a music festival tryout, Haruki grows intimidated by the talents of younger members Mafuyu and Uenoyama. Meanwhile, Akihiko realizes that Haruki has fallen in love with him.
Mafuyu, who's been spending a lot of time at Ugetsu and Akihiko's place, learns about the complicated history between the two and realizes that Haruki's heartbreak is part of it.
Now that Given has an offer to record their debut album, each of the band's members must decide whether to get serious about trying to go pro.
Mafuyu continues to waffle about whether or not to be a professional musician, causing worry and tension among his old childhood friends.
---
Netflix picks up the Pluto anime - a stunning adaptation of the Naoki Urasawa modern manga classic.