Neil Gaiman is back to work on Good Omens 3
Recently, the Good Omens co-author took to Tumblr to answer questions about the status of the third chapter of Prime Video's adaptation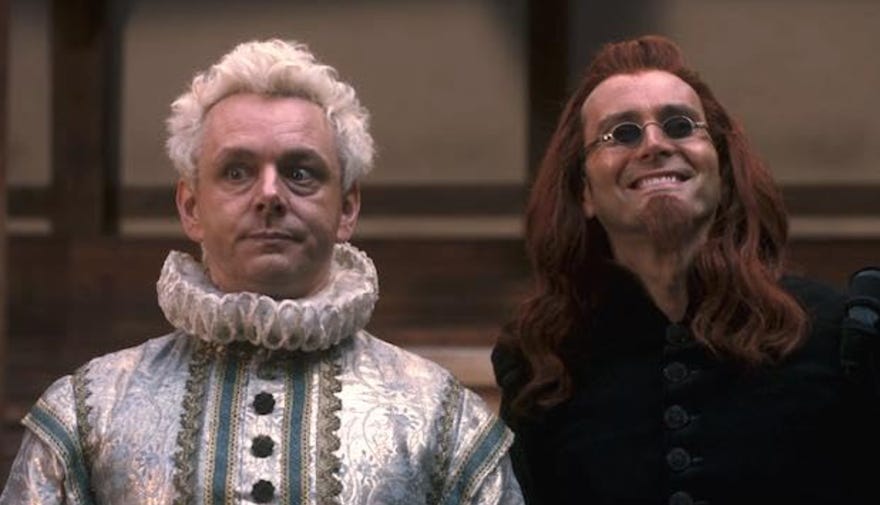 Good Omens fans, rejoice. Firstly, because the WGA has reached a tentative agreement with studios ensuring better pay and more rights. And secondly, because the third season of Amazon Prime's Good Omens adaptation is back on track. And who better to hear it from than Neil Gaiman himself.
The good news comes from Gaiman's official Tumblr account, where the author and showrunner was answering questions about the status of the series. The first question of note came from user pknz19, who asked about Gaiman returning to work Wednesday, September 27, the date the WGA cleared for writers to pick pencils back up. Gaiman responded:
"Well, the membership still needs to ratify and vote on the deal, afaik. But today I am taking the post-it notes with the plot of Season 3 out and putting them up on the wall, and expect I will be staring at them gloomily wondering about all the things I didn't put down or hadn't thought through, and trying to remember how to write scripts."
It's exciting, of course, but not exactly confirmation that Gaiman is actually back to writing the show, as much as he is back to planning on writing the show. However, just moments later came another question by user supergeek21, who directly asked, "does [the end of the strike] mean you can start writing Good Omens once again?," to which Gaimain responds directly:
"Yup. It's back to work. Expect a lot less social media for a while."
Is that angels singing, or is it just me finding my inner Aziraphale returning to me?
Of course, this thrilling development is also a bittersweet one. Weeks ago, Gaiman took once more to Tumblr (the man knows his fanbase, what can we say) to indicate that the third chapter of Good Omens would also be its last. Here he is:
"[...] Season 3 is all planned and plotted and, if I get to make it, will take the story and the people in it we care about to a satisfying end."
Well, we can always save the goodbyes for later. For now, let's just be glad that we're saying "hello" to our favorite ineffable pair once more. Good Omens 3 does not currently have a release date, but we'll update you once we know more.
---
Surprising literally no one, Good Omens's David Tennant is apparently an absolute joy to work with. Hear it in costar Michael Sheen's own words.