Cover Reveal: Rex Ogle and Dave Valeza's new Graphix series Four Eyes
Four Eyes #1 is a highly anticipated middle grade graphic novel published by Graphix
There's a new middle grade graphic novel series in town, and we can't wait to check it out! Four Eyes is written by Rex Ogle (Free Lunch, Meg, Jo, Beth, and Amy) with art from debut cartoonist Dave Valeza and tells the semi-autobiographical story of Rex, the only kid in sixth grade who hasn't had his growth spurt yet. To add to the disaster of his life, Rex finds out that he has to wear glasses, and his family can only get him the ugliest pair of glasses in the world!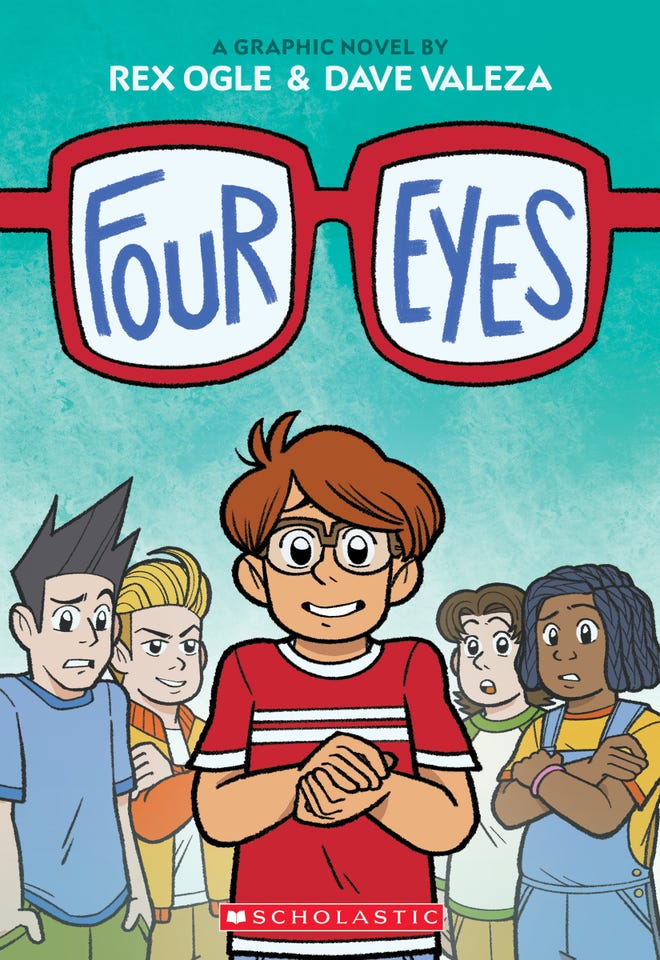 Four Eyes will be debuting on May 2, 2023, and we're excited to be the first to show you this very cool cover art.
About his work on Four Eyes, writer Rex Ogle says, "I can't wait for the world to meet this book--not just because it's true to my life, but because I think there's so many kids out there that are afraid and stressed over change, especially in an all-too-common situation like getting glasses."
It may seem like the end of the world, but really it's just the beginning of a new chapter," artist Dave Valeza adds. "It's been a great experience drawing this book, and I'm excited alongside Rex and the Graphix team to now share it with everyone! Middle school can be a very disorienting time, but Four Eyes lets kids know that they can see a way through it."
Four Eyes will be published by the Graphix Imprint on May 2, 2023. Grab your copy from a local bookstore.
---
Interested in kid lit? Check out this article on Why banned books are the books your children should be reading .