Hägar the Horrible to celebrate turning 50 by revisiting his early adventures
50 years of Hägar the Horrible to be celebrated in February 2023
Before vikings became in vogue thanks to Marvel Studios' Thor, shows like Vikings, and games such as Assassin's Creed Valhalla, one horn-headed raider forged the way. His name? Hägar the Horrible. And now, on the occassion of his (and his strip's) 50th year in existence, the people behind the long-running comic strip are dusting off a few classics to commemorate the occassion.
Hägar will turn 50 on Saturday, February 4, 2023, 50 years to the day since his first comic strip by creator Dik Browne was published. Following Browne's retirement in 1988, his sons Chris and Chance have taken the reins of the series, with artists such as Gary Hallgren.
But for Hägar the Horrible's 50th anniversary, they are stepping aside for the original to return. From February 5 through February 11 the daily Hägar the Horrible will be - for the first time ever - re-running the series first week's woeth of strips. Then on Sunday, February 12, the original first strip - which the Browne family and King Features says has never been republished since 1973 - will be reprinted worldwide.
Here's a sample: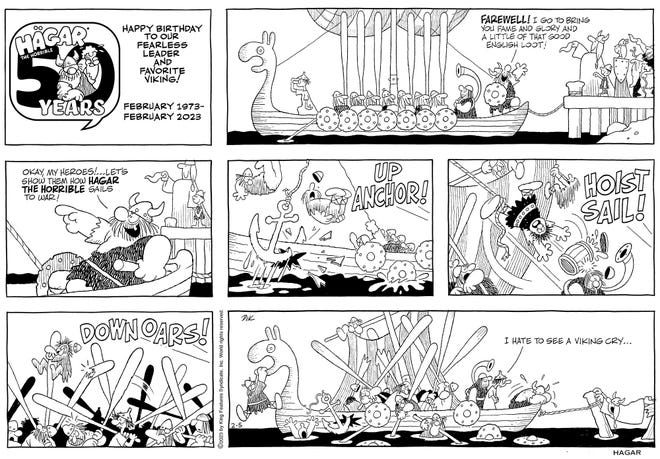 Hägar the Horrible was the second major comic creation for Dik Browne, after co-creating Hi and Lois with Mort Walker years prior. The name of the strip originaled as a nickname his sons Chris and Chance had for him when they were children. Now they they are running the Hägar the Horrible, things have come full circle.
Hägar the Horrible is currently distributed to 1,900 newspapers across 56 countries worldwide, as well as on the most excellent Comics Kingdom website.