Feel the excitement of attending a convention with ReedPop's Hall Pass video series
Join comedian/baker Jessica Grant as she plays tour guide to the world of New York Comic Con with Hall Pass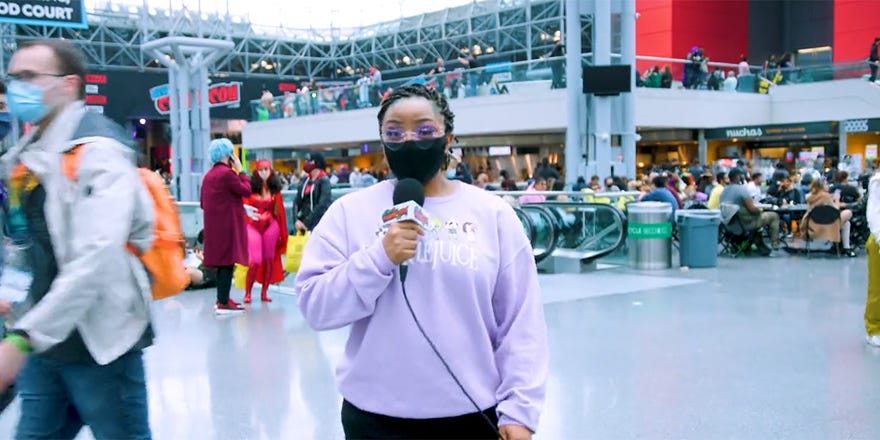 The culture of celebrating pop culture is a fascinating thing, and that fascination is never more prevalent than at a comic convention - especially at New York Comic Con.
That's where ReedPop Hall Pass comes in.
ReedPop Hall Pass is a new video series launching as part of Popverse that takes viewers directly onto the New York Comic Con show floor with lively personalities, energetic games, and interviews with some of your favorite celebrities.
Join host Jessica Grant as she hangs out with fellow fans at the con, plays a few fun games, and even chats up two of the stars of Avatar: The Last Airbender and Legend of Korra: Janet Varney (Korra) and Dante Basco (Prince Zuko). Varney and Basco are promoting their hit podcast series Avatar: Braving the Elements, which is the official companion podcast to the Avatarverse.
Jessica Grant is the host of ReedPop Hall Pass and is a self-described "Nerdy native" of New York City. If pop culture were a university program, she'd have a double major in corny jokes and baking.
Stay tuned for more episodes of ReedPop Hall Pass, which will include interviews with the cast of Star Trek: Discovery and Child's Play writer/director Don Mancini. And of course, more games.
Hall Pass is a co-production with Ticking Clock and Human Being Media, who specialize in finding the human moments in larger-than-life events. Sounds like a comic convention, right?
New York Comic Con returns October 6 - 9, 2022.