2022's most terrifying tales to read this Halloween season
Six scary comics and two prose novels for your Halloween reading list
The spooky season is officially here, and that means making room in your schedule for pumpkin carving, candy buying, horror movies and, of course, scary stories. Sitting down in front of the TV for something spooky is a huge part of the Halloween fun, but staying up late into the night with a horrifying book in front of you is often just as essential. Fortunately, 2022 has been a great year for the horror genre across the board, and that includes both comic books and novels. So, to help you build your Halloween reading list, we've gathered up eight of the scariest stories released this year, from superhero horror comics to two of 2022's most frightening novels.
Writer Ram V and artist Christian Ward are a dream creative team no matter what genre they're working in, and both have proven their versatility over the course of their careers so far. Earlier this year, after Ram V delivered great horror storytelling in Swamp Thing and Ward launched his spellbinding vampire series Blood Stained Teeth, they teamed up to bring their talents to this haunting, beautifully realized Aquaman story that pushes the Atlantean hero into the realm of cosmic terror.
Centered on a 'spaceship graveyard' located deep in the heart of the ocean, Aquaman: Andromeda follows several different forces as they converge on the location, including a submarine crew investigating the area, Black Manta hoping to spoil their party, and Aquaman hoping to rein in Black Manta. It sounds like a recipe for another adventure story, but Ram's richly textured script and Ward's beautifully Gothic art turn into a terrifying undersea tale of things better left hidden.
Aquaman: Andromeda #1 and #2 are available now. Aquaman: Andromeda #3 is on sale October 18.
Zac Thompson has been one of the brightest voices in horror comics for some time now, which means any new story he launches is worth picking up. With The Brother of All Men, a team-up with artist Eoin Marron, Thompson ventures into territory far removed from recent horror hits like Lonely Receiver and I Breathed a Body to tell a captivating, slow-burning folk-horror tale.
The book follows Guy Horn, a World War I veteran and private investigator who heads out to a commune in the wilds of Western Canada in an effort to find his brother, who seems to have been swept up in a cult. It's a very Wicker Man-style setup, but what sets The Brother of All Men apart is the sense that the cult is perhaps just as alluring and intriguing to Guy as it was to the other converts, particularly when the private eye's own personal struggles and desires start to resurface. Throw in a dash of pulpy, noir-infused detective storytelling, and this miniseries becomes something new, a journey into darkness that's genre-bending, dread-inducing fun.
The Brother of All Men #1 and #2 are available now. The Brother of All Men #3 is on sale December 28.
Creepshow (Image Comics/Skybound Entertainment)
Creepshow famously has its roots in comics, as Stephen King and George A. Romero turned to their love of gruesome EC Comics tales to craft the original 1982 horror-comedy classic and its sequel. It makes sense that someone would decided to revisit that format eventually, and just one issue into its run, Image Comics' take on the Creepshow formula is exactly what fans of the franchise crave.
Creepshow #1 launches with a pair of tales, including writer/artist Chris Burnham's take on trick-or-treaters who hit the wrong house, and a tale of a demented party clown helmed by Paul Dini, Steve Langford, and John McCrea. Both embrace the horror-comedy vibes of Creepshow, both are guided by The Creeper and his particular way with words, and both will make you question whether you're cringing or grinning on any given page.
Creepshow #1 is available now. Creepshow #2 is on sale December 26.
Daphne (Del Rey Books)
Josh Malerman is one of horror's most exciting novelists right now thanks to work like Bird Box, Pearl, and Goblin, and he returns this year with another must-read take on a particular subgenre. This time around, Malerman tackles slasher stories with the tale of Daphne, a legendary woman who died horribly after years of hard living, and who just might return and tear you to pieces if you think about her too long.
Right away, Malerman starts to play with the classic slasher format, introducing us to a group of high school basketball stars and then winding up the tension as the specter of Daphne begins to loom in their lives. What follows is a dazzling, horrifying meditation on the nature of legends, how stories spread, and what happens when bad memories won't stay buried.
Daphne is available now.
Stephen Graham Jones is arguably the most recognizable name in horror fiction right now aside from Stephen King himself, and the author has made no secret over the years of his love of comics and their influence on his storytelling. Now, after a few shorter comics projects, Jones gets to tell his most ambitious graphic story yet, beginning with an undeniably intriguing question: What if you could go back in time and kill Christopher Columbus?
The result is Earthdivers, a collaboration with artist Davide Gianfelice that follows a group of near-future Indigenous friends who set out to do just that. In the world of Jones' story, the future is irreparably wrecked for humanity, and for the people who lived and worked on North American soil in the first place. The only solution might be to go back and end the destruction before it starts, which means murdering Columbus himself. A meditation on Jones' own explorations of horror as a means of battling bullies, Earthdivers is part existential terror, part sci-fi adventure, and all very much worth reading.
Earthdivers #1 is available now. Earthdivers #2 is on sale November 2.
After tackling the Satanic Panic to great effect with his novel Whisper Down the Lane, Clay McLeod Chapman returns with something very different in his skin-crawlingly creepy follow-up novel. Set in Richmond, Virginia and making full use of that city's haunted history, Ghost Eaters follows a group of college friends whose lives are rocked when one of them dies, leaving the rest to pick up the pieces of what led him down his final dark descent. What they find as they dig deeper into his secrets is a strange new drug that promises that users will be "haunted" by the presence of ghosts, including lost loved ones.
Full of rich character insights and moments of absolutely horrifying, visceral terror, Ghost Eaters is a ghost story like no other, a dizzying journey into history and memory with a final 100 pages that will shake you to your core.
Ghost Eaters is available now.
Writer Benjamin Percy is no stranger to the dark and the monstrous, and his work on books like Wolverine has proven he can blend that sensibility perfectly with the superhero world of the Marvel Universe. Earlier this year, Percy and artist Cory Smith proved it again with a new take on Ghost Rider that merges existential horror and all-out monster adventure fun.
Percy and Smith's take follows Johnny Blaze as he begins to realize the world around him is quite possibly coming apart at the seams. The perfect life he seems to have might be an illusion, and something darker and more fiery is threatening to burst through it, bringing all manner of hell with it. What happens when the illusion finally starts to break and the world of Ghost Rider takes over makes up one of Marvel's most thrilling comics this year, and a great addition to your October reading list.
Ghost Rider #1-7 are available now.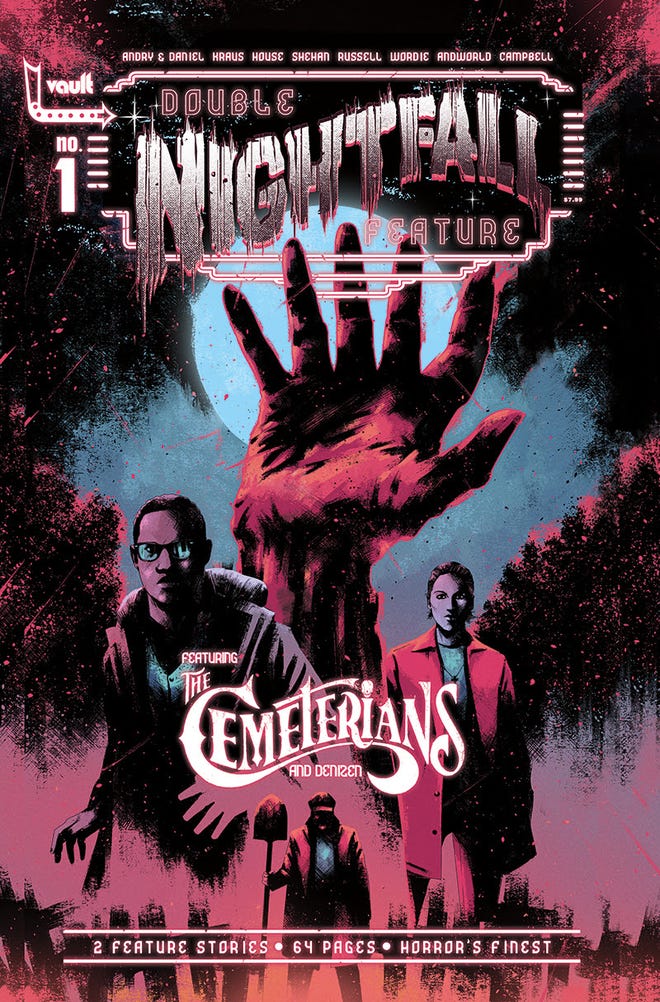 Nightfall Double Feature (Vault Comics)
Vault is one of the finest purveyors of horror comics around right now, and their Nightfall imprint has become a must-read line of scary stories from some of comics' best creators. Now, the publisher is bringing the versatility and quality of their horror line to the fore once again with Nightfall Double Feature, an anthology comic leading off just in time for Halloween with a pair of scary stories that are as effective as they are different from one another.
In The Cemeterians, by writer Daniel Kraus and artist Maan House, a scientist and a religious scholar investigate a strange phenomenon in which human bones start showing up in the middle of teddy bears and other very non-human objects, setting the stage for endlessly creepy reveals. And in Denizen, from writers Tim Daniel and David Andry with artist Chris Shehan, a family on a road trip discovers a dark force lurking in an abandoned camper out in the desert. The stories are very different, each offering their own dark explorations of something strange and malevolent in particular corners of the world, but both prove an exceptional showcase of the kind of horror tales Vault delivers year after year.
Nightfall Double Feature #1 is on sale October 26.
---
For more scares, check out our recommended best horror movies of all time.