Harley Quinn: All the best cosplay looks from her Suicide Squad, Birds of Prey, and other eras
These Harley Quinn cosplays are ready to throw down the hammer.
One of the most popular cosplays that spam the convention floor and our Instagram feeds is the infamous Harley Quinn. Since making her live-action debut in 2016 with the action-adventure film Suicide Squad, the world has become captivated with the mischievous trickster portrayed by actress Margot Robbie.
Harley Quinn has existed long before that in animation and in comics, making her a well-rounded, multi-platform villainess in the DC universe.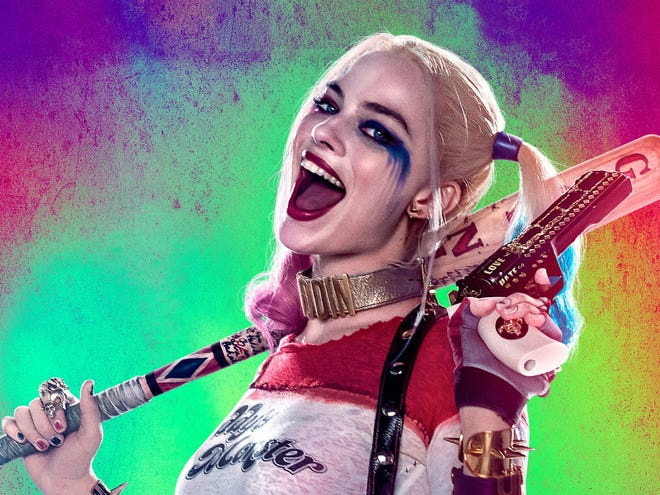 With the buzz for Harley Quinn not dying down anytime soon, here are a few things we can look forward to in 2021: The premiere of The Suicide Squad and Season Three of the popular animated series Harley Quinn.
With both of these on their way, we can only expect some exceptional costume designs for cosplayers to replicate. Before then, enjoy these remarkably sensational Harley Quinn cosplays.
10. Livingdead_kev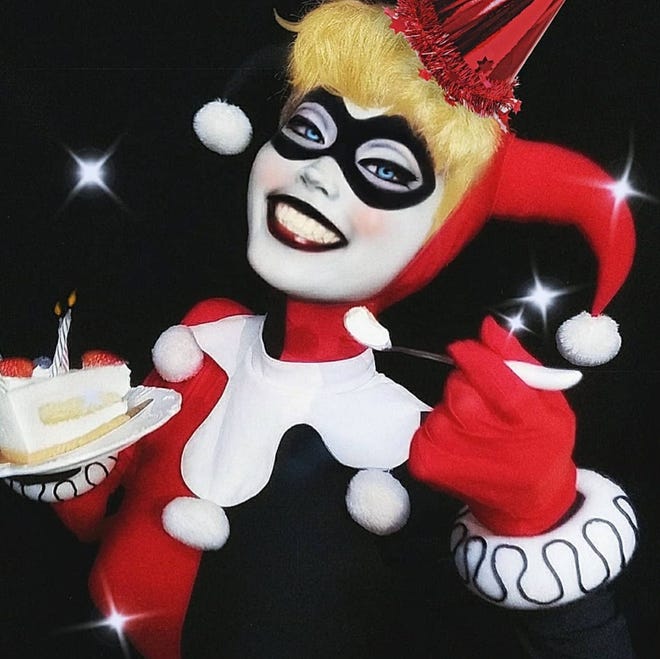 Livingdead_kev is an avid Harley Quinn fan, and it shows! Her cosplays are influenced mostly by costumes from the 1992 Batman: The Animated Series, where Harley Quinn makes her first appearance ever as a super-villain and romantic interest to the Joker.
Livingdead_kev adds details to create this cartoon-inspired look by editing Harley's intoxicatingly intense blue eyes over her own. Harley Quinn was initially meant to be a one-shot character until audiences took such a liking to her that the creators continued to write her storyline.
9. Rottenqueen.cosplay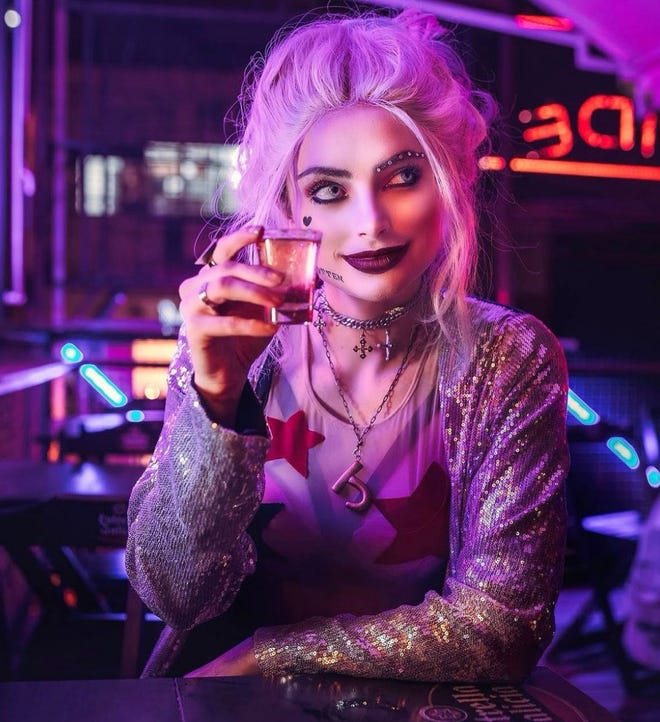 Cheers to Rottenqueencosplay for being an incredible example to all who want to cosplay Harley Quinn. She has practically covered all of the Birds of Prey costumes that Harley sports in the film, but this one has to be our favorite. The impeccable execution of this image demonstrates Rottenqueencosplay's dedication to the character.
The location is also on-point, as is the lighting, accessories, and clothing. But the best part? The flawless diamond-studded eyebrow . We love this character design by Erin Benach, who is quoted as saying that "Harley is attracted to sparkle and glitter and just can't help herself," which is exhibited beautifully with this cosplay.
8. Martycipher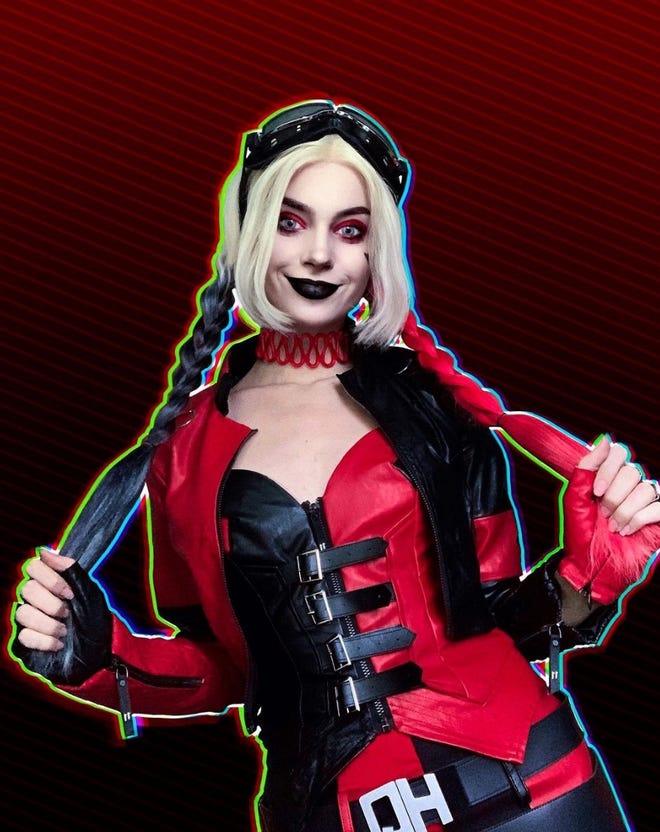 If you weren't already hyped for The Suicide Squad movie directed by James Gunn, I bet you are now just by seeing Martycipher's cosplay. We were not lying when we thought this was an official photo from the movie because it is so spot-on.
It's no wonder she has received recognition for her Harley Quinn cosplay from the Birds of Prey Instagram account and James Gunn as she is a dead ringer for Margot Robbie. Martycipher has been cosplaying the Cupid of Crime since 2015 and is continuously dishing out more content of the beloved DC character.
7. Brihallofficial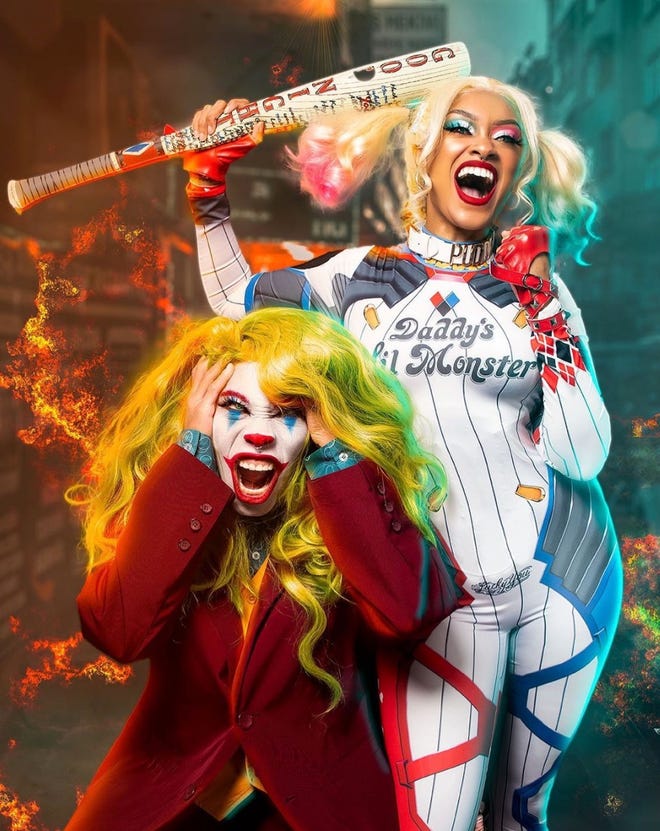 Brihallofficial is bringing us the crossover we deserve, and it is magnificent! Before we delve into everything that this image is, can we talk about how there needs to be a make-up tutorial of this shimmery eyeshadow look? Because it's phenomenal! Absolutely obsessed.
The combination of D.Va from Overwatch mixed with Harley Quinn is a match made in heaven. Now add Joaquin Phoenix's Joker by kieraplease, and we are living in a splendid world of chaos. The two models have stolen our hearts with a simple image, and we couldn't be more grateful.
6. Kaylajeancosplay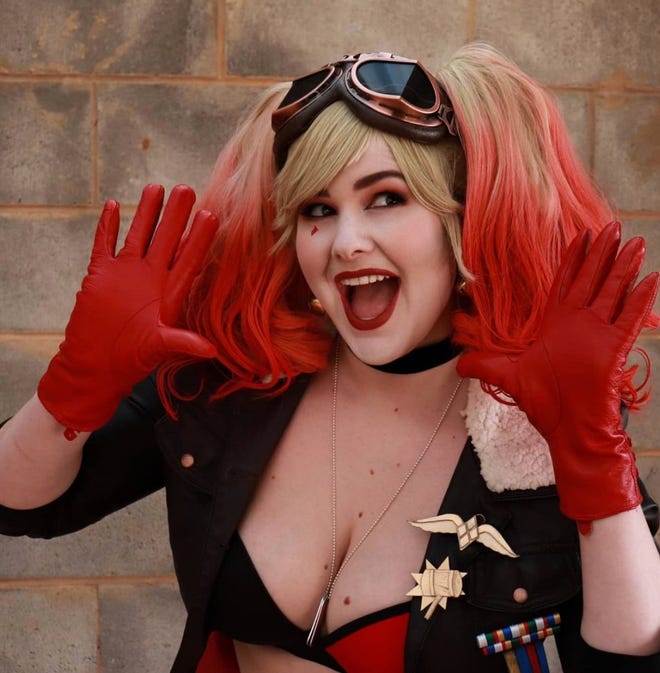 KaylaJeancosplay is sensational in her rendition of Harley Quinn from the comic book series DC Bombshells, where female superheroes defend the homefront during World War 2. The jacket that KayleJeanCosplay wears is thrifted. She found a second-hand brown leather jacket and polished it up by adjusting the sleeves, adding some fur and pins, and that badass decal on the back.
With a bit of creativity and gusto, KayleJeancosplay reminds us that cosplay doesn't have to be expensive. Sometimes all you need is a trip to the thrift store.
5. Maidofmight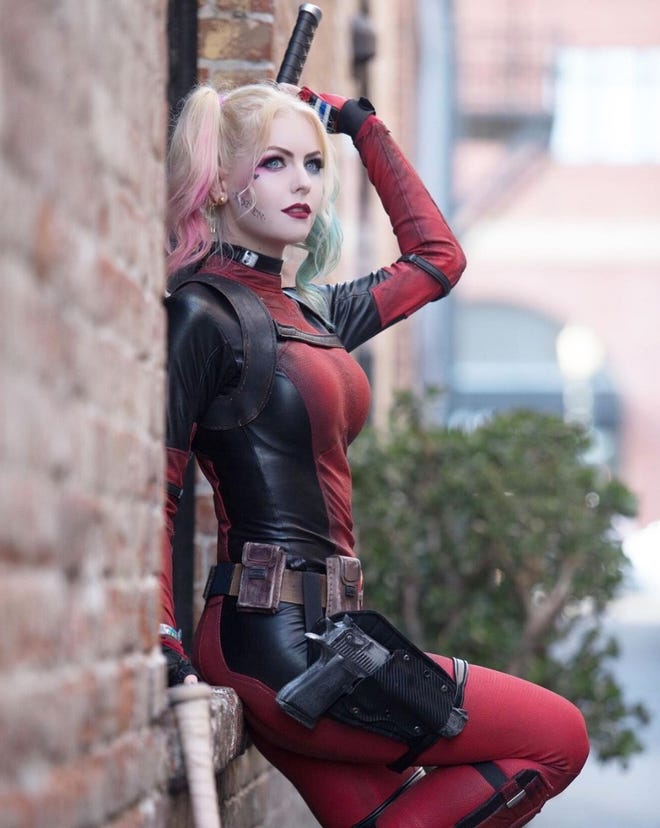 Deadpool and Harley Quinn can both be considered mercs with a mouth, and when Maidofmight combined the two, she created a beautiful anti-hero monster mixed with sugar, spice, and everything dangerous. Her suit is made by professionalcosplay, who also creates stunning ensembles for many characters like Batman, Daredevil, and Captain Marvel. Maidofmight completes the look with her natural hair dyed to pink and blue for Harley Quinn's signature pigtails.
4. wxnderlust_skate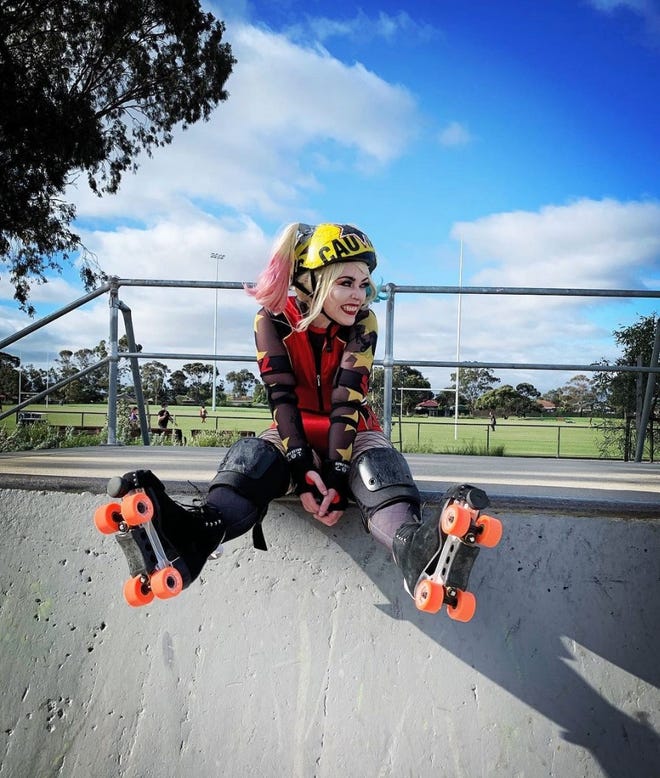 Wxnderlust_skate is adorable and deadly in her roller derby inspired look from the Birds of Prey film. If you check her Instagram feed, you can see she is devoted to skating and smiling. She 100% passes the vibe check.
Fun Fact about the costume is that the designer put a number 92 on the sleeve as a nod to Harley Quinn's first appearance in the DC universe's Batman: The Animated Series that debuted in 1992. Also, in the 2013 Harley Quinn No.1 comic, Harley was on a roller derby team and given the name Killer Kwinn, which she wasn't too stoked about.
3.Davidlopezzz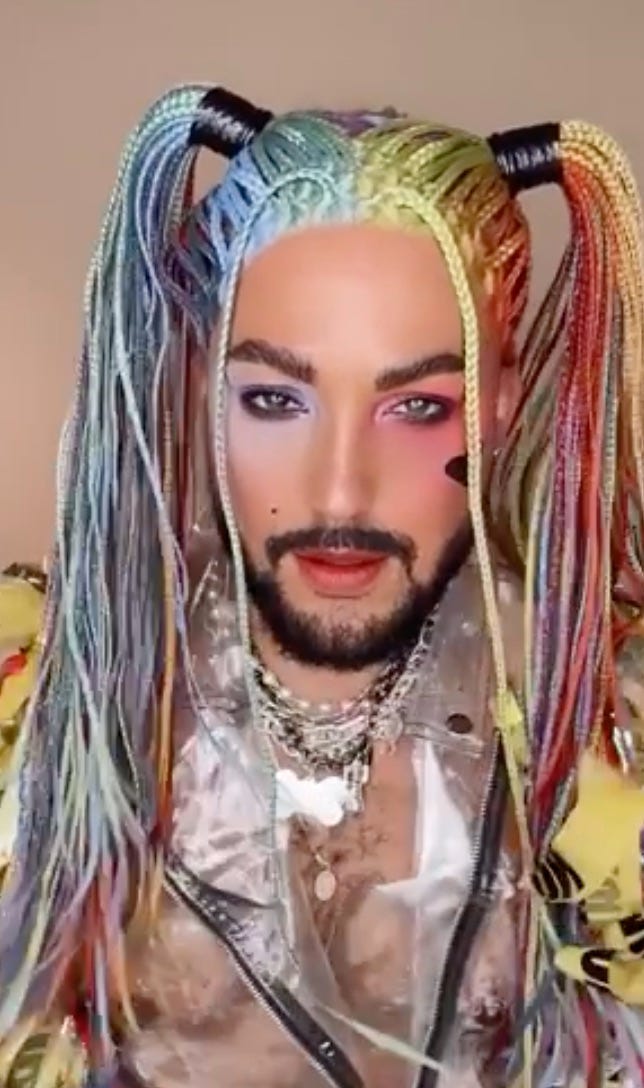 Davidlopezzz positively slays the game with his rendition of this daring look brought to you by Erin Benach. The caution tape jacket is a symbol of Harley Quinn's personality in how she's the life of the party, but it's going to get messy. Benach is quoted as saying, "Harley is very anti-establishment, so when she takes caution tape from a crime scene and fashions it into a jacket, she defaces the law and makes it her own."
Davidlopezzz is a hairstylist and glamour expert in the beauty community and has worked with celebrities like Chrissy Teigen, Ashley Graham, and Brie Larson. He is also an activist for degenderizing the beauty scene. Cue the round of applause.
2. Enasnivee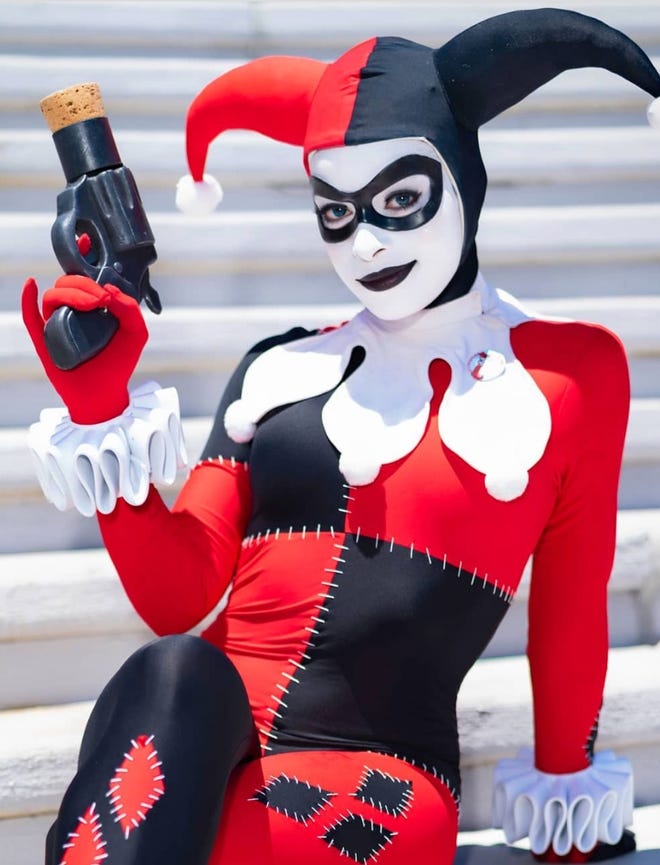 A true clown princess of crime is Enasnivee. We sent her a few questions through Instagram, and this is what we've uncovered about her love for Ms. Quinzel: She tallied up her many cosplays of Harley Quinn and told us she has twenty-four total. However, if you include variants or remakes of the costumes, she has around thirty-nine different looks for the character. She is a die-hard fan, and we aren't talking about Bruce Willis.
Enasnivee sees cosplaying Harley Quinn as an escape. Once she puts on the costume, she feels like an entirely different person. The cosplay brings out a side of her that is more goofy, bubbly, and a bit more manic. We love what Enasnivee creates and can't wait to see what Harley cosplans are instore for the future.
1. Infamousbylaura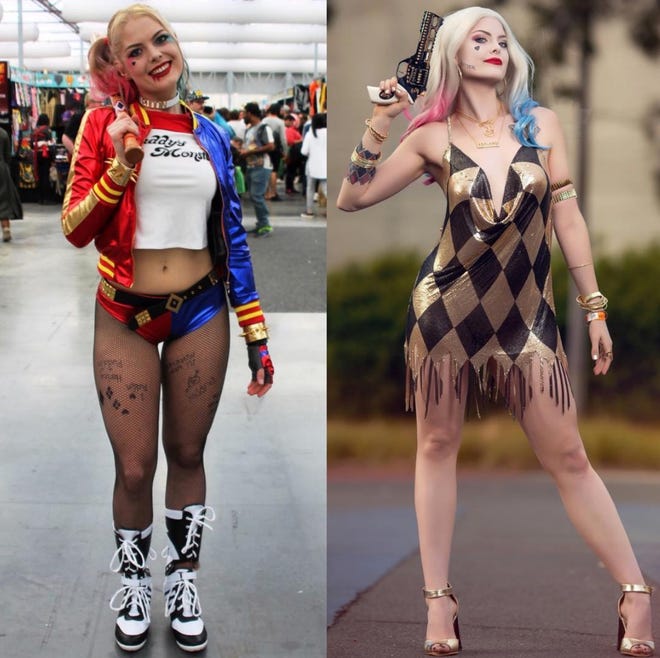 Infamousbylaura is quite possibly the most famous individual for cosplaying Harley Quinn. She took the cosplay scene by storm in 2016 with her Suicide Squad look, and, since then, she has traveled the globe attending various conventions as a public figure to meet adoring fans and trying delicious foods from all walks of life. Her cosplay journey started with a four-hundred dollar costume she bought off the internet and some hand-drawn tattoos with eyeliner.
A few years later, and she has evolved to making her own costumes through dedicated research along with using movie quality tattoos she has made from scratch. Once, she bleached her own hair, and now, she styles her own wigs. Infamousbylaura inspires her followers by telling them never to quit and to keep chipping away at their goals. She clearly has that sweet side to Harley that we all adore.