Hasan Minhaj pivots from comedy controversy to Gotham City crime in new Spotify Batman podcast
The scripted series is executive produced by The Dark Knight's David S. Goyer
As if Hasan Minhaj wasn't having a bad enough time after it emerged that he'd fabricated significant parts of his stand-up act, leading to questions being asked about whether or not he'd crossed a line, and in the process, ruined his credibility, now it turns out he's wanted by the authorities — the Gotham City authorities, to be precise.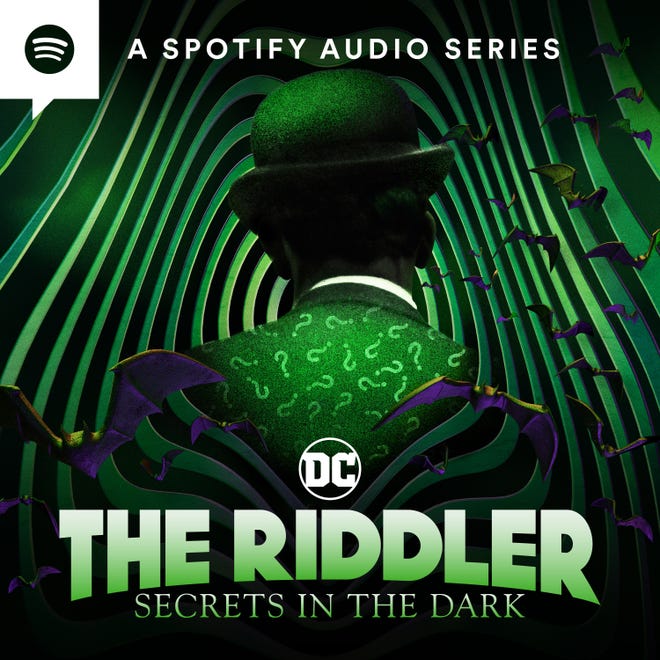 Minaj will be the lead actor in the new DC/Warner Bros/Spotify collaboration, The Riddler: Secrets in the Dark, a scripted podcast debuting next month on the streaming platform. The series, originally announced back in March, follows last year's Batman Unburied series, which also featured the beleaguered comedian as the fan-favorite villain, playing alongside Winston Duke as Bruce Wayne, Jason Isaacs as Alfred Pennyworth, and the late Lance Reddick as Batman's dad, Thomas Wayne.
In this new series, a vigilante is hunting down Gotham City's villains, but his methods are more deadly than the Dark Knight's… unless the vigilante is Batman, following some unknown traumatic episode. It's up to the Riddler to try and piece together the mystery, Isaacs returns for the new series, as do Gina Rodriguez (Barbara Gordon), Ashly Burch (Vicki Vale), and Jim Pirri (Arnold Flass); new actors joining include New Girl's Hannah Simone as Nadira Newmar, and Colman Domingo, stepping into the role of Batman.
As with Batman Unburied, The Riddler: Secrets in the Dark will be executive produced by The Dark Knight trilogy's David S. Goyer, alongside Keith Levine and Gracie Wheelan. All eight episodes of the show will drop simultaneously on Spotify October 10, making it perfect for binge-listening — and also ensuring fans should listen as quickly as possible to avoid spoilers online.
---
Batman Unburied isn't the only scripted Batman podcast out there, of course; revisit the NYCC 2022 panel for Batman: The Audio Adventures right here.