"This is a scary show with murders": Mindy Kaling and Charlie Grandy talk HBO Max's Velma
Showrunners Mindy Kaling and Charlie Grandy break down the upcoming adult animated horror show Velma.
Jinkies Popverse readers! Do you remember Velma, the spunky sleuth from the classic Scooby-Doo cartoons? The bespectacled mystery solver will soon be starring in her very own HBO Max animated series. However, don't let her Hanna-Barbera beginnings fool you, because this show is not for kids. The Velma animated series is being promoted as an adult animated series that combines horror with comedy.
This new Velma series was developed by Charlie Grandy, with Mindy Kaling serving as an executive producer. Kaling also voices the title character. Grandy and Kaling have worked together on various projects over the years, such as The Office, The Mindy Project, and Champions. To help give viewers an idea of what type of show Velma is going to be, Grandy and Kaling attended New York Comic-Con to give a presentation on the upcoming series.
Popverse was able to attend a press session with Kaling and Grandy, where the creative duo answered questions about what type of series Velma would be. "This is a scary show with murders," Kaling said. "I think we've been inspired with a lot more scary teen shows of late, which is why the show is for adults."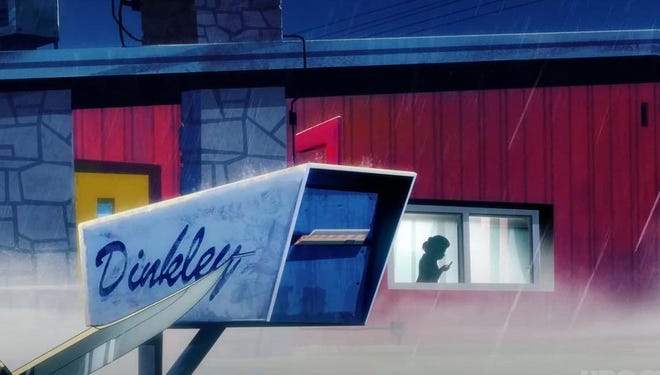 Modernizing a classic
Both Kaling and Grandy are fans of the original Scooby-Doo cartoon, and tried to stay true to the spirit of the classic, while trying to do something new. "We always wanted to do it as adult animation," Grandy said. "And for me, I loved Scooby-Doo as a kid, but it also scared me. I was scared very easily, but I was interested in kind of taking the comedy and the humor of the original, and sort of adapting it for older audiences."
"It's such an amazing series," Kaling said, referring to the classic Hanna-Barbera cartoon. "We've loved what people have done with their own versions of it. We felt this was a really interesting and fun way to make a different choice. And it felt worth doing because that hadn't been done before."
One of the first things Kaling and Grandy considered was the setting for the series. "We thought about it, should it be a period piece?" Grandy recalled. "Should we throw it in the 60s and early 70s? I think we just decided that we would, kind of taking a nod from Riverdale, and all the Greg Berlanti shows, just setting it now as if it's happening now."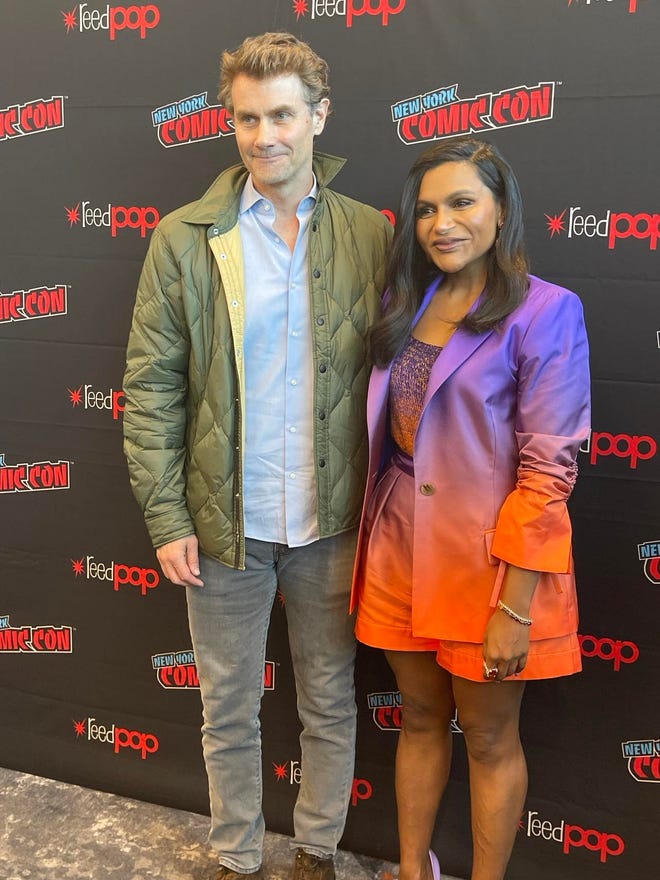 "It also felt like it would make it less like a facsimile of the original version," Kaling explained. "It was a fun challenge, to have cell phones now. It's diverse, people come from different backgrounds. I think that it helped us make that transition by modernizing it."
In some ways, the show will deconstruct the original Scooby-Doo cartoon, showing how Freddy, Daphne, Velma, and Shaggy became a team of teen mystery solvers. "I have kids and I was very interested in the family dynamics," Grandy said. "One of the big mysteries of Scooby-Doo was how did these four very different people come together? What really drew them together and what sort of kicked it off? How they were made by their parents, and that's such a trope in teen dramas, especially today, teens paying for the sins of their parents. I really wanted to kind of fold that into this series as well."
"The fun of the show has really been taking the iconic pieces," Grandy continued. "Either the sayings or the sweater and trying to give origins to all of those. Imbue them with meaning. Why does Velma say 'jinkies'? That's a big thing that we wanted to lean into. Same with all the characters. We call him Norville in our series. Well, when does he become Shaggy? That's one of the real appealing things of doing this project."
Part of modernizing the show meant looking at it through a 2022 lens. This raised the question of changing the race of the characters. In this series Shaggy will be black, Daphne will be Asian, and Velma will be Indian. "The whiteness of the characters didn't feel integral to them. Except Fred. Fred just felt like a very white person," Grandy said with a laugh. "Fred had to be white. He's the whitest character in the history of television," Kaling joked.
Kaling went on to explain that once she realized the show would be animated it opened up the possibilities in her mind. "Why not make the character Indian? We've been so inspired by Into the Spider-Verse and seeing these other characters that can embody the spirit of these iconic franchises. Why don't we try that? We love Scooby-Doo so much, and we're going to honor it."
Race and family
Velma's Indian heritage is something she shares with her voice actress Mindy Kaling. "I love this opportunity I have now to be able to have representation of modern Indian American teens," Kaling said. "There is not a lot of representation of Indian American girls in 60s, 70s, 80s, and 90s animation. And so what I loved about that character, she's the closest to what I can see. Smart, A-student, thick glasses that are always falling off, and skeptical. She has a lot of these amazing qualities, so as a kid watching the reruns of the original Scooby-Doo I felt like, 'Man I really identify with this character.' I love that she exists. She's not like traditionally gorgeous or anything, she just helps the gang because she's so smart."
Kaling was also excited about bringing the Indian family experience to the series. "I've been able to show these mother, even grandmother, and teenager dynamics in a lot of my shows that are Indian-American. I was so excited that her primary parent - and there's some fun mystery around - that I won't say too much on - her father. And the father doesn't have an accent. He was born and raised in the United States. And that's a dynamic I haven't seen before."
Velma's father Aman will be played by comedian Russell Peters. "What's great about Russell is he has such a light touch. He has such a great voice that he can be very gruff, and stern and just kind of rolls his eyes at Velma a lot, but it comes across as sweet and endearing," Grandy said. "And we don't fall into this trope where he's like, you have to be a doctor," Kaling added. "They're just trying to get by. They're not from like a wealthy family. It's just a unique dynamic that I'm so proud to get to tell."
What will the tone of Velma be?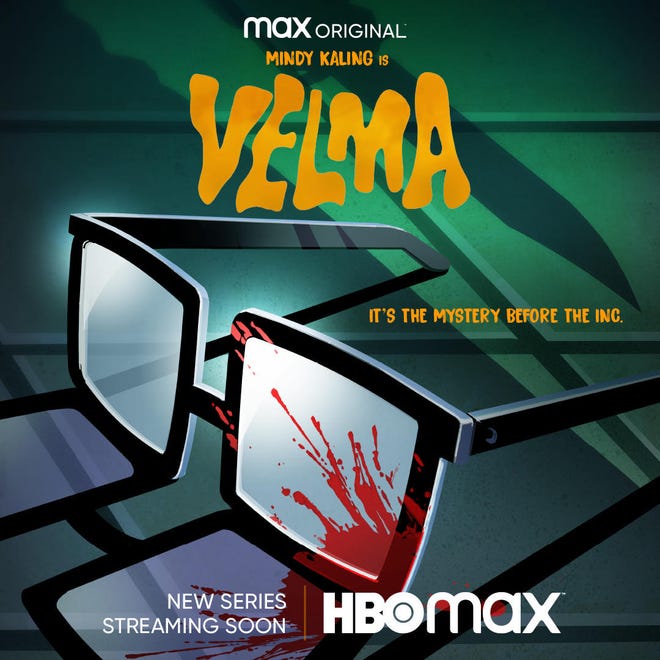 Although the source material is a children's cartoon, Kaling and Grandy stressed that this was an adult show. "It's not for kids," Kaling said. "When you see it, you'll understand." Popverse asked Kaling and Grandy about the tone of the series, noting that it could be compared to Harley Quinn, another successful HBO Max adult animated comedy. Was it more like Harley Quinn, or the X-Files? "I'd say it splits the difference between those two references that you made, Harley Quinn and sort of animated X-Files," Grandy replied.
"Harley Quinn is an awesome show," Kaling said. "We love that show. We're big fans of the writers on that show. It's like such an awesome show, it's super raunchy and really cleverly written. I think our show is less adult than that show, but again Harley Quinn is a very different kind of character than Velma."
"I think of like Veronica Mars," Kaling added. "Which is another amazing show about real mysteries with real stakes, and implementing a lot of that." Elaborating on the tone, Grandy said that while the show will be adult in nature, we shouldn't expect things to get too raunchy. "It's certainly adult, but I wouldn't say it's the most adult show that you've ever seen. We wanted to be respectful to the IP. We didn't want to say, oh, look what we can do with these people."
In other words, if you're worried about Shaggy dropping f-bombs, you can relax. "They don't swear," Kaling said. "And so it's really just the situations that they're in because it's geared towards adults. We can be more like - teens who are 15, 16, or 17, what are those sorts of urges, which you couldn't have in the show that was for younger kids."
Velma's queer status
The conversation turned to Trick or Treat Scooby-Doo, the franchise's latest animated film. The movie portrays Velma as an openly queer character, giving her a crush on another girl. Although Velma's sexuality has been debated about over the years, this was the most overt statement the franchise has ever made on it. The move made headlines, with fans all over social media excitedly talking about the confirmation of Velma's long debated queer status.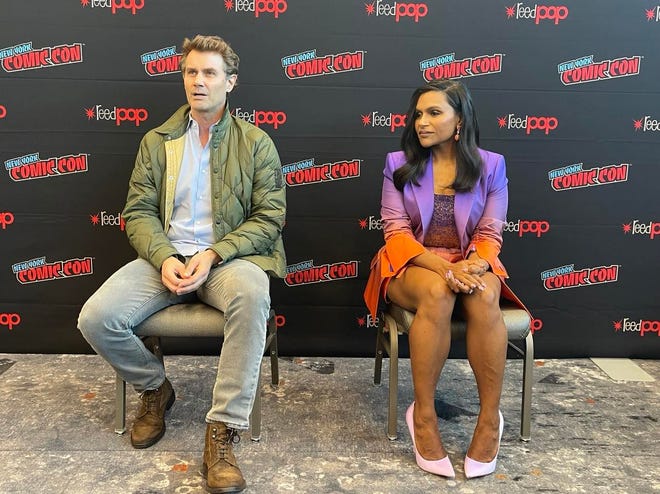 While Kaling and Grandy's Velma show is not connected to Trick or Treat Scooby-Doo, they did want to address the news. "We're very aware of the story, Grandy said. "I think it's just great that you can tell these stories about Velma that have been talked about forever, but now you can actually address them in all the different iterations of Velma."
Kaling seemed to hint that her version of Velma might have a similar journey. "Her self-discovery is a really big part of this series. We don't want to ignore that she's an icon for young gay women, and I think that's really interesting. Her figuring it out is a big part of the show and why it's really fun to do."
"I've just been so lucky that we've had partners in HBO Max that are really excited," Kaling said. "Not everyone would necessarily feel comfortable doing this, and we feel so lucky that Warner Brothers animation was open to this." As for Grandy, he hopes that viewers find enjoyable horror and comedy in the series. "As a kid, I thought Scooby Doo was hilarious and scary, so I wanted to create a version that I, adult Charlie, would think is both hilarious and scary."
---
Velma will premiere on HBO Max in 2023.
---
How Milestone Media's Static changed Saturday morning cartoons for good