High energy LGBTQ+ movies for an energetic Pride
Sometimes, you just want to stay in and watch a movie, but that doesn't mean you can't also celebrate Pride Month at the same time!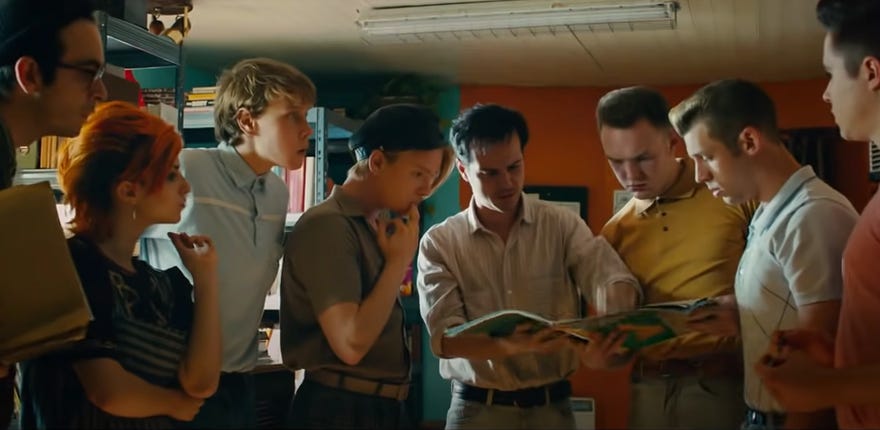 Pride is not all about parties and parades! Sometimes, it's about staying in and watching movies about queer stories. While not all these movies are feelgood (though many are), they all have a certain level of energy to them that'll make you want to stay up late instead of going to sleep.
So, if you want to stay in tonight and put a movie on, here are ten high energy movies to watch for a high energy Pride month.
Where to watch: Amazon Prime
This is a feelgood movie based on a true story about the unlikely alliance between a London group of queer activists and a group of striking Welsh miners. Pride is chock-full of familiar British actors like Bill Nighy, Dominic West, Imelda Saunton, and Andrew Scott. It follows a tried-and-true formula of putting city gays into a rural location, and this use of that formula is filled with pleasant and happy surprises. Pride tugs at your heart strings and serves as a great reminder of what some guts, determination, and solidarity can do.
Where to watch: The Broken Hearts Club is not available on any streaming services, but you can rent it on Apply TV or check your library for a DVD copy. It's worth it!
Long before Greg Berlanti was running superhero shows over at the CW, he made his first feature film—the Broken Hearts Club: A Romantic Comedy. It's funny, it's sweet, and it's a real celebration of gay friendship, all the while depicting the fact that many queer people have coming-of-age moments later in their lives.
While The Broken Hearts Club can be predictable, the jokes, the specificity of the actors' performances, and the emotional beats of the film make it one of the warmest and most accurate (at least to early '00s West Hollywood culture) gay comedies ever made. Starring well-known actors like Timothy Olyphant, Dean Cain, Zach Braff, Billy Porter, and John Mahoney, it's kind of surprising how little this movie is talked about.
Where to watch: Stream on Kanopy, Tubi, Roku, or rent on Apple TV, Amazon, Google Play, Youtube
You knew this one was coming. But I'm a Cheerleader is a lesbian cult classic. This movie is as camp as camp can be, and totally worth a few hours out of your day, especially during Pride. Natasha Lyonne's Megan is sent to a conversion camp to cure her lesbianism. At this camp, she meets and falls in love with Graham, played by Clea DuVall. But I'm a Cheerleader is funny, sweet, and very weird. If you haven't seen it already, you're missing out.
Where to watch: Stream on Netflix, Amazon Prime, Kanopy, or rent on Apple TV, Youtube, Google Play
This movie (famously shot on iPhones) follows two trans sex workers Sin-Dee Rella and Alexandra as they spend their Christmas Eve hunting down Sin-Dee's cheating boyfriend. The energy in this film comes from the loud and chaotic energy of Los Angeles, and the heart of the film comes from the movie's depiction of complicated female friendship. This is a quintessentially Los Angeles movie and a must watch for anyone who loves indie film.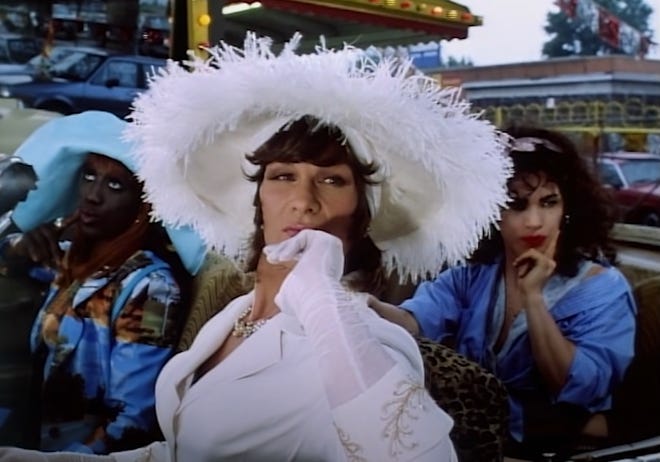 Where to watch: Rent from Apple TV, Amazon, Google Play, Youtube
To Wong Foo gets a bad rap, mostly because it came out so closely (and had such a similar overarching plot) to Priscilla Queen of the Desert that everyone just assumed it was a hasty ripoff. However, though the two movies are about drag queens making a cross country journey and their transportation breaking down in a small town, they couldn't be more dissimilar.
To Wong Foo stars the surprisingly incredible Wesley Snipes, Patrick Swayze, and John Leguizamo as Noxeema, Vida, and Chi-Chi, and it is much lighter fare than Priscilla. Sure, the sets are terrible, but this is a movie with heart (and a moving performance from Stockard Channing). To Wong Foo is a movie about friendship, finding yourself a place in the world, and how a little more style in one's life can make all the difference.
Where to watch: Rent from Amazon, Google Play, Youtube, Apple TV
This Elton John biopic-musical is not just stylish. It uses its glamour to get right at the heart of the tragic first half of Elton John's life. Perhaps the movie feels more willing to 'go there' because we know that there's a happy ending for Elton John, but Rocketman feels more daring and insightful than most biopics of living stars. Taron Egerton turns in a spectacular performance, channeling Elton John's ostentatious performance style, while also giving us peeks into the vulnerability that he had to hide onstage. Rocketman's supporting actors also gave memorable performances, with Jaime Bell as songwriter Bernie Taupin and Bryce Dallas Howard as John's mother Sheila Dwight. This is a movie that will make you cheer, make you cry, and make you cheer again.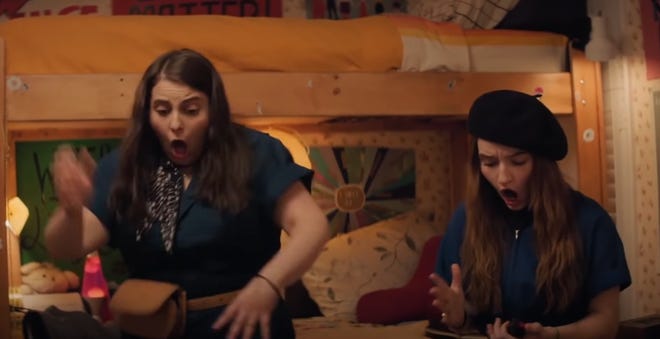 Where to watch: Stream on Hulu, Rent from Apple TV, Youtube, Google Play
Olivia Wilde's debut film is fun and feminist, poking at all the nerves and anxieties of facing the end of high school. Kaitlyn Dever and Beanie Feldstein are convincingly weird and ambitious as best friends Molly and Amy. This movie is about the bad decisions of youth (the ones that are supported by society and the ones that aren't) and what it's like to discover new parts of yourself alongside a friend. Booksmart takes its time to break down Molly and Amy's snobbishness providing them with clearer views of the world in which they live, as they examine each barrier that has dictated the ways they've made their choices so far and decide to knock those barriers down. A great 'one crazy night' movie.
Where to watch: Stream at Paramount+, rent from Amazon, Google Play, Vudu
This isn't a cheery movie, but it is high energy, and it is definitely queer. Starring the iconic Liza Minelli, Cabaret's heady and terrifying depiction of Berlin during the Weimar Republic as the Nazi party slowly gains power showcases what many people do when facing imminent doom— party like none of it is happening.
Of course, the partying doesn't stop the doom, nor is the partying necessarily useful, but it does speak to an instinct I think everyone has when they don't know what else to do (or when they're not willing to do it). Cabaret still feels (and looks) incredibly contemporary 50 years later, and it is eerie in its insightful depiction of the rise of fascism and people's willingness to turn a blind eye to it.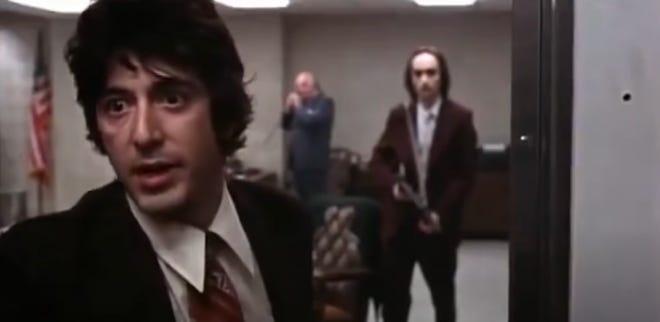 Where to watch: Stream on HBOMax, Rent from AppleTV, Amazon, Youtube, Google Play
This Sidney Lumet classic isn't normally on queer movie lists, but I think it should be. Dog Day Afternoon was ased on a real heist in which Sonny (played by Al Pacino) robs a bank to pay for his partner's transition surgery. Sonny and his heist partner Sal (played by John Cazale) expect to be in and out of the bank within minutes, but the money they're looking for isn't there. In these spare moments, someone alerts the police, and the robbery turns into a hostage situation.
This movie is not only one of the best (if not the best) bank heist movies of all time, it also has a no-nonsense and often tender depiction of an openly bisexual man. Al Pacino is incredible as Sonny, who became representative of a new kind of movie hero of the complicated and cynical mid-seventies.
Where to watch: Stream on HBOMax, Rent from AppleTV, Amazon, Google Play, Youtube
Ah, the classics.
In this American adaptation of the French film La Cage Aux Folles, Nathan Lane and Robin Williams play Albert and Armand, two men in a long-term relationship who are perfectly happy in their little corner of South Beach until Armand's son Val comes home with the news that he's engaged to be married—to the daughter of an ultra-conservative senator. The senator and his wife want to meet Val's parents and make sure they're the right sort of family for their daughter to be marrying into, and Lane and Williams must both play straight.
Gene Hackman and Dianne Wiest are particularly funny as they play the straight men to Nathan Lane's increasingly harried performance. While this film can seem a little bit dated in its themes and approaches (at some point, you may want to strangle the son Val), the movie is full of laughs, and at the center of the film is a convincingly warm relationship between Lane and Williams.
---
If you're more interested in a chill movie sesh during Pride, check out our best calm LGBTQ movies to watch during Pride list.