How can a Lord of the Rings prequel TV show work without Hobbits? Meet the Harfoots
How they found a workaround from J.R.R. Tolkien's original text for a Lord of the Rings prequel
Marvel stories have superheroes, Star Trek stories have space ships, and Lord of the Rings stories have hobbits. It's standard... but what if it can't be?
The creators of the upcoming Amazon Prime Video series Lord of the Rings: The Rings of Power wanted to include JRR Tolkien's Little People in their prequel, but had a problem: Tolkien himself wrote that no Hobbits did anything noteworthy before the events of the The Hobbit book itself. But a Lord of the Rings story without a Hobbit doesn't sound very LotR, so showrunners J.D. Payne and Patrick McKay found a workaround - the Harfoots.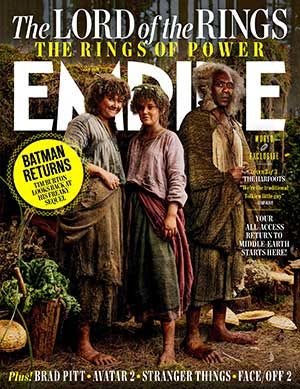 Harfoots? Yes, Harfoots.
Harfoots are a race of individuals that pre-dated the Hobbits, and are one of the Hobbits' ancestors - sharing both the furry feet (see Harfoots) and diminuitive height. But they don't live in a shire, and aren't called Hobbits.
"We're a nomadic tribe, moving with the weather and the fertility of the crops," actor Lenny Henry, who plays a Harfoot name Sadoc Burrows, tells Empire. "We have big caravans on wooden wheels and we're very good at hiding things, because humans are much bigger than us and bring trouble."
And while the Harfoots aren't Hobbits themselves (as to not go against Tolkien), they are intended to fill that gap.
"We're the traditional Tolkien little guy," Henry says. "Traditionally, the little people in this world provide comedy but also get to be incredibly brave. You're going to see us run the full gamut of emotions and actions in this adventure."
Lord of the Rings: The Rings of Power is set thousands of years before the events of the Hobbit and the Lord of the Rings trilogy, in what was called the 'Second Age of Middle-Earth.'
Lord Of The Rings: The Rings Of Power debuts September 2 on Amazon Prime Video.