Hunter x Hunter: Hisoka, Gon, and more come to life via cosplay
Check out these 10 impressive cosplays to prepare yourself for the newest Hunter x Hunter season.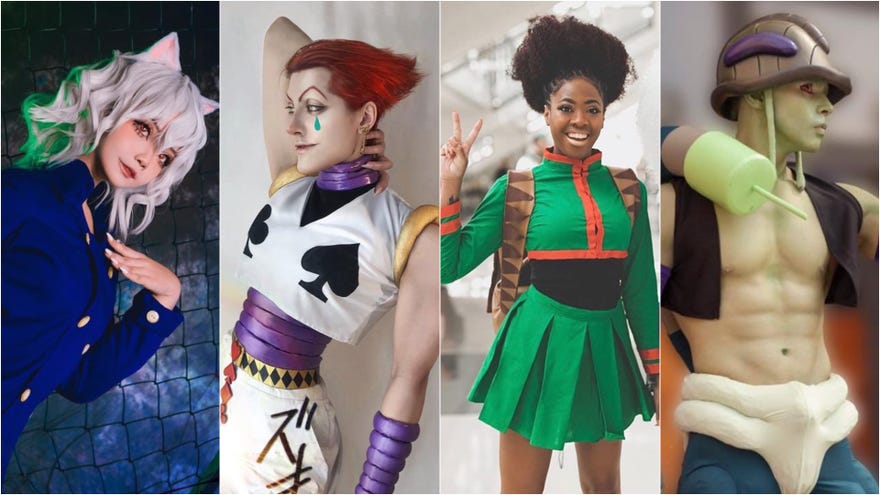 Hunter x Hunter is a Japanese manga series written and illustrated by Yoshihiro Togashi. The story centers around a young boy, Gon Freecss, who is eager to become a Hunter and find his father. A Hunter is someone that is a licensed professional and specializes in wondrous and sometimes dangerous quests. On his journey to become a Hunter, Gon meets various individuals who strive for the same goal. These characters display unique and extraordinary skills that are enticing enough to any cosplayer.
Rumor has it that Togashi will release a new chapter of Hunter x Hunter in 2021. He has been on hiatus but promises to continue the series eventually. There is no official confirmation for the renewal of the series; however, fans are still optimistic and have put forth some excellent cosplays. Here are some of our top picks.
10. Villain Lady
People think we are obsessed with this. And that's okay because we are obsessed with this Hisoka cosplay by The Villain Lady and every villainous cosplay she has to offer. She made the entirety of this cosplay from the character accurate belt to those jester inspired shoes. We highly recommend checking out her Harley Quinn cosplay and her Stormtrooper make-up look as well.
9. Tatted Poodle and HeyJayish
Tatted Poodle and Heyjayish make the most beautiful pair as Gon and Killula. We love this image of the two as it represents the fun and adventure the anime characters portrayed in the show. The two friends are both Twitch streamers, and they make some fantastic cosplays. Our favorites from the two include Tatted Poodle's Lifeline from Apex Legends and HeyJayish's Catzi/Koan from Sailor Moon.
8. Harullumi
Harullumi has slayed it in this Illumi cosplay. Illumi, raised as an assassin from birth, is an older brother to Killula. Harullumi has added some twists to his cosplay, which is fitting for such a twisted character. We love the details of the thigh cutouts, the red lace, and all of those glorious pins! Plus, his septum piercing honestly feels appropriate for this character.
7. Summerdru
Summerdru is serving up this niche cosplay of Phantom Troupe member #8: Shizuku. This is her first time making her own prop, and it looks incredible. The prop is part of Shizuku Murasaki's Nen type: conjuration. Her Nen ability allows her to conjure a vacuum she calls Blinky, who can inhale an infinite number of nonliving objects.
6. Heyhugowannakiss and Hudsonhawkpritchard
These are the real-life versions of Leorio and Kurapika, and you can't tell us otherwise. Though Leorio and Kurapika have entirely different personalities, the two usually carry a common goal and respect one another. Cosplayers Heyhugowannakiss and Hudsonhawkpritchard share an authentic friendship seen in these images as well in their captions. Did we creep? Yes. Do we ship Leopika? You'll never know.
5. Yukaoni_
Yukaoni has left us speechless. This cruel yet playful character is Neferpitou or better known as Pitou, the humanoid cat. Yukaoni has made this picture-perfect cosplay following the characters' impeccable design, including demarcated joints' illusion to look like insect legs on their knees. She truly has brought this anime character to life.
4. Diebreado
The contour, those eyebrows, that wig! We are fangirling. Diebreado fashioned this cosplay interpretation with the addition of a stunning oil-slick bodysuit and their already pierced labrum. Plus, they edited this image themselves. Unbelievably so, this cosplay is considered a work in progress for cosplayer Diebreado, and we can't wait to see what they'll add next.
3. Sanet.cosplay
We adore a closet cosplay as much as anyone, but this Canary by Sanet.cosplay has taken the cake. She titled this as a "lazy closet cosplay," If this is lazy, we need to step up our game. Her appreciation of the character and why she chose to portray her is why she made our list. Sanet.cosplay wrote this in her Instagram caption, "She (Canary) is one of the few black anime characters without awful and racist stereotypes. I don't know why anime creators act like it's hard to make well written Black or African characters w/o a racist undertone".
2. Goukicosplay
The fact that this post is from July 22nd of 2019 doesn't matter because this cosplay lives rent-free for us. Meruem appears later in the series in the Chimera Ant arc and is considered to be the strongest character in the entirety of Hunter x Hunter. When it comes to Meruem's appearance and powers, there are some explicit references to the anime Dragon Ball, which may explain why cosplayer Goukicosplay chose to cosplay him. We deducted that assumption from the amount of Dragon Ball characters on his page.
1. J_Weldon
If this isn't the cutest thing you have seen all day, take a deep breath, and reevaluate your life. This account belongs to a family who loves anime and enjoys going to their hometown conventions. Pictured here is the little brother of the clan debuting his first cosplay for Halloween. To sweeten your day, here is a photo of the whole family in their Hunter x Hunter cosplays.
This is parenting done right.