Charles Soule is mixing vampires, jailbreaks and sci-fi for new series The Bloody Dozen
The Bloody Dozen is the latest in Soule's Shrouded College horror cycle
Six years after Charles Soule and Alberto Jimenez Alburquerque threatened the very existence of Earth in their Oni Press series Letter 44, they're re-teaming for a new space horror thriller at Image Comics, titled The Bloody Dozen — but this new outing is part of the larger, spookier Shrouded College mythology Soule is building at Image Comics.
Described by Image as "the ultimate heist," the six-issue series features three hard-luck astronauts who accept a very unusual mission: breaking a group of vampires out of a prison orbiting the sun. There's a reason the publisher is describing it as a cross between Apollo 13 and Blade…!
"The Bloody Dozen is the second Shrouded College story, which can be read independently of the first (Hell to Pay), but builds on the overarching narrative that will be told across the seven planned stories in the Shrouded College universe," Soule said in a statement provided by the publisher.
He continued, "The Bloody Dozen—like all the Shrouded College stories—is inspired by horror-action of the '90s and '00s—films like Blade or Event Horizon or Prophecy. The 'just smart enough' stories which build off a kickass hook and then deliver great action and adventure and scares. The basic premise of the Shrouded College is that ordinary people are given magic abilities and then tasked to complete supernatural 'impossible missions'—and The Bloody Dozen gives us a doozy. I'm particularly excited to be reunited with my Letter 44 collaborator Alberto Jimenez Alburquerque for the interior art—no one draws space terror better!"
"It's been years since Charles and I started talking about this project," added Albuquerque. "It has changed and evolved in several ways but my commitment to work with Charles again has remained intact since we finished Letter 44. And it's paid off! This series has it all. Magic, space travel, steampunk and, of course, vampires. I have to thank Charles and Will for including me in this saga and allowing me to create and expand on their universe. I'm going to give it my all and it's going to be epic!"
The Shrouded College was introduced, as Soule says above, in Hell to Pay, his 2022 miniseries with artist Will Sliney; it's an institution that can give magical abilities to those that want them… if they're willing to pay the price, that is. Although Alberto Jimenez Alburquerque is responsible for the art on this new series, Slinky is still involved with The Bloody Dozen, providing cover artwork, as well as providing artwork for a 1:50 variant cover that featured a limited-edition "challenge coin" from the College.
"It's class to see the Shrouded College universe expand with The Bloody Dozen," Sliney explained. "Alberto's pages are fun, gorgeous and when they need to be, terrifying. While Charles and Alberto are up in Space with Bloody Dozen, I'm hidden away in a secret location working on another installment. In fact, you can see our road map here with these interlinked coins."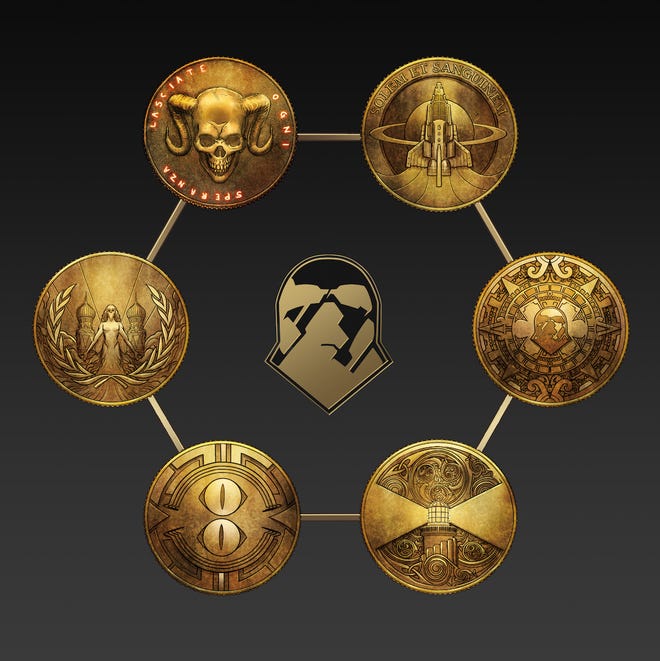 As the above graphic reveals, The Bloody Dozen is just the second of a series of Shrouded College stories, with seven intended for publication across the next few years. The reach of the College extends past just comics, however; as was reported earlier this year, a Shrouded College TV show is in development from Seth MacFarlane's Fuzzy Door production company for Peacock.
The Bloody Dozen #1 will launch December 13. Click through the covers for the issue below.
---
Soule and collaborator Ryan Browne talked to Popverse last year about their series Eight Billion Genies.