Robert Kirkman, Cory Walker, and Ryan Ottley reflect on the past, present, and future (!!) of the Invincible comic book
Invincible's creators express their delight in ending their book (for now, anyway)
It's een five years since the best superhero comic in the universe Invincible ended.But we're also in the midst of a popularity boom, as we're beteen the first and second seasons of the hit animated adaptation of the same name on Amazon Prime Video. Saturday at San Diego Comic-Con 2023, creators Robert Kirkman, Cory Walker, and Ryan Ottley took part in what became a trilogy of panels about the comic, the animated series, and then a screening.
One of the memorable questions that came up for the trio during all of this was from a fan, asking if it was bittersweet to have said 'goodbye' to the series.
Walker, in his trademark stoic style, says, "No" (to great laughter.) Pressed, he went on, "I know it sounds horrible, but seeing how upset people were that it was ending was a really good feeling. Just knowing that people cared enough to be upset that the thing was ending."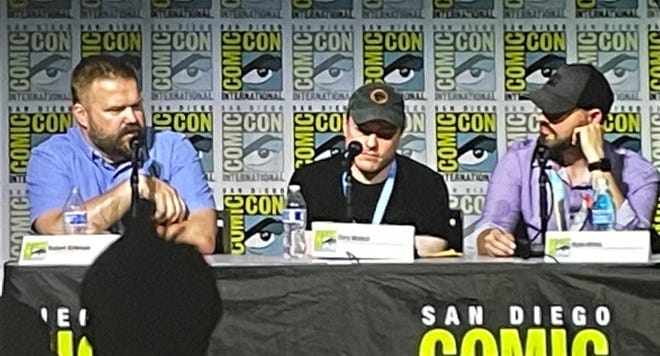 For Kirkman, ending the series in the way that they did was in keeping with the team's goals from the beginning.
"Most super hero stories go on forever and ever and ever and they usually get traded off to other creative teams and they continue and that's what super hero stories do," he explains. "With Invincible we were always going against type. Everything we did in these books was always unexpected and different. We used the tropes of super hero comics to try and show you new things and different things.
"The ultimate way to play against type with a super hero story was to give it a finality, to give it a proper ending."
Asked if he felt any kind of "empty nest syndrome" with the book over, Ottley admits, "For sure, so many of the characters feel like family. Drawing them for 15 years every single day as your full time job, it was strange."
But he added, "Then I started drawing Spider-Man and all the characters look the same."
("I wasn't going to say it," Kirkman chimed in.)
"I never stopped drawing Invincible," Ottley said. "Peter Parker is basically Mark Grayson, Atom Eve is Mary Jane. It's all good."
In the panel that followed previewing the second season of the Invincible series on Prime Video, Kirkman also admitted that in a way he had never left Invincible, having begun work on the animated series as soon as the book was over. When he first started the comic, he'd actually assumed he'd do 100 or 200 issues of the series and then hand it off, "but I fell in love with the characters," he tells the audience.
"When the show ends, we'll bring the comic back," he quips.
That could've been a joke, but we'll hold you to that.
Invincible season to debuts this fall and is scheduled to run into 2024, with a third season already greenlit - so we may have to wait awhile for the next issue of Invincible.
---
For more, read our guide to Invincible season 2.