Invincible: Omni-Man cosplays that are truly iconic
From the hit Amazon Prime show and groundbreaking Image Comic, here's Omni-Man in his terrifying glory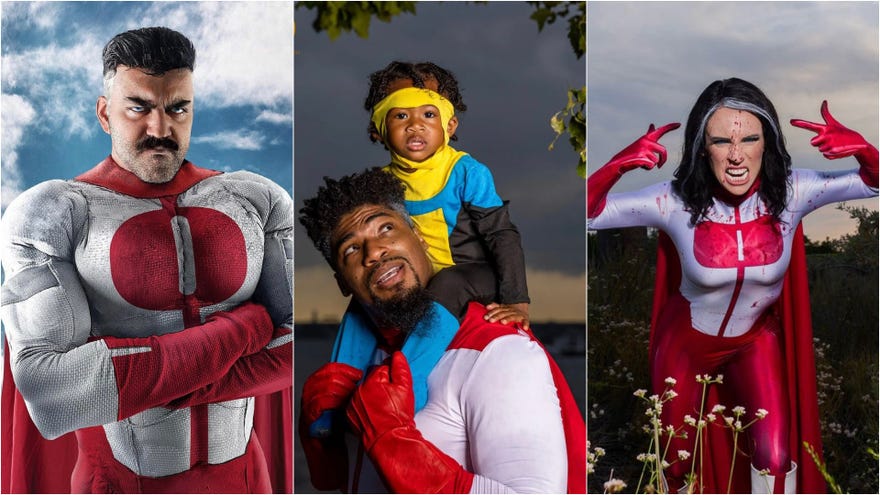 The good, the bad, the ugly, and the Viltrumites. Invincible is an R-rated superhero animated show on Amazon Prime, based on the comics created by Robert Kirkman and Cory Walker. To describe the show in short, it's Justice League meets The Boys.
The series initially revolves around 17-year-old Mark Grayson and his transition from being an average high schooler to a powerful superhero. Under the guidance of his father, Omni-Man, the most powerful being on the planet, Mark learns the trials and tribulations of what it means to become who he always wanted to be.
With the finale leaving things open for many more installments, Amazon Studios has renewed the show for two more seasons, with Invincible season 2 already in development.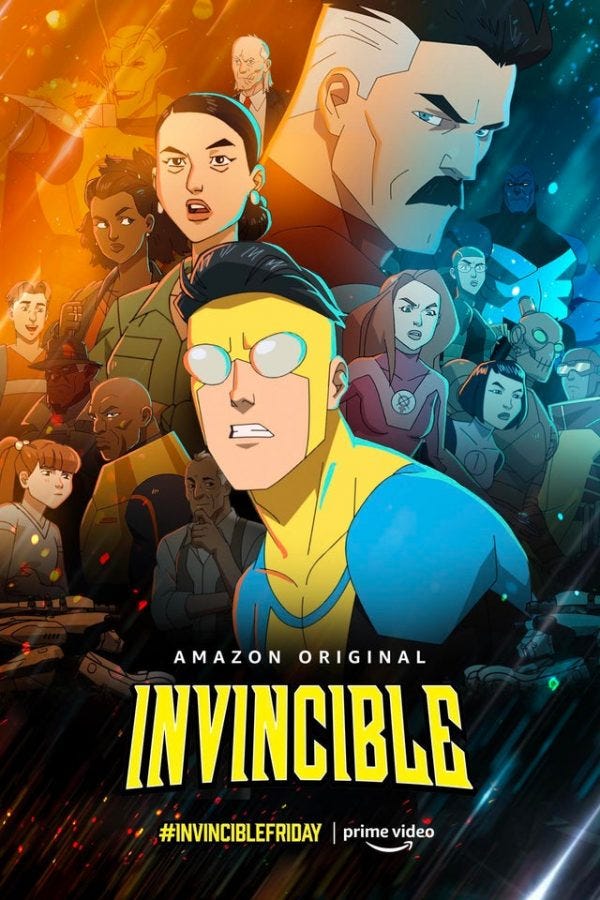 There are an infinite amount of characters to cosplay from this sensational series, but the most standout character, in our opinion, would be Omni-Man. J.K. Simmons voices Omni-Man, AKA Nolan Grayson, as one of the world's saviors and Mark's dad. Nolan is a member of the Viltrumite race, a humanoid species of extraterrestrial origin who possess immense powers and ultimately no weaknesses.
Like all Viltrumites, Nolan traveled to a single planet to become its protector; his planet was, of course, Earth. When Nolan isn't acting as a devoted husband and father, he flies around the world, saving any and all he can. But like most superheroes, Omni-Man has a few secrets left to reveal.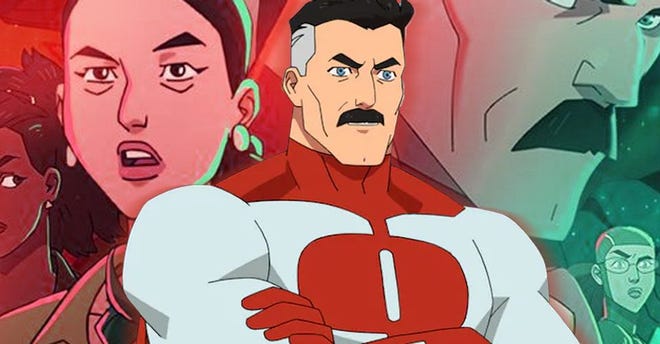 Viewer discretion is advised for the next section of this article as it contains SPOILERS and epic cosplays. Continue on if you have watched the show, otherwise hop on your sofa and turn on Amazon Prime. You have been thoroughly warned. Now, enjoy these nine Omni-Man cosplayers who did what needed to be done: they brought Omni-Man to life.
Venture_bros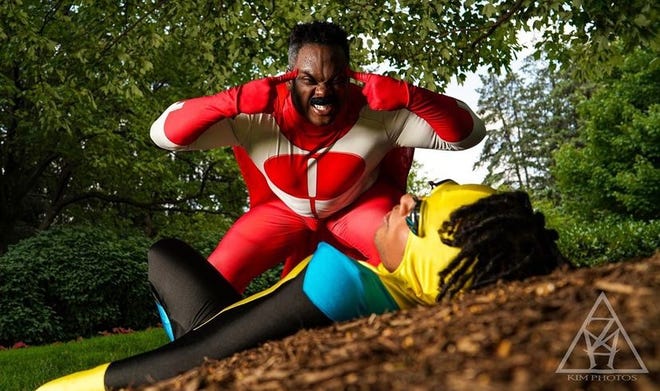 Think Venture_bros think! Think about how awesome you look! What's not to love about Venture-bros cosplay? Honestly, the raw emotion is straight-up terrifying and remarkable at the same time. Cue the anime-intro music because we've got a legit Viltrumite on our hands.
Venture_bros collaborated with several artists for his photoshoot as Omni-Man and was recognized by Amazon Prime and Robert Kirkman for how great his and his friends' cosplays were. Kudos to you, our friend! Venture_bros' cosplay is a suit from superhero costume company SuperGeekDesigns. For his hair, Venture_bros used a grey hair wax on the sides and cut down one of his older Super Mario mustaches to get the same shape as Omni-Mans.
As for why Venture_bros wanted to cosplay this crazed individual, he replied saying, "I loved Omni-Man's backstory. I think everyone has thought about the possibility of Superman being evil, and Omni-Man embodies that concept. I don't cosplay caped heroes often, but I always cosplay characters with a powerful stache and presence!" LOL, that last sentence has us rolling.
We look forward to more mustached cosplays from Venture_bros in the future.
CaptCash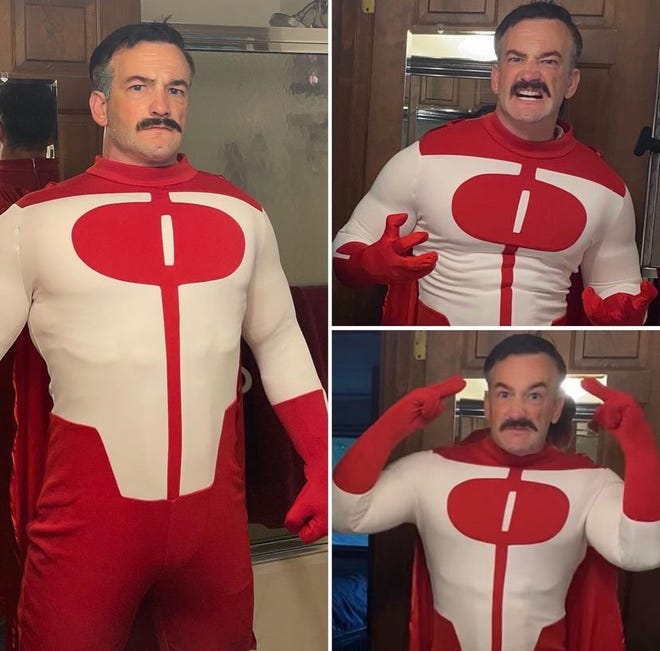 Captcash is back at it again! We consistently showcase how incredible this cosplayer is because he continues to stay on top of trends while doing so in a non-traditional fashion. For instance, his Mobius cosplay from Loki was just a suit and a tie until the cosplayer paired it up with a jetski!
This isn't the first time Captcash has cosplayed an evil-Superman expy from an Amazon Prime show. Back in 2019, the cosplayer went to The Boys premiere in a full Homelander cosplay made from scratch. Thus, some could argue that he was the first Homelander cosplayer. Even if that isn't the case, Captcash still got a hug from Toni Starr.
His Omni_Man suit was purchased from CosplaySky, and the muscle suit he wears underneath is from Amazon. Captcash admitted that the muscle suit was necessary considering he's not in Evil-JKSimmons-Superman-who-can-murder-the-Justice-League shape and wanted to be as accurate to the character as he could.
As to why Captcash wanted to cosplay Omni-Man is a pretty understandable reason. He said, "Well, I decided to cut my beard into a mustache for the summer, and from that point, the cosplay chose me. Plus, who doesn't want an excuse to cosplay memes and shout like J. Jonah Jameson?"
Katyafern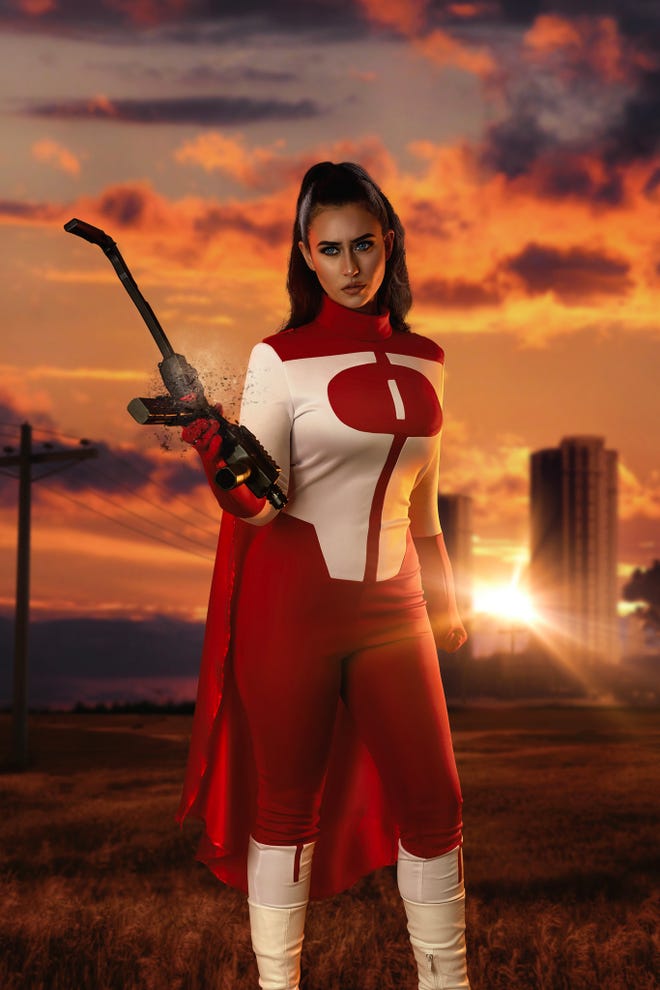 We wouldn't want to mess with Katyafern when she's dressed as Omni-Man and is giving us such a pensive stare. Seriously, this is terrifying as well as amazing. For someone who is as kind as Katyafern, we've got to applaud the modeling here! The cosplayer typically makes her own costumes, but with so many cosplans in the pipeline, the thought of a genderbend Omni-Man suit was a nice change.
Once the suit was purchased, plenty of alterations were needed as the costume was made for a man. Katyafern also added a unique twist to the suit that goes unseen. She cut a hole in the glove on her right thumb to easily access her phone and take plenty of selfies. With the addition of a power pose and her cape equipped, Katyafern told us the cosplay made her suddenly feel...Invincible.
We asked her why she chose this Viltrumite to cosplay as, and Katyafern said, "After watching Invincible on Amazon Prime, I fell in love with the series and wanted to honor it in some way. The obvious choice would be Atom Eve. I did grow to like her, but I've always leaned towards the more villainous characters. I think Omni-man is such an interesting and captivating character; I sat at my laptop one evening and thought, HOLD UP imagine an...OMNI-WOMAN! Think Katya, Think! It was a lightbulb moment as I hadn't seen anyone do it yet. I immediately had this vision of a badass version of hair tightly tied up with his signature white sides and chiseled cheekbones."
Harrisfamilyhobbies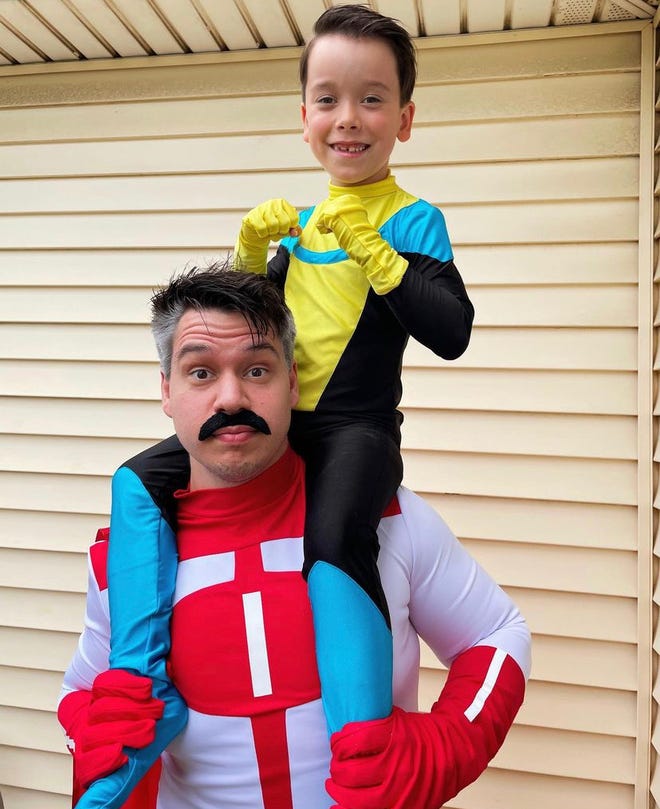 What alternate universe is this where Omni-Man gives Piggyback rides? We want in! This father-son duo is adorable! The caught off-guard look from Omni-Man is perfect for this fun-filled image. Harrisfamilyhobbies is a family-run Instagram account by the self-proclaimed Amazing Spider-Fam! As seen above is Dad, John Harris, and the family's firstborn.
He bought his Omni-Man suit off of Amazon. With a couple alterations made to the suit, like the adjustments needed in both arms and legs, John required one final touch. Grey hair. His wife came up with the inexpensive idea to use dry shampoo for the look, which we took note of. Absolutely brilliant and an easy way to get the grey out after!
Family bonding is the reasoning behind why the Harrisfamilyhobbies chose to cosplay these characters. John said, "I chose Omni-Man to cosplay because my son does a lot of skits with me and, despite it being an adult show and mature comic, I thought we could have some fun, light-hearted skits for TikTok and Instagram. I originally wanted to find an Invincible costume for myself (so I'm jealous of my son!). Still, I figured it would be more fun and give us more opportunity for comedic content for us to have the costumes as a duo."
Dregonel_hojaverde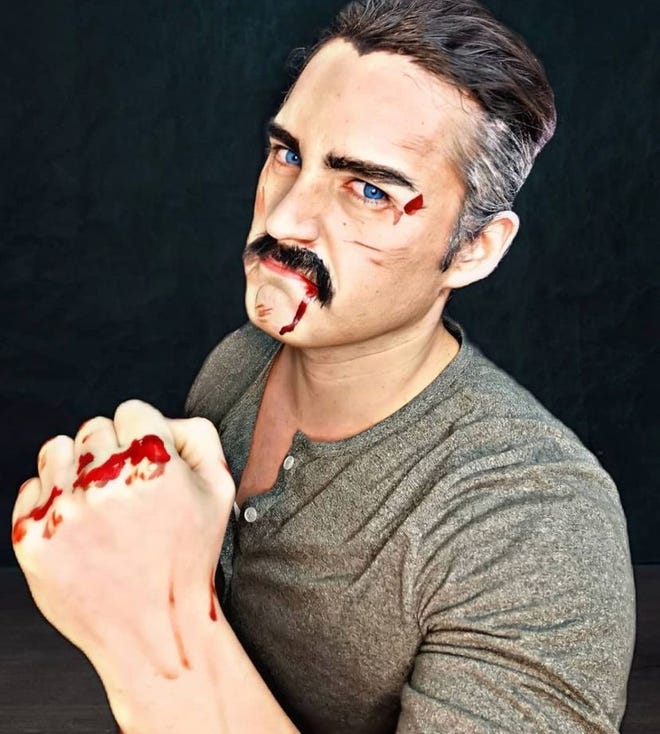 Chill Dregonel_hojaverde chill! You didn't have to go this hard on your cosplay. What is it about the Omni-Man cosplayers and how scary accurate they are to the character? It might just be that Nolan is that intimidating in the animated show, and it transfers so well to what he could look like if it was live-action. It's awesome. Dregonel_hojaverde displays how good closet cosplays can be if you transform yourself through characterization. He prides himself on transforming into his characters emotionally.
Aside from already owning his jeans, he fixed the shirt and did the makeup and mustache himself. When it comes to cosplay, Dregonel_hojaverde cosplays from many art forms, including anime, video games, and film. He strives to cosplay characters he connects to rather than characters considered to be mainstream due to their popularity. So how does Dregonel_hojaverde connect to Omni-Man? Well, he doesn't.
He told us he cosplayed the character because it's underrated. Dregonel_hojaverde said, "I chose Omni-Man first and foremost because I firmly believe that he is an underrated character because the comic is not as well known as other Marvel or DC comics. I believe Omni-Man is an amazing character, with a stellar story where he is constantly in an internal dilemma about what he wants and what he should do. I think this comic and character should be more known... That's why I made this cosplay, as a tribute."
BobKieffer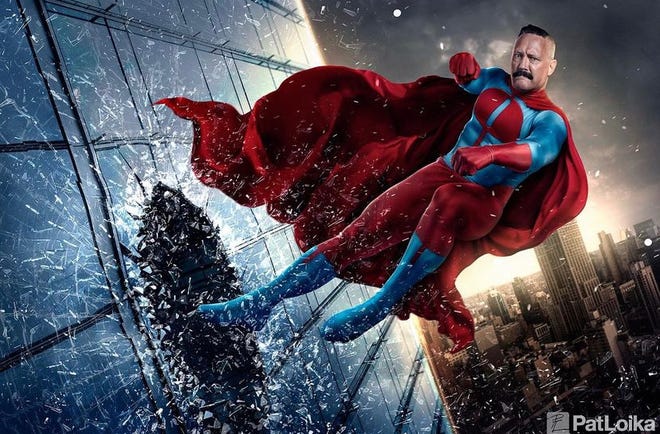 Who doesn't love an original comic cosplay, and Bobkieffer pulls it off so well! He's one of the first, if not the first, person to cosplay as Omni-Man since he debuted the look two years before the animated series premiered. That's what you get for reading, kids. Go pick up a comic book. His Omni-Man costume was made by supergeek_designs and is probably one of the most comfortable costumes he owns. His words, not ours.
The hair was a temporarily dyed grey on the top, and his facial hair is a glue-on lace black mustache. Bobkieffer told us how time-consuming it was to find the perfect mustache since it's critical to the character. After several attempts to get the mustache right, he still wasn't happy with it. He told us that, "Nothing beats REAL facial hair if you have the time, the patience, and the ability to grow it. Ha!"
We asked Bobkieffer why he cosplayed the infamous villain, and he said, "I'll be honest, I initially chose Omni-Man because I liked the design of the suit and his overall look. But then I really got into the comic, and I just found the character to actually be so multifaceted. And to have this kind of take on a Superman-like character who everyone initially trusts and loves…who then turns into this awful, evil maniacal overlord? I couldn't resist. I LOVED JK Simmons voice acting for him in the animated version, too."
Graciethecosplaylass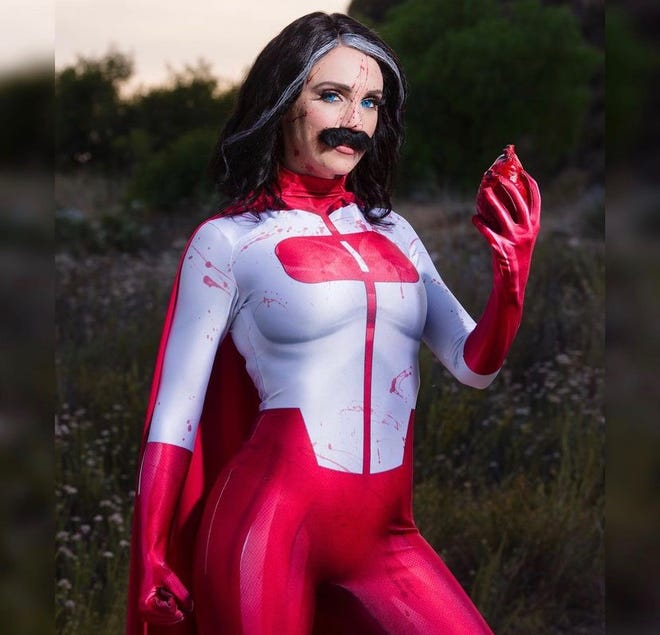 She's beauty, and she's grace; she wears a fake mustache on her face. Love, love, love this Omni-man! Graciethecosplaylass never fails to impress, and her Omni-Man is that and more. The addition of the heart in her hand and the mustache are both terrifying and comical. We definitely wouldn't mess with her.
She bought the pattern from Braekor and had it printed by Herostime. Her cape is made from a stretch spandex blend material. The blood splatter on the costume was done onsite during the photoshoot. It wasn't Graciethecosplaylass's first time with stage blood, though. She had previously used it on her first Red Sonja shoot.
Aside from cosplay, Gracie is quite an athlete with experience ranging from ballet to martial arts. With ten years of hockey under her belt and being a welder, Gracie has many hobbies that could make her the perfect SuperHero… or villain.
Graciethecosplaylass told us why she wanted to cosplay Omni-Man, saying, "I wanted to cosplay Omni-Man because his character is ruthless. I had thought Homelander was difficult to like, but Nolan said, hold my beer! I love cosplaying villains because it's really the polar opposite of how I feel about myself, and it's fun to see if I can pull them off. I love Invincible and have started reading the comics because of the show!"
Hellspawned_cosplay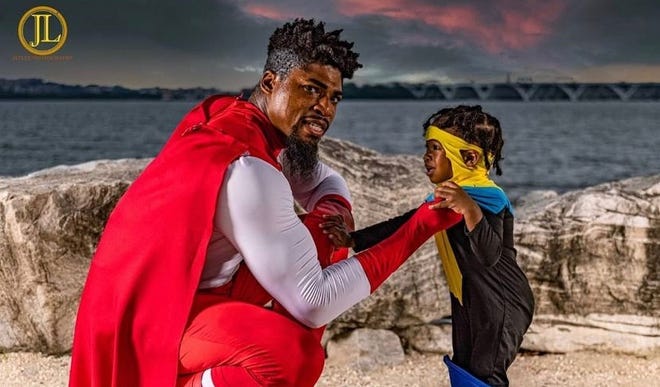 Get this father-son duo an Emmy! This entire photo set by Jayleephotographyac has us in our feelings! The imagery, the emotions, the small Invincible! He's so tiny!! It's simply perfection, and that's what Viltrumites strive towards. Hellspawned_cosplay purchased his suit from EZCosplay.com.
Though the suit is a bought item, Hellspawned_cosplay told us that he thinks that aside from putting on the suit, what really matters is the energy we put behind it. He continued to say how "there's something about being able to embody that character from top to bottom. Mannerisms, posture, speech patterns.... cosplayers are low-key professional actors, and these cosplays are our opportunities to showcase our abilities."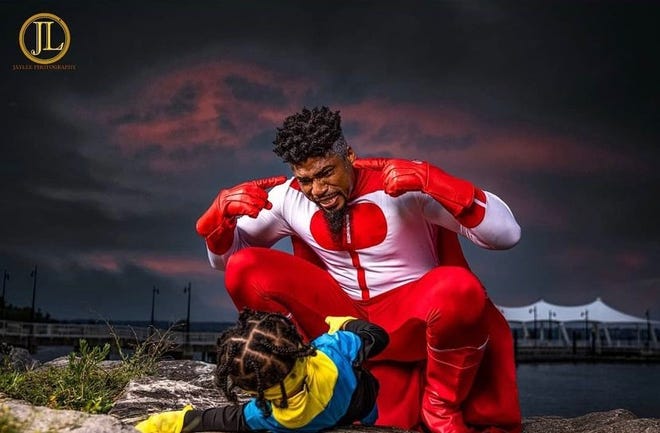 As a father of a twenty-two-month-old, Hellspawned_cosplay knows a thing or two about Kidz Bop. He has over fourteen songs memorized by heart and is proud of that fact. However, when it comes to cosplaying Omni-Man, Hellspawned_cosplay has a compelling answer as to why he, as a dad, would want to cosplay the character.
His answer was, "Ever since I became a father, I've been looking at the landscape of dads within the superhero universes, and whew... it is bare!! Yet, I was drawn to Omni-Man because of his love for his son. Now, I know folks are looking at this crazy due to that fight between the two, BUT... how did it end? His love for his son compelled him to abandon his mission... betray his people... go against his indoctrination. To me... that's the embodiment of fatherly love... going against the establishment for the love and wellbeing of your offspring."
Saadleup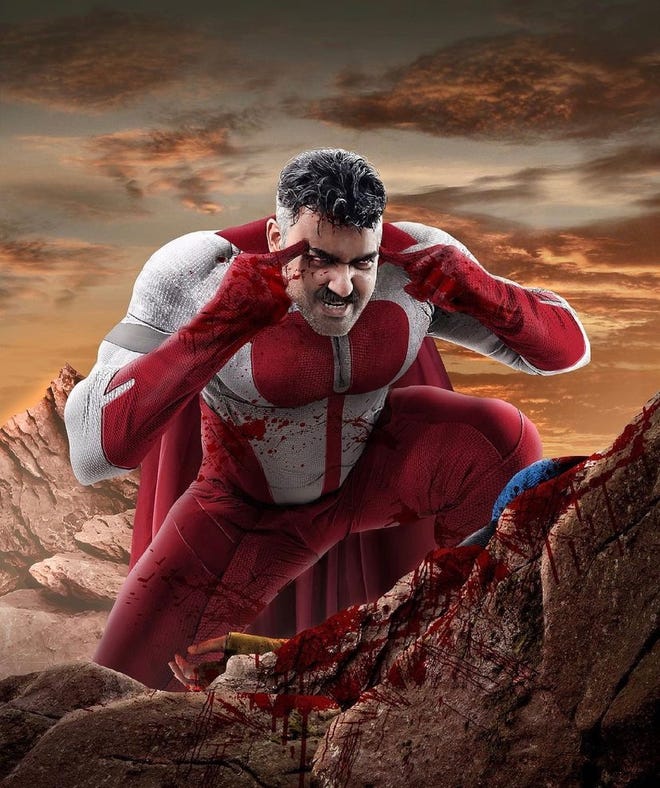 Saadleup woke up and chose violence as well as accuracy! This cosplay is a dead ringer for the animated character, and we are genuinely impressed. Saadleup is known chiefly for his Batman cosplays, so when he suited up as Omni-Man, the crowd went wild.
Cerezacos wrote, "Think, Saad, think.. did you really think you could distract us with another cosplay from the fact you are Bruce Wayne?" in Saadleup's comment section as a joke to how surprising it was to see him in a different character.
The bodysuit he wears is from UnmaskedStudio, and Saadleup told us how he had to touch up his hair to look more grey. He also had photographer and editor opheia_art photoshop the mustache on his face. He has to keep himself clean-shaven for his Batman cosplays.
When asked about why he decided to cosplay Omni-Man, Saadleup said, " I Just got a kick out of the character, and I thought I could pull him off reasonably. I do encourage everyone to just cosplay whatever they want, and they don't necessarily have to look like the characters they love." We love this positive energy towards cosplay as whoever you want. We're all variants of the characters we cosplay anyways.
Invincible is now streaming on Amazon Prime Video.