Jaws: The shark series, ranked from worst to best
The entire Jaws series is on Netflix now, but how can you stay away from dangerous movie waters?
The complete Jaws movie series has swum onto Netflix this month, offering simultaneously the best and some of the worst sea-based horror movies that cinema has ever had to offer. But… what if you didn't have time to check out all four movies? What if your schedule is so tight that you have to choose which Jaws to skip, and which to float around in and enjoy?
With the hope of keeping your free time as safe from shark attacks — specifically, attacks by dull shark movies — as anyone on Amity Island, we're here to let you know what's good, and what's, shall we say, less good when it comes to the Jaws franchise. Sure, all of the sequels get a bad rap, but which deserves that drubbing the most? And which is the best Jaws movie?
(Spoilers: it's the first one. The first Jaws is so much better than the other three, it's almost embarrassing for everyone involved.)
Without further ado, it's time for you dive in and enjoy the official ranking of Jaws movies, from worst to best.
Jaws 3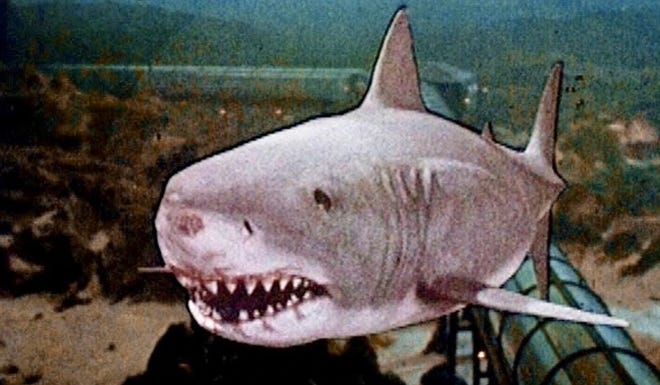 There comes a point in every movie franchise's existence where — no pun intended — the shark is jumped. (Thanks, Fonzie.) For the Jaws series, that is undoubtedly Jaws 3, a mess of a movie that relocates the action to Sea World Orlando, of all places, where a shark gets loose in the very same park that employs the son of the protagonist of the first two movies.
Reportedly beset by studio meddling — amongst the studio's demands were that the movie had to center around the kids of Chief Brody from the first two movies, and that a role was written specifically for veteran actor Mickey Rooney, who proceeded to not actually take the part — Jaws 3 was further troubled by the fact that it was shot to cash in on the then-hot 3D movie revival (it was initially released as Jaws 3D), and as such features far too many shots of things looming towards the viewer for no real reason. It's a mess of a movie redeemed only by its genuinely odd cast: Dennis Quaid, Louis Gossett Jr. and Lea Thompson of Back to the Future and Howard the Duck fame. Feel free to skip it.
Theme rating: Dunnn dunn.
Jaws: The Revenge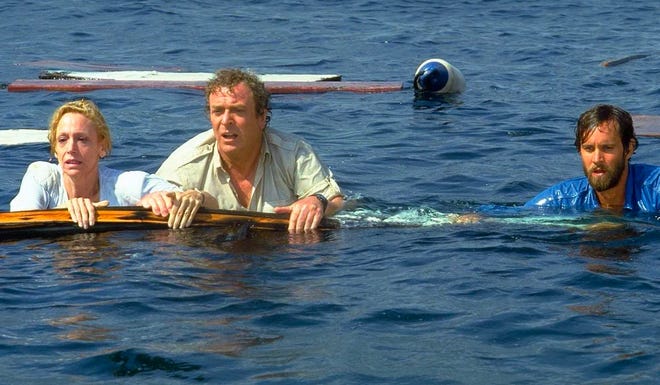 Objectively, Jaws: The Revenge should be a worse movie than Jaws 3. After all, it stretches credibility even further by introducing the idea that a shark can be so desperate for revenge that it will literally travel across the world to make sure that it achieves its goal, and it also doubles down on the idea that the Jaws series is actually a family drama by shifting the action to Chief Brody's widow — he died between movies — and Mike, the lead of Jaws 3, while the shark in question becomes the murderer of the other son of the Brody clan. Because… sure, why not.
However, there's an odd sense of desperation and camp that covers Jaws: The Revenge so completely that it actually transforms into a more watchable movie than its predecessor, helped considerably by a performance from Michael Caine that is so particularly disinterested in… well, seemingly everything, up to and including itself that it becomes oddly hypnotic. Whereas Jaws 3 is a bad movie, Jaws: The Revenge is, entirely accidentally, compulsively awful in such a way that it almost feels rewarding when viewed from the right angle.
Theme rating: Dunnn dun dunnn.
Jaws 2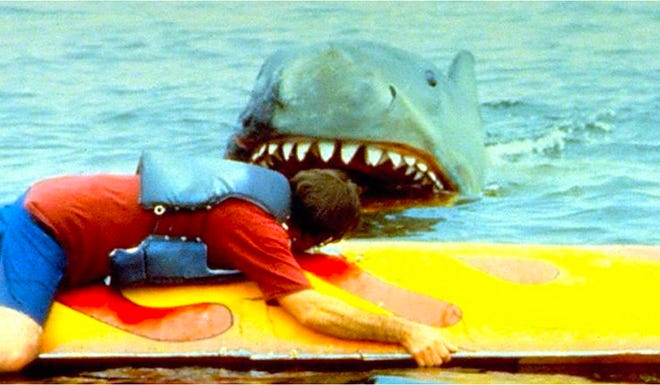 There's a point, midway through Jaws 2, where the audience might realize that it's rooting for the wrong man. Specifically, there's a scene where Chief Brody has to convince the Mayor that, for the second time in a handful of years, Amity Island has been targeted by a shark, which is quietly chomping away on visitors for the summer. We know, because we're watching a movie called "Jaws 2," and because we've seen the rest of the film, that Brody is right… but, really: is the Mayor that wrong to be suspicious of the idea that something so unlikely is actually happening? Isn't it actually far more reasonable to believe that there's an entirely different explanation for what's going on?
Steven Spielberg and Roy Scheider both reportedly were strongly against the idea of a follow-up to the original movie, and they were both correct… but Scheider nonetheless returned as Chief Brody, one of a number of returning actors for this second go round; the movie is better than it has any right to be because of his decision, but even with his watchable intense performance, Jaws 2 remains the movie that probably shouldn't have been made in the first place, transforming what had been an all-time classic horror into part of a series that, as a whole, trails a far distance behind its first installment.
Theme rating: Dunnn dun dunnn dun.
Jaws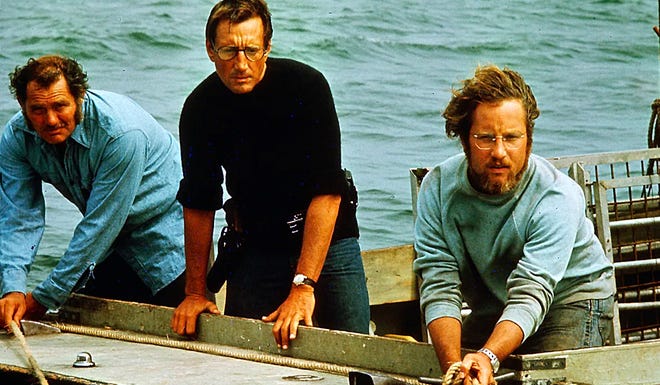 Okay, here's the real deal: Jaws is, as I suggested above, an all-time classic horror movie, and early proof that Steven Spielberg was going to be a master moviemaker. There's so much to enjoy about the first Jaws movie, not least of which are three truly spectacular lead performances — Schieder as Chief Brody, Richard Dreyfus as marine biologist Matt Hooper, and especially Robert Shaw as Quint, which is a masterclass in chewing the scenery in such a way that the viewer is grateful for every second — and a score by John Williams that, of course, includes that famous theme and so much more.
What makes the movie worth revisiting even for those who think they're familiar with it, though, is how genuinely strange it is; it has such a strange sense of pacing that plays against expectation while matching the emotional state of Brody, but it never risks losing the audience thanks to some unexpected character beats and humor when it almost doesn't belong. Jaws, at its heart, is a monster movie, but one that refuses to be restrained by that classification, continually moving and shifting, keeping its prey off-guard all the way until the messy, glorious end. There's a very good reason this one is regarded as a classic — and it's a movie that's so good that you can forgive all the lesser sequels that followed.
Theme rating: Dunnn dun dunnn dun dun dun dun dun dun dun dun dun dunnnndunndunnnnnnn! Oh, screw it, it gets the whole thing:
---
If you make it through all four and still want another bite — I'm not sorry for that pun — then we've got some other shark movies for you to check out, too.