Star Wars' favorite green rabbit Jaxxon is back-- in a convention-exclusive annual
Star Wars: Hyperspace Stories Annual- Jaxxon 2023 is a joint publishing effort from Dark Horse Direct and Lucasfilm Publishing
Fans of the Lepi smuggler Jaxxon (first created by Roy Thomas and Howard Chaykin in Marvel Comics' Star Wars #8 in what we now call the 'Extended Universe') will be excited to hear that Jaxxon is back-- in a convention exclusive annual titled Star Wars: Hyperspace Stories Annual—Jaxxon 2023.
Published as a partnership between Dark Horse Direct and Lucasfilm Publishing, Hyperspace Stories Annual—Jaxxon 2023 will feature a brand-new story featuring everyone's favorite green rabbit-like alien and will be written by Cavan Scott with art from Nick Brokenshire, colors from David Kennedy, and letters from Comicraft.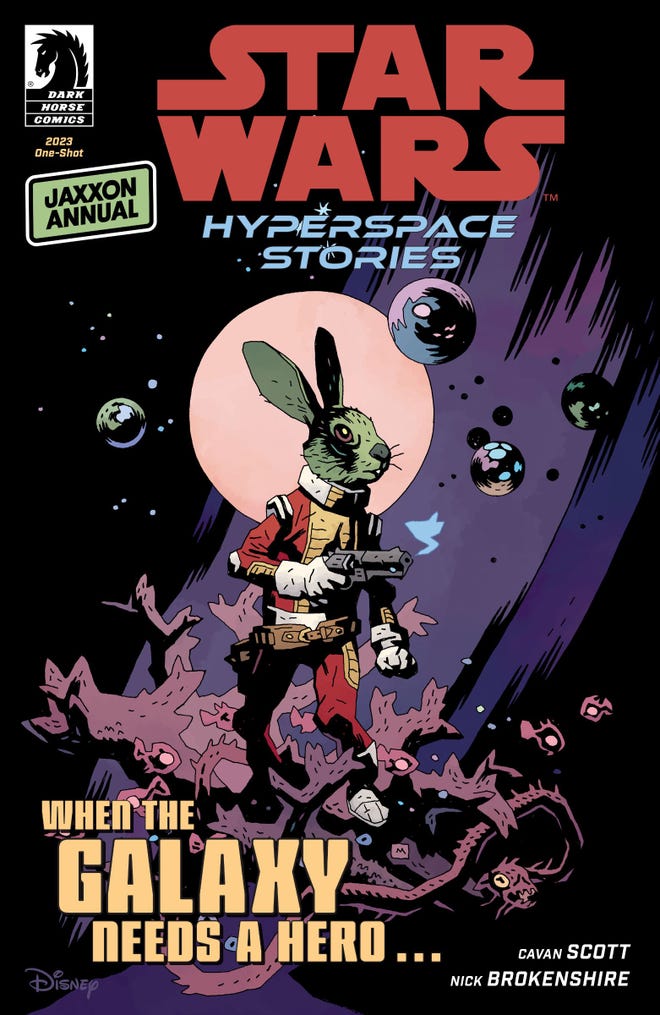 This convention-exclusive comic will also feature four different variant covers from different artists including a Mike Mignola cover (pictured to the right) for Lucasfilm's upcoming Star Wars Celebration event in April.
Dark Horse's official statement about the upcoming Jaxxon comic reads: "Holy Hutch! Jaxxon's back!
"Taking a break from his stellar career as a New Republic fighter ace, the galaxy's greatest green rabbit is sent on a top-secret diplomatic mission to Endor, only to end up in the middle of a full-blown Ewok Civil War! Things get dicey, and our long eared Lepi might have to choose between saving the day, and saving his own skin!"
Star Wars: Hyperspace Stories Annual—Jaxxon 2023 will be made available at the Dark Horse website and select events throughout the year. You can order the Mike Mignola Star Wars Celebration variant now.
---
The latest episode of Disney+'s The Mandalorian reveals that Star Wars' New Republic has its own Operation Paperclip project
.