Jeff Smith did not expect Bone to be a financial success
Jeff Smith just wanted his sales to cover printing costs
If Jeff Smith isn't the single most successful independent publishing story in comics across the past few decades, he certainly has to rank somewhere in the top five. Jeff Smith's comic Bone ran for 55 issues from 1991 to 2004, and went on to win ten Eisner Awards and eleven Harvey Awards. Later, it went on to be re-published by Scholastic in color, to more great success... But that doesn't mean that Smith had expected such accolades when launching the strip.
"When I started, my hopes and dreams were pretty low. I mean, I tried to sell Bone as a comic strip to the syndicates," Smith shared in his spotlight panel at Emerald City Comic Con, moderated by Popverse's very own Chris Arrant. In fact, Smith was shopping Bone around at the same time that Bill Watterson was selling Calvin and Hobbes. Watterson got a syndicate, and Smith did not.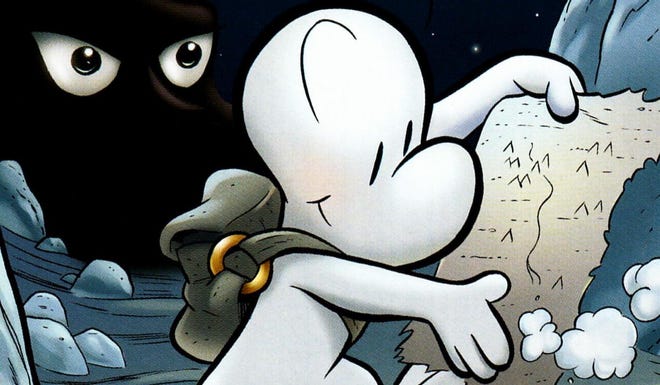 At that time, Smith began to discover what he considers to be a golden age of comic books, finding series like Love and Rockets and The Tick and Cerebrus. This showed him that there was a space for other types of comics in comic books. So he began to develop Bone as a comic. His beginning goals were modest, just to sell enough comics to pay for their printing and hopefully a little extra for the rent.
Smith's publisher, editor, and wife Vijaya Iyer told Smith to put together a business plan: "I was just hoping to make it a year," he remembered, again, looking at modest goals. The first issue was bolstered by a blurb from Will Eisner, but the following few issues didn't have as much support. But then, around the sixth issue, The Comics Journal mentioned Bone. Around the same time, someone handed Neil Gaiman the comic, and he talked about it on television. Then, The Comics Buyers Guide got on board. By issue 6, Bone had actual critical acclaim, and Smith decided to continue another year. Soon sales began to double exponentially, every issue.
And the rest is history.
---
Find Jeff Smith's newest comic Tuki here.