Jim Zub, Amy Chu, Zack Kaplan, and Jim Krueger reveal the secrets of comics writing at ECCC '22
What does it take to make it in the industry, and what should writers remember at all times? Four leading writers explain all.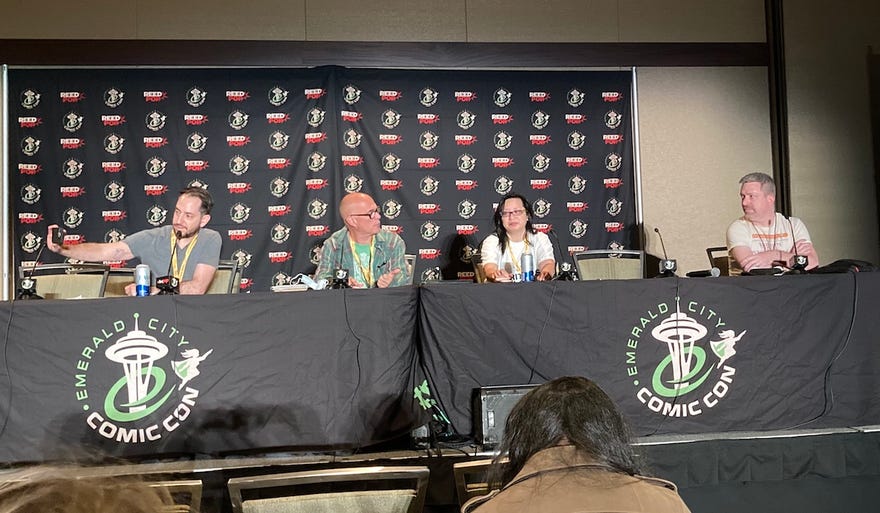 Every single comic convention draws not just comic book fans, but wannabe creators, eager for hints and tips on breaking into the industry. Thankfully, one of the first panels at Seattle's Emerald City Comic Con this year featured four industry veterans sharing just what they've learned from their experiences in the hopes of helping the next generation of writers get started.
Thursday afternoon's How to Write Comics Workshop, led by Conan the Barbarian and Thunderbolts writer Jim Zub, included a variety of viewpoints on what it takes to make it in comics, courtesy of Amy Chu (Red Sonja, Rick & Morty: Hereticks), Zack Kaplan (Mindset, Metal Society), and Jim Krueger (Earth X, Foot Soldiers). "We write comics for a living! This is our job!" Zub exclaimed as the panel began, sounding more than a little surprised (and thrilled) that this was the case.
In addition to this report of the panel, Popverse also filmed this panel for Popverse members and those who purchased an ECCC digital ticket. You can view the
full How to Write Comics Workshop panel with Amy Chu, Jim Zub, Zack Kaplan, and Jim Krueger over here
.
Secret origin of Jim Zub, Amy Chu, Zack Kaplan, and Jim Krueger
The panel opened with Zub asking the panelists how they got their own start in the industry. Kaplan said that he'd always wanted to write comics even as he started as a film and television writer, creating a number of projects that stalled in the development process; he described his first comics project, Top Cow's Eclipse, as a "lucky break," and said that it changed his entire attitude towards writing. "My goal went from making comics to being a comics creator," he said, explaining that he "fell in love" with the collaborative process of comic book creation. From that point on, he said, he realized that he wanted to make the comic book medium his home. "I decided I wanted to go all in."
Similarly, Zub started in animation in part because he thought it was an achievable goal compared with comic book writing; in order to do the latter, he believed at the time, you either had to live in New York or be a genius from the United Kingdom. After some time working on Saturday morning shows, he realized that he wouldn't be given the opportunity to write; thankfully, webcomics were beginning to become popular at the time – he specifically mentioned Penny Arcade and PvP as two inspirations – leading him to create his own webcomic, which got the attention of Scott McCloud, who got in touch to encourage him. "I thought, oh my God, the Understanding Comics guy just emailed me," he remembered, saying that McCloud invited him to that year's San Diego Comic-Con, where he met a number of fellow creators. "And then I had to make comics," he said. "I was head over heels."
Jim Krueger knew he wanted to be a writer from an early age, after a family trip to Walt Disney World coincided with a hurricane hitting the park. As the family looked upon the aftermath, Krueger said that his father turned to him and said, "Now you know why they call it the Magic Kingdom." "That fucked me up," he said with a smile. "I knew from that point on I'd be a storyteller." It wasn't that easy a career path, however; he worked at Marvel in its advertising and promotion division for some time – a job that introduced him to Alex Ross, with whom he'd later work on Earth-X and DC's Justice – before launching his own series, Foot Soldiers, through Dark Horse Comics.
Chu, who came to the panel direct from the airport (her luggage sat on the side of the stage the entire panel), joked that her path into comics, like her path to the convention, was "fraught with danger." She came to comics by accident; having attended business school, she only started writing at the encouragement of a friend who wanted to become a comics writer herself. "I write PowerPoint, not books," she remembered saying at the time. "Nobody looks at PowerPoint and says, 'that's really compelling.'" Nonetheless, she soon caught the bug, and soon released her first comic, Girls' Night Out, a book she said had a title that "was great because people might have thought it was something else," instead of the chaste story that it actually was.
Know your audience
Zub brought up the topic of pitching, leading Chu to suggest, "Don't just pitch. That's a bad idea… First you need to make things, then you're asked to pitch." Zub agreed, adding, "no-one will pay you to do the work until you've proven that you can do the work they're paying for."
Chu suggested that the key to a good pitch is understanding the audience. "You have to figure out who you're pitching to and what they want to hear," she said. "You also have to understand that pitching is different depending on who you're pitching to." Whether it's editors, publishers, or potential collaborators, she said, "they're all different and they all require a different kind of pitch."
Know your artist
The most important pitch new writers can make, everyone agreed, was to artists they hoped to collaborate with, so that both could create a calling card to future publishers. The idea of self-publishing a short was seen as vital for new creators, panelists argued. "It's proof positive that you can finish a thing," Zub said. Krueger said that Foot Soldiers started as a three-page short that he funded himself, although he did admit that Kickstarter would have been a gamechanger for him had it existed when he first started. "Even if you have a modest budget for a three-page story, you can get some really amazing people involved," he said, pointing out that Mike Parobeck had worked on the Foot Soldiers pilot.
Although everyone thinks that writers are the core of any comic story, Zub told the crowd that the artists are the true key. "It's those visuals [that] are going to sell the book" to publishers and readers alike, he pointed out, even as the collaborative process is what brings any comic to life even before any outsider has a chance to take a look. "Everyone on the creative team needs to be proud of the end result, so bring them in as early as possible," he explained. "I know in your head [that] this thing is crystal and needs to stay exactly the same. It's not." Kaplan agreed: "The more you work in comics, the more you realize you have to leave room for the artists to bring in their work."
"It is so valuable that that artist gets excited about what they're doing," Zub said, sharing that he tells his collaborators, "What are you really excited about drawing? I will find a way to work it in there." (This is, he said, how he managed to lure Sean Izaakse onto the upcoming Thunderbolts series; Izaakse is a huge Hawkeye fan, and that character is leading the new team.)
Know yourself
Another tip the panelists wanted to share was, simply, that writers needed to enjoy what they were working on. As Kaplan put it, "You've got to write what you love, [because] you're going to spent so much time on it." Krueger said, "In Hollywood, they want to know what makes you special. Part of the pitch is giving [people] the portal into you." "You need to have some kind of voice," Chu agreed, saying that it's possible to do that even in work-for-hire gigs. "I had no business writing KISS, I didn't know which guy was which," she admitted about one of her early Dynamite Entertainment jobs. "You have to find your way into it. You have to figure out what makes you happy."
Krueger added, "Don't sell yourself short if the opportunity is given to you. Learn what makes a My Little Pony story work and build a bridge to what interests you. Say, 'this is what a My Little Pony [story] has to be, and this is what matters to me.'"
Zub said that it's never a bad idea to share what your own fascinations may be, pointing out that everyone knew how big of a Dungeons & Dragons fan he was years before the game went mainstream again. At that point, however, he was perfectly placed to be selected to write projects centered around the game. "Your obsessions, those things that you love, you should put that into the work," he said. "Show them your passions."
Do the right thing
Asked about things they wish they'd known earlier in their career, Chu asked, "Is this being recorded?" When the affirmative answer was given, she joked, "Oh. I was going to be totally candid, but maybe I won't be candid."
What surprised her after entering comics from a different industry was, as she put it, "perhaps people in this business are not the most professional… In terms of behavior, especially behavior to women, [I] did not expect that stuff going on. Especially because, in other industries, you get fired for that kind of behavior." She elaborated, slightly, by saying, "a lot of the people go into comics because they love comics, and stuff happens and people send you pictures and it's like, woah. I did not expect that."
Not unrelated, Chu also said that it's important to remember that networking for creators can happen online, and doesn't need to involve drinking or partying. "You don't have to go get drunk somewhere."
Krueger said that it's important for creators to remember to "help others, even if by helping, they could get ahead of you." Not only could they bring you onto future projects when they have some pull in the industry, Zub pointed out, it's worth doing "because it's being a good person."
What new creators really need to bear in mind, Zub continued, was that passion and hard work will pay off. "They may not pay off in the way that you think. But something will happen," he promised. Krueger felt the same, telling the crowd, "Do the right thing, and even if the thing you want doesn't happen, the right thing will happen eventually."
---
Be at ECCC from anywhere with Popverse's wall-to-wall coverage of the Seattle comic convention. Bookmark Popverse's ECCC coverage round-up page, as we're adding to it daily - and even after the event itself.