How the Joker brings Spider-Man back to the DCU
As the Joker continues his cross-country odyssey, he makes a direct reference to Marvel's webslinger in another unofficial crossover between universes.
This year marks the 20th anniversary of JLA/Avengers, the last official intercompany crossover between DC and Marvel and their respective publishing lines of iconic superhero characters. While this was the last comic book story to headline the two universes to date, DC and Marvel have since made passing references to each other for decades, both before and after JLA/Avengers. The most recent instance of this takes place in the pages of The Joker: The Man Who Stopped Laughing #6 by Matthew Rosenberg and Carmine di Giandomenico, with the mainline DC Universe story providing a direct reference to a certain Marvel webslinging superhero.
Here's a look at how the Joker references Spider-Man in his own irreverent way, the times when Marvel and DC actually provided fans with official team-ups and showdowns between their worlds, and the less than legitimate instances when the universes collided. A DC/Marvel crossover may be a rare thing, but there was a time when the two biggest superhero publishers worked to bring their lines together and it always yielded some magical outcomes pleasing fans of both lines.
Joker's marvelous superhero name-drop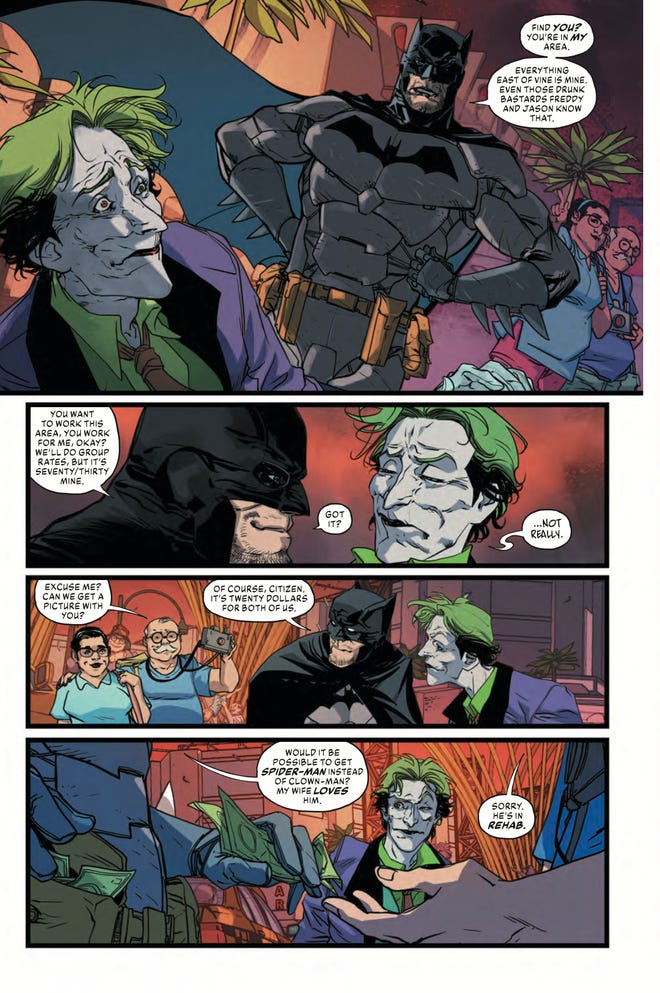 The Man Who Stopped Laughing follows the Joker who has since relocated to Los Angeles after going on the run at the end of the 2020 crossover event 'Joker War' by James Tynion IV and Jorge Jimenez. Bringing his brand of criminal chaos to the City of Angels, the Gotham City supervillain quickly discovers he has to rebuild his reputation and empire on the other side of North America. Los Angeles' disdain for the Joker reaches its apex when he is mistaken for a professional cosplayer dressed as the Joker charging tourists for pictures in front of the TCL Chinese Theater.
As Joker passes the theater, a pair of tourists approach him and a cosplayer dressed as Batman for the impromptu photo op, with everyone unaware that the supervillain in their midst is very much the lethal real deal. To further add insult to injury, the tourists can't even properly recall the Joker's moniker, referring to him as 'Clown-Man,' while asking if they can substitute him for a picture with Spider-Man instead. In a cheeky response, the Batman cosplayer observes that his friendly neighborhood counterpart has gone into rehab before the Joker predictably gives the tourists front row seats to a murderous experience that they're unlikely to ever forget.
A brief history of DC/Marvel crossovers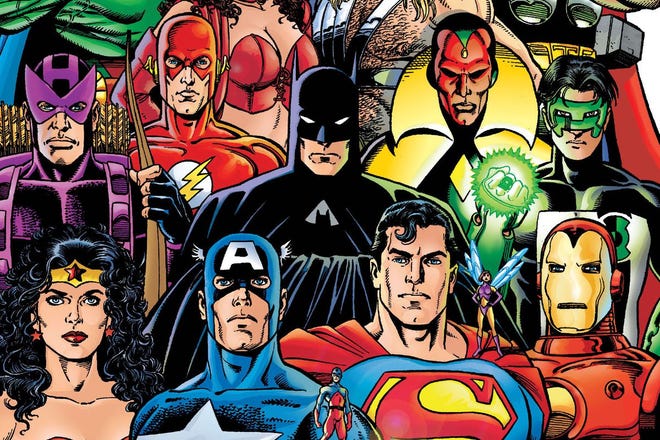 The first official DC/Marvel intercompany crossover was 1976's Superman vs. the Amazing Spider-Man by Gerry Conway, Ross Andru, Neal Adams, and John Romita, Sr. The supersized one-shot special posited Clark Kent and Peter Parker always lived in the same universe before pitting their super-powered alter egos against each other until the team-up to take on Lex Luthor and Doctor Octopus. The narrative format of heroes from different publishing lines initially antagonizing each other before realizing they shared a common goal (and enemy) would be echoed in subsequent crossovers between the companies throughout the '70s and early '80s, coming to an end with 1982's The Uncanny X-Men and the New Teen Titans by Chris Claremont and Walter Simonson.
Following a change in editorial at both companies, the intercompany crossovers resumed with 1994's Batman/Punisher: Lake of Fire by Dennis O'Neill and Barry Kitson, with subsequent crossover specials published by DC and Marvel throughout the remainder of the decade. In the interim, the 1996 miniseries DC vs. Marvel by Ron Marz, Peter David, Dan Jurgens, and Claudio Castellini brought the two universes together across six issues, with readers voting on some of the battles' results.
The 2003 crossover miniseries JLA/Avengers by Kurt Busiek and George Perez brought an end to this renewed era of intercompany collaborations between DC and Marvel in comic book publishing. Though after-effects from the storyline would be felt in subsequent continuity, particularly the DCU receiving the cosmic egg containing the omnipotent Krona, no official meetings between the two universes would take place. The miniseries itself would receive a limited print run new edition through the Hero Initiative in 2022 to help Perez with the medical costs incurred from his cancer treatments, offering readers a rare chance to revisit the series.
Other prominent nods between competitors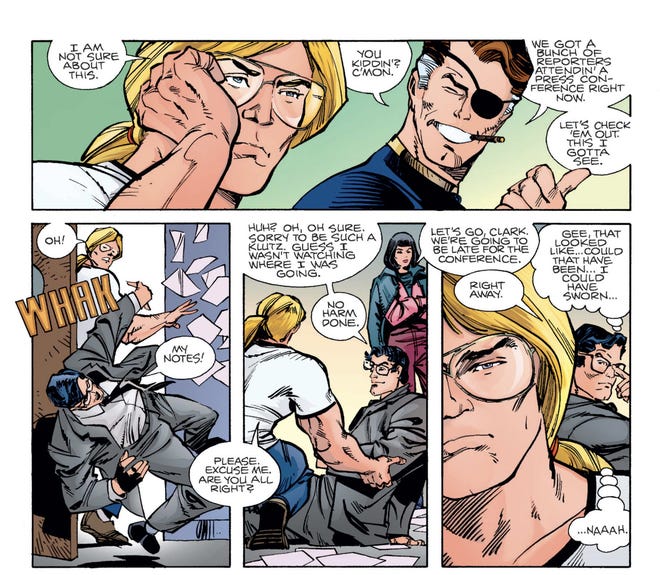 While these crossovers are the only ones fully authorized by both DC and Marvel, there have been explicit references to each other beyond the usual pastiches, like the Squadron Supreme, that periodically surface in the other universes. 1972's Thor #207 by Conway and John Buscema featured a Halloween parade with a float containing figures dressed like Superman and Batman which was expanded on that year in Justice League of America #103 by Len Wein and Dick Dillin had a similar parade with characters dressed up as Captain America, Thor, and Spider-Man.
Other noteworthy nods between companies included a long-lost speedster resembling Barry Allen appearing in 1990's Quasar #17 by Mark Gruenwald and Mike Manley, Kyle Rayner meeting Doctor Strange's assistant Wong after moving into Greenwich Village in 1994's Green Lantern #57 (vol. 3) by Ron Marz and Darryl Banks, and Thor literally bumping into Clark Kent in 1983's Thor #341 by Simonson. Each of these instances are relatively brief but contain enough self-aware winks to the reader to hint at what is taking place before returning its focus to its native universe.
While the idea of having an official intercompany crossover might seem like something of an unobtainable pipe dream as DC and Marvel both become more firmly entrenched properties within their respective corporate ownership, they always provided a highlight to see how these characters would interact. The closest that the two companies have come to a renewed crossover was a brief glimpse to Earth-1996 in 2022's Dark Crisis: Big Bang #1 by Mark Waid and Dan Jurgens. The alternate world is the Amalgam Universe which was populated by composite versions of DC and Marvel's heroes and villains which starred in titles published through a limited time imprint shared by the two companies from 1996 to 1997. Though this surprise appearance was more of a cameo than a meaningful return of the Amalgam Universe, it did remind readers of a period when the two companies worked more closely together.
In the meantime, more tongue-in-cheek crossovers are sure to follow sporadically between Marvel and DC, whether it be The Man Who Stopped Laughing's passing gag at Spider-Man's expense or the constant presence of a Batman magnet on Ultimate Peter Parker's refrigerator in the pages of Ultimate Spider-Man. One thing's for sure, if the true Spider-Man ever made his way back to the DCU, he might have a bone to pick with the Joker this time around.
---
The Batman/Spawn crossover is for anyone who's ever been 15 years old (and those of us that want to revisit those days) according to Todd McFarlane.