How to finally break Judge Dredd and 2000 AD into America (and the lessons in previous attempts)
Looking into the upcoming Best of 2000 AD collection and the UK anthology's long, sordid history with America
Since its 1977 debut, British anthology comic 2000 AD has declared itself "the Galaxy's Greatest Comic," and with good reason: across the years, it's published career-making work by the likes of Alan Moore, Grant Morrison, Dave Gibbons, Si Spurrier, Al Ewing, and countless others. If there's a British comics creator you're a fan of, chances are, 2000 AD has published them at some point. Yet, despite that, it's a series that's struggled to make it in America, remaining a cult favorite for fans in the know – something that might change with the upcoming launch of the new series Best of 2000 AD.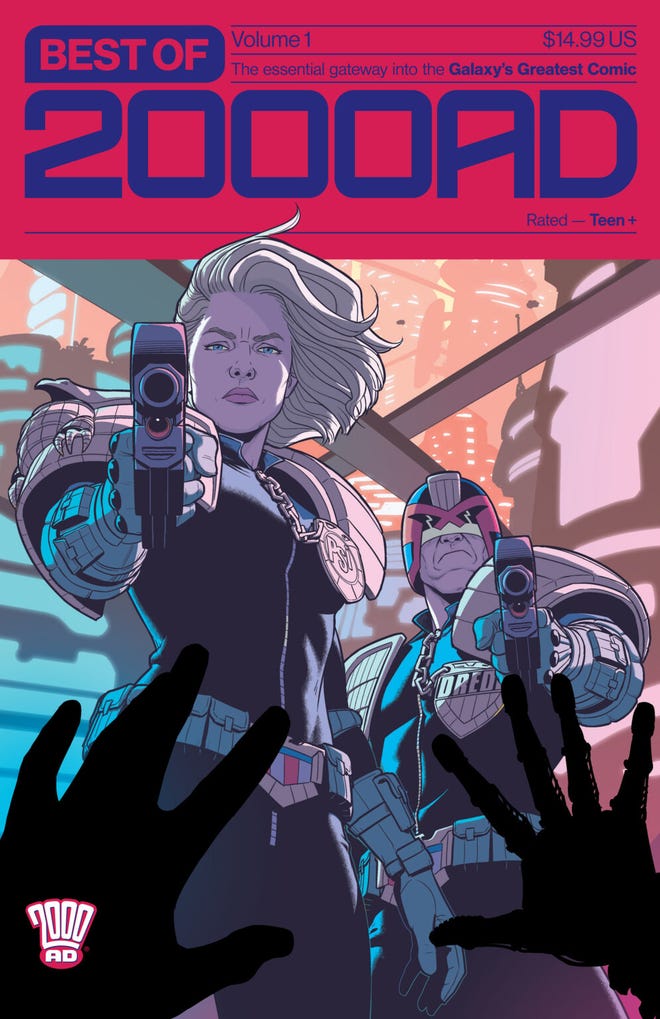 Part of the problem in introducing American readers to the thrills of 2000 AD may be, according to Best of 2000 AD editor Owen Johnson, 2000 AD itself… or, rather, the format in which it's published.
"The simple fact is that both the US direct market and the buying habits of readers are geared towards monthly books. However, the market just isn't set up for weekly titles – the only exceptions being experiments like DC's innovative Wednesday Comics or 52, both of which ran for a limited time," he tells me via email. "Conversely, the UK's market is based on the weekly comic. That's as true for 2000 AD today as it's always been – the vast majority of our readers either subscribe, and get it delivered, or they go to their local store or newsagent and buy it."
Copies of the original weekly have been showing up in the US for decades, with Diamond Comic Distributors currently handling the import duties, but Johnson argues that comes with its own problems. "Diamond binds them into packs for monthly release in the US, which comes with all the international shipping challenges and attendant cost. Also, those bundled packs come sealed –- so there's a barrier to potential readers picking them up and flicking through before deciding to buy. Browsing and discoverability are crucial features we're missing out on."
That's set to change with the new Best of – but first, a brief history lesson.
The quality that failed to live up to its name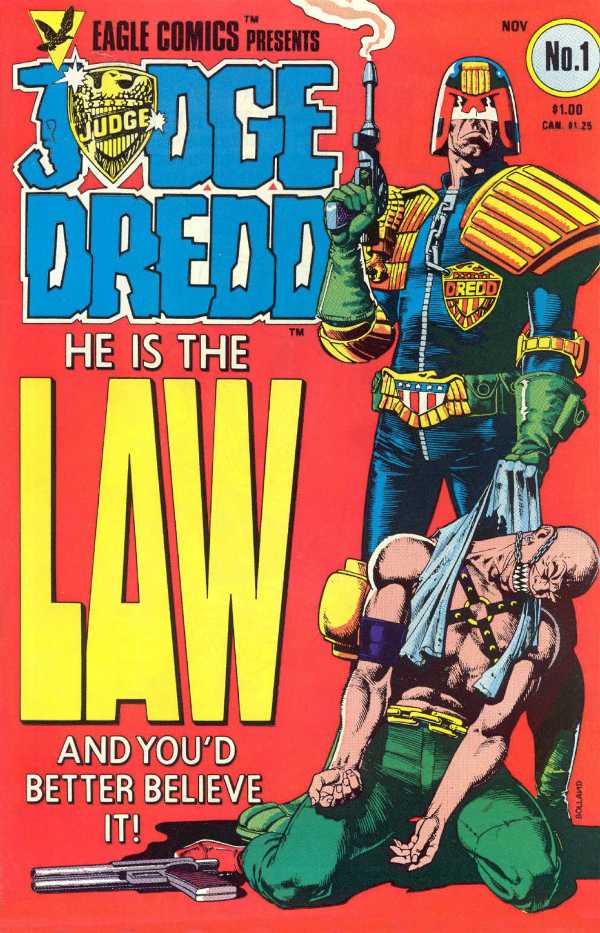 Even outside of direct imports, attempts to break 2000 AD in the US stretch back almost as far as the history of the title itself. In 1983, then-owners IPC Magazines Ltd. launched Eagle Comics, a company created to repackage material from the British weekly into the monthly US format; overseen by former 2000 AD sub-editor and founder of Titan Comics Nick Landau, Eagle's line was intentionally limited to a handful of titles at any one time, each one featuring new cover art from the likes of Brian Bolland, Carlos Ezquerra, and Kevin O'Neill.
The debut issue of Eagle Comics' Judge Dredd was one of the biggest-sellers in US indies at the time with more than 100,000 copies sold, with the series settling comfortably into the 40-50,000 sales range. (For context, that puts it on par with top-selling Image Comics titles in today's market; no small feat.) Unfortunately, Eagle Comics wasn't long for this world; within three years, IPC – a mainstream publishing house more concerned with newspapers and magazines than comic books – balked at the financial considerations and accepted an offer to license out the material to a separate publisher for a guaranteed fee on a regular basis. At least that way, it seemed less of a risk to accountants.
So it was that, in 1986, American fans found Judge Dredd and 2000 AD Monthly sporting a new publisher logo as 'Quality Comics' took over both series. The first incarnation of Quality came courtesy of Dez Skinn, a British comics veteran whose Warrior anthology some years earlier had featured both the earliest episodes of both Alan Moore's Miracleman – then Marvelman – and his V for Vendetta. Skinn's version only lasted a little over a year before losing its primary funding, though, leading printer Lee Moncho to partner with portfolio publishers Sal Quartuccio and Bob Keenan for Quality Comics, version 2.
The second generation of Quality Comics was, to put it bluntly, a mess; instead of manually reformatting and resizing artwork – necessary because 2000 AD pages are produced in different proportions to US comics – the process was automated, resulting in heavily distorted, difficult-to-read artwork. Despite this, the line grew significantly during this period of the company, as Quality sought to make the most out of its investment as quickly as possible.
Over in the UK, meanwhile, things were changing significantly for 2000 AD. IPC had spun out its comic division into an entirely separate company, Fleetway Publications, which it then sold. Under new ownership, Fleetway reapproached the idea of how to sell 2000 AD to America; after a potential deal with Marvel fell apart, the company partnered with Quality to take more control over its output. The result – officially called Fleetway Quality – took effect in 1989, resulting in better-looking comics featuring more contemporary material for the four brief years before Fleetway had what seemed like a far better idea.
The All-New, All-Dredd Years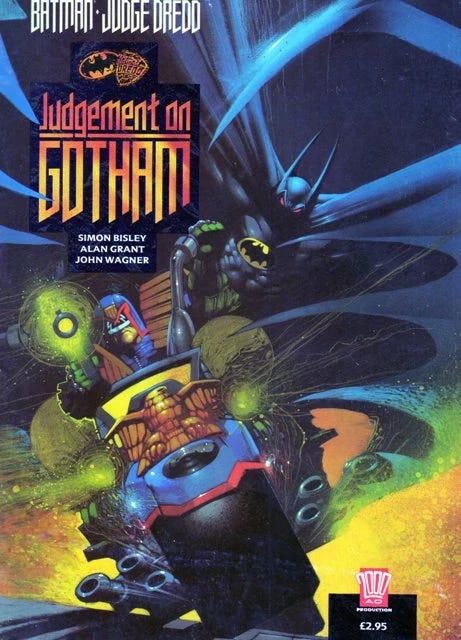 By 1994, Fleetway believed that it had found the right formula to break America. Not only was a big budget movie featuring its flagship character in the works, with Sylvester Stallone's Judge Dredd scheduled for a 1995 release, but DC Comics had licensed Dredd for two separate series featuring all-new material aimed at the American market: Judge Dredd and Judge Dredd: Legends of the Law.
The partnership didn't come entirely out of the blue; 1991's intercompany crossover Batman/Judge Dredd: Judgment on Gotham didn't just prove that American audiences still wanted to read Dredd, it created a relationship between DC and 2000 AD that would survive not only the early cancellation of the Dredd books after the Stallone movie bombed – both titles disappeared before reaching the two-year mark – but 2000 AD being sold off to gaming company Rebellion Developments in the year 2000.
[Editor's note: There's a pun to be had in 2000 AD's 2000 exploits, but I'm too big for that.]
Although US reprints of 2000 AD material had, for all intents and purposes, disappeared in the following the end of Fleetway Quality, 2004 saw the launch of a brief DC-published line of licensed collected editions. Lasting just over a year before folding, the line balanced classic strips like Dredd, Strontium Dog, and Robo-Hunter, with newer material such as Nikolai Dante and Sinister Dexter.
Since the end of the DC editions in 2005, reprint material from 2000 AD has come almost exclusively from Rebellion, with an extensive collected editions program distributed in the US by Simon and Schuster, with digital editions available via 2000 AD's dedicated webstore. Judge Dredd enjoyed a second run of all-new US-produced material, again tied to the debut of a movie – this time, 2012's Dredd – this time through IDW Publishing, which launched the first in a number of miniseries and intermittent monthlies a handful of months after the movie's release; before it lost the Dredd license earlier this year, IDW also released a small number of US reprints of 2000 AD Dredd stories, as well as mini-series reprints of two other strips from the weekly, Rogue Trooper and The Zaucer of Zilk.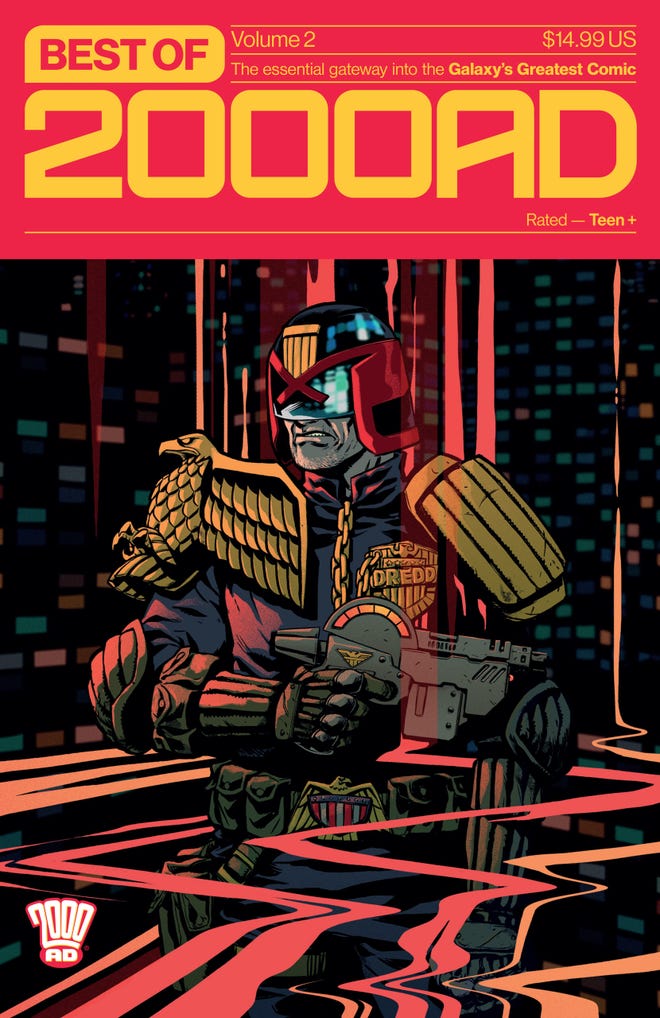 The very best Best-Of
The six-issue quarterly anthology series Best of 2000 AD, launching this fall, is set to be the most aggressive push the title has seen in the US in decades. With each volume running in the region of 200 pages and retailing for $22.99 US (and £14.99 UK), Best of 2000 AD will combine classic material from the 2000 AD back catalog with design work from X-Men's Tom Muller and new cover artwork from the likes of Jamie McKelvie, Becky Cloonan, Erica Henderson, and more. Described as a "mix-tape anthology," the series will feature work from a number of creators well-known on Western side of the Atlantic, including Frank Quitely, Peter Milligan, Frazer Irving, Alan Davis, and more.
"We tried to look at everything through the eyes of a new reader," Johnson explains. "We have a structure which will run across all volumes: a modern one-and-done Judge Dredd adventure by top talent; a series of hidden gems showcasing the breadth of genre, style and subject matter that's made 2000 AD a cult sensation; a graphic novel sized feature presentation that is often over 100 pages long, and a fun early Dredd case from the archive. Every course is a complete meal, where possible."
He continues, "We've focused on making Best of 2000 AD as accessible and attractive to readers as possible: this means very little serialization or continuity requirements (harder than you'd think with strips that began decades ago, with few reboots to speak of); reading volumes out of order; full color wherever possible; radical redesign by the great Tom Muller; beloved US artists gracing the covers; and essays by leading critics contextualizing the work and its relevance today. We want this to be the total 'first hit, love it' package."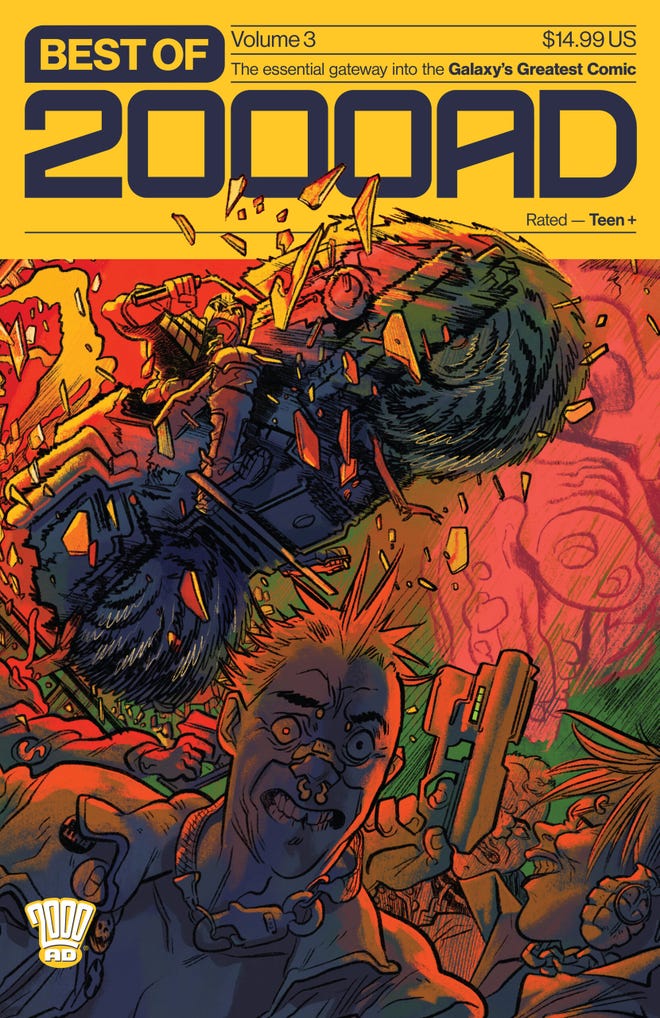 Each volume is carefully constructed to introduce different elements of 2000 AD's appeal, with this fall's debut volume including Alan Moore and Ian Gibson's classic Halo Jones, Dan Abnett and INJ Culbard's dizzying Brink, and an episode of the classic Strontium Dog alongside two Judge Dredd stories, and more. As a sampler for what the anthology has been doing for the last four and a half decades, it's a strong one – and one that easily demonstrates what the series does better than most.
"So many people know that 2000 AD means socially- and politically-conscious stories that are still incredibly relevant, and are executed with all the imagination and worldbuilding offered by great science fiction and fantasy that genre readers have always loved and mainstream audiences now recognise from high concept genre TV, but getting it to them in a meaningful and timely way has been the issue," Johnson says about the series. "It can be intimidating and hard to know where to start. This is intended as that gateway to those who are yet to dive in."
Best of 2000 AD Vol. 1 will launch in September 2022; a preview issue featuring all-new material from Al Ewing and V.V. Glass in addition to reprints of material by Pat Mills, Kevin O'Neill, John Wagner, and Chris Burnham amongst others, Best of 2000 AD #0, was released for Free Comic Book Day.