At the Los Angeles stop of her tour, Kate Beaton shares Ducks through the history of the mines, a slideshow presentation, and music
Kate Beaton gave a intimate and haunting look into the world behind her graphic memoir Ducks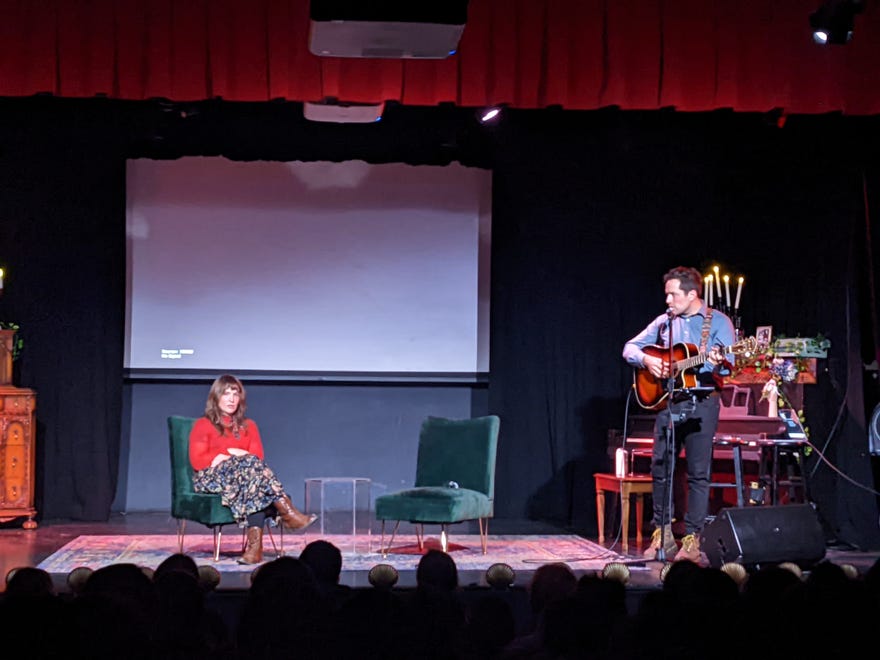 Ducks has been widely hailed-- in its few months since publication-- as Kate Beaton's masterpiece. And considering Beaton has already produced a body of work that most cartoonists would be happy to call their mangum opus, that's saying something.
Ducks follows Beaton during her time leaving Cape Breton to work in the oil sands in Alberta and paints a picture of working class life, community, and family. The book is not only a thoughtful recounting of Beaton's experience working in the old sands, but it also deeply personal work about labor, gender, and isolation.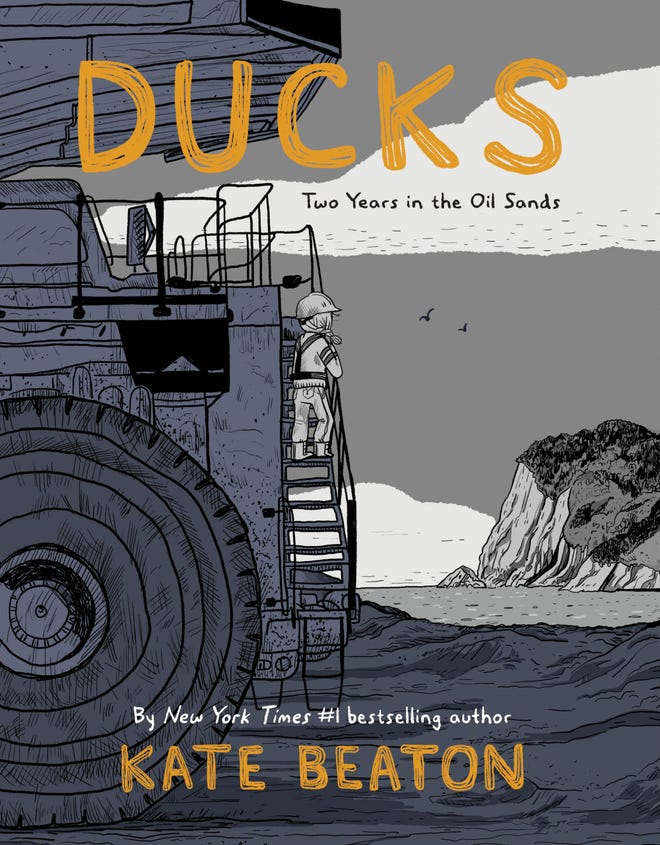 Beaton is currently touring with Ducks, stopping by cities like Portland and Calgary for one-night-only performances, which Drawn & Quarterly's website promises "brings Ducks to life with singing by the cartoonist, live music, a visual slide show, and a conversation with a local writer. Kate's performance is unlike any other cartoonist launch, and will open your heart wide with her trademark mix of humour and humanity."
In Los Angeles, the event took place at the Hayworth Theater, run by Dynasty Typewriter, to a mostly full crowd. And yes, the event did feel "unlike any other cartoonist launch," with Kate Beaton onstage accompanied by guitarist Peter MacInnis, as she showed slides and spoke about the closing of the mines in her home, Cape Breton.
The main throughline of Beaton's presentation is what drives people to leave a place that they love. And in exploring this topic, she delves into the many complex stories placed upon laborers from the East Coast of Canada. Through presentation and the photographs and news clippings she shows, she paints a picture of a world that goes beyond what you can read in a newspaper-- because, as she points out, it's different "looking at the numbers and living through the numbers." This is never more clear than when she shares about her own experience growing up in a place where the only opportunities are away from home, and exactly what being away from home looks like for so many people.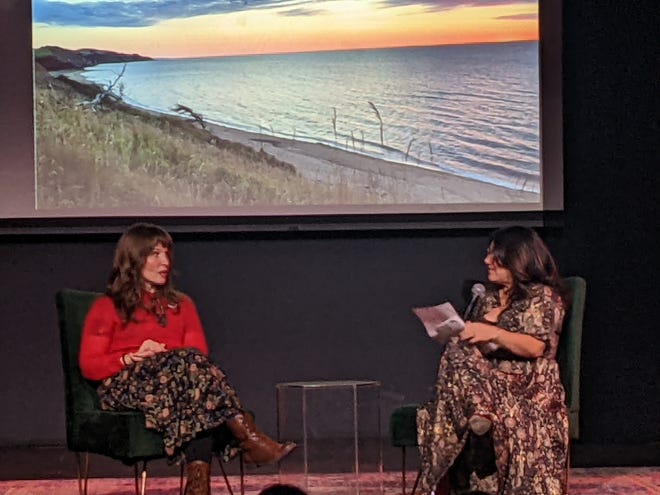 The argument that Beaton makes throughout the evening is one that is also found in an essay at the end of Ducks-- an argument for complexity. That yes, the story of workers from the East Coast of Canada is one of exploitation and discrimination and isolation but it can also be a story about perpetuating abuse as well as a story about family and sacrifice. That the stories she's telling are not easily delineated into black and white, and that it is a disservice to the people living these lives to boil them down into a simple narrative.
Beaton's presentation was followed up by a Q&A led by Carina Chocano, author of You Play the Girl which focused on Beaton's history, her time in college and time beginning her comic strip Hark! A Vagrant!. The interview was then followed by a signing.
Overall, the event was intimate and raw, and a unique addition to reading Beaton's book. Instead of trying to provide a comprehensive picture of what she writes about in her book, she adds richness to it by fleshing out the world around her, the world that informed her experience at the oil sands. She asks questions, and leaves answers to questions unresolved, encouraging audiences to think openly and plurally, instead of trying assume and categorize, lest they take the reality that she shares with us make it into something less than what it is.
---
Learn more about Kate Beaton's tour for Ducks here, and make sure to pick up a copy of Ducks from your local book shop.
---
Molly Mendoza discusses their latest book STRAY and toxic nostalgia