Lady Dimitrescu cosplay: Dress as your favorite Resident Evil villain with this handy guide
Looking to cosplay as the new tall vampire lady? We've got you covered.
Since Capcom released the new trailer for Resident Evil Village last month, the internet has become infatuated with the tall vampire lady known as Lady Dimitrescu. From fanart to pages online dedicated to the character, the vampire has quickly become a new Resident Evil favorite.
The official Resident Evil Twitter even came forward this week to thank the community for their love of Lady Dimitrescu. Tomonori Takana, the Art Director for Resident Evil Village, explained in the Twitter post that the new vampire character is 9' 6" tall, which was even taller than expected.
Your love for Lady Dimitrescu is loud and clear.

Here's a message from our RE Village art director Tomonori Takano, along with a very curious fact you may have wondered about: pic.twitter.com/Lj4m5pN2dJ

— Resident Evil (@RE_Games) February 2, 2021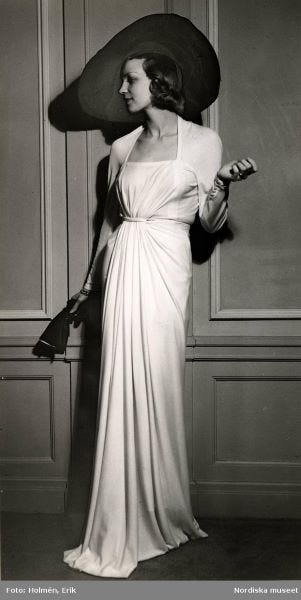 The internet's new favorite vampire was most likely inspired by an actual photograph from 1938 taken by Swedish photographer Erik Holmén. The photographer was known throughout Sweden of taking photographs for Nordiska Kompaniet, also known as NK Stockholm, which are two famous department stores located in Sweden.
The photograph is titled, "Women's fashion, female model posing wearing draped evening dress and wide-brimmed hat. In her hand she holds a pair of gloves. Nordiska Kompaniet 1938." Our guess is that the Resident Evil developers had seen the photo of this mysterious woman and used it as inspiration to create their tall, female vampire villain for Resident Evil Village.
Many cosplayers have already cosplayed as the new villain as well as her daughters that were seen in the trailer. If you're looking to cosplay as Lady Dimitrescu and jump on the Resident Evil Village hype train, do not fret. We have put together this list of items you need to be able to cosplay as Lady Dimitrescu.
Items For Lady Dimitrescu Cosplay:
Be sure to click on each item below so you can purchase from Amazon!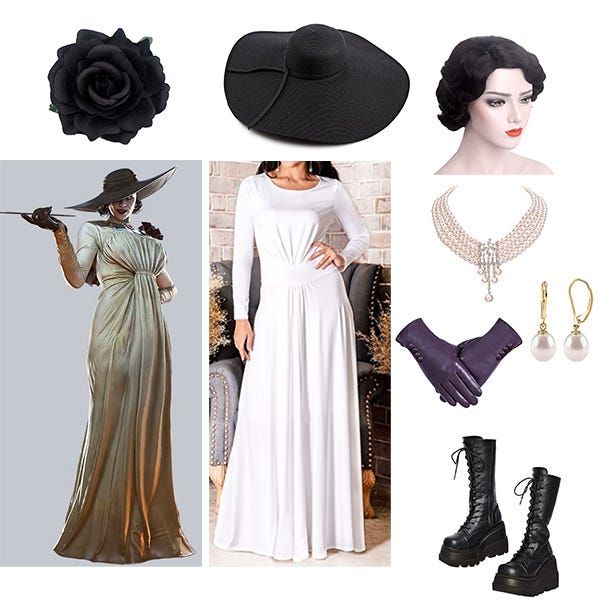 Lady Dimitrescu's dress is more of an off-white color that has been weathered as well due to the passage of time (she is a vampire after all). You can always weather this dress by dyeing it with tea bags, or even throwing it around in the dirt. If you have an airbrush, you can also airbrush tan and light brown colors to get the desired look.
The neckline is also much higher than the one in the game, which you can alter simply by cutting a lower neckline and then stitching the edges.
Now we know that Lady Dimitrescu has high heels under her dress, which you can always choose to wear if you enjoy wearing heels. However, since the dress drapes to the ground where you can't see her heels, you can always wear platform boots underneath to get a little height while also wearing much more comfortable boots.