Lady Dimitrescu's Daughters: Cosplay the creepiest henchmen from Resident Evil village with this handy guide
Want to be one of the witches from Resident Evil Village? We've got you covered.
Capcom's new Resident Evil Village video game that is set to release in May has made international headlines in the last month after its new trailer debuted. Now, cosplayers from all around the world are looking to cosplay as the notable characters such as the tall Lady Dimitrescu, as well as her "daughters" from the trailer.
Since many cosplayers are still stuck at home, some went to their closets to figure out how to make their own casual cosplays of the characters. We had even created a simple guide to cosplaying Lady Dimitrescu for those who wanted to alter pre-existing clothing to look like her.
But Lady Dimitrescu isn't the only villain making headlines. The daughters, most notably Daniela, have also been a big hit with cosplayers. Since many cosplayers have different goals for cosplaying, we have decided to make an expanded guide for cosplaying these scary witches. Whether you're a cosplayer who simply wants to go casual, or want to expand your sewing skills by recreating the dress, this guide will help. The guide will have three sections:
Casual Cosplay Guide
Advanced/Accurate Dress Guide
Makeup Look
The makeup section can be used for both a casual cosplay as well as the more advanced guide. Remember, it doesn't matter how you decide to cosplay. As long as you enjoy it and have fun, that's all that matters!
1. Casual Cosplay Guide: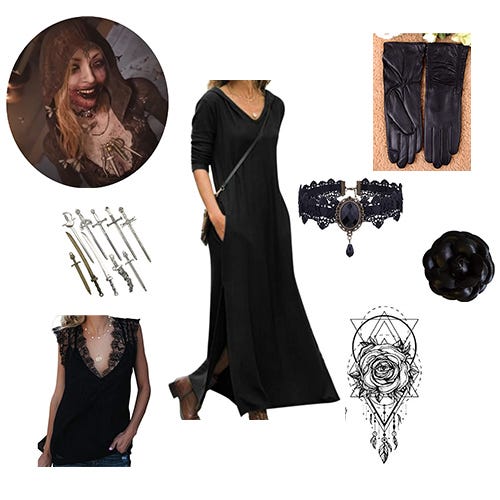 The daughters' outfits are pretty easy to replicate for a casual look if you don't mind doing a little bit of modifications to the dress and choker. To start off, the daughters wear a long black hooded dress with balck gloves, two sets of necklaces with swords and pendants, flower brooches on the sides of the dress, a choker, and an interesting tattoo on their foreheads.
The dress itself has lace underneath the main part of the dress, which you could replicate by wearing the black lace tank top underneath the dress. The dress we listed does have a hood and a v-neck, but if you don't mind a little alteration, you can always cut the neckline a little more so the lace shows off even more.
The dress also has slits up the side, which you could stitch together if you wanted to make it more of a straight dress like the daughters'. Personally, I'd keep it so you could also wear it out if you wanted to use it as your typical clothing. The dress also has pockets, which is certainly a necessity in any cosplay.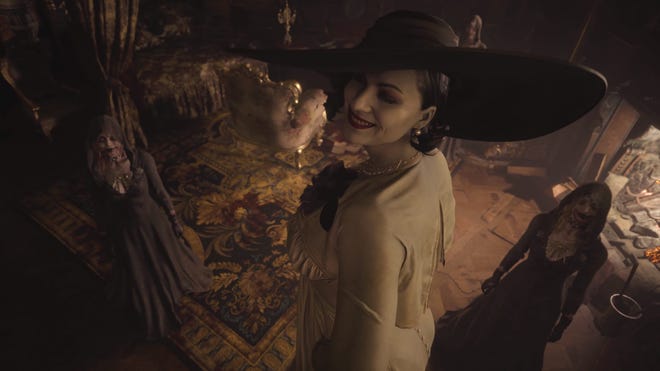 For the flower brooches, you can buy two of them and put them each on the sides of the neckline. The dress does look a little more worn out and faded, which you could make appear weathered by either throwing it in dirt, weathering using paint, or even using lighter airbrush paint.
The sword pendants do not come with a chain, but if you're like me and have plenty of necklace chains lying around from other cosplays, you can always reuse them for this. As for the choker, the middle pendant is actually a silver and red color. You could always take some watered down acrylics and paint the pendant silver and red to match.
As for the tattoo, the closest we were able to find was this rose tattoo with feathers hanging at the end. The link to the tattoo is the smallest one we were able to find, but it still might be a little big. You could always try to cut it down a little bit, or even draw it on yourself with black eyeliner. I have done this before with a Feyre cosplay from the ACOTAR book series, which still does the job well!
But what if you're wanting to really push your sewing skills and try to sew the entire dress as well as craft your own necklaces and design tattoos yourself? You're in luck because we have put together an advanced guide below:
2. Advanced/Accurate Dress Guide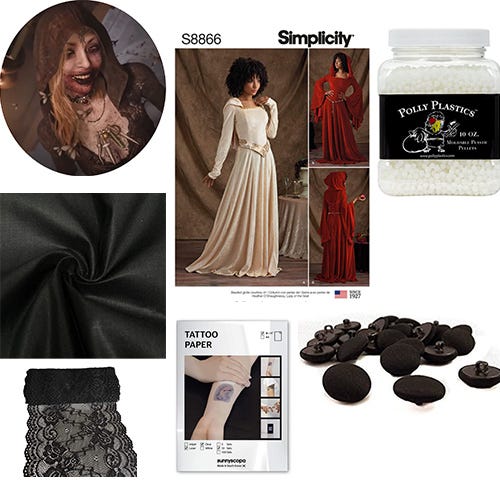 First off, let's talk about the dress. As stated in the casual guide, the dress is a floor-length black dress that has an attached hood. The neckline is more of a v-neck with lace underneath the main part of the dress. If you want to work with a pre-existing pattern, the closest we have found is Simplicity's S8866 pattern. This is supposed to be a medieval-fantasy dress with a hood and a skirt that drapes down to the floor, which works perfectly for the witches based on the screenshots.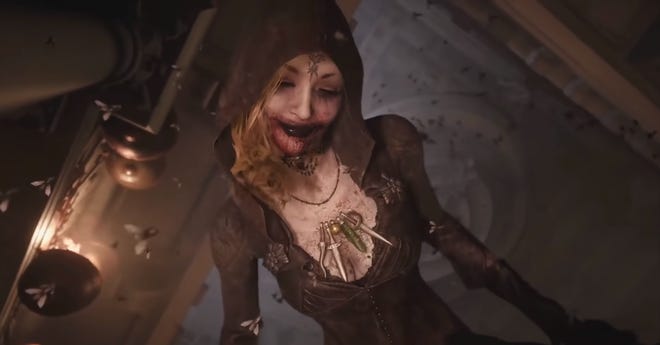 The only two changes that would need to be made from the pattern is making the neckline into a v-shape, which could easily be done while cutting out the patterns so it'd be ready to go for your fabric, as well as shortening the sleeves a bit. Now you can use any sort of fabric you'd like, but personally I'd use a 100% cotton since it's both a breathable fabric (meaning it won't get hot like poly-based fabrics) and it isn't as expensive as fabrics such as linen. If you don't have a tight budget, however, you could use linen to get the same effect.
While crafting this dress, one thing that was spotted in screenshots were the pleated bust area as well as several buttons that go down the middle of the dress. Since these appear to be more of decorations, I would sew these into the base of the dress by adding two triangle-shaped pleated bits of fabric, and sew them in so they would be both decorative and accurate. You can also sew the lace into the lining of the dress, or the reversed side if you choose not to do a lining.
The dress also has buttons, but they don't appear to be actual functioning buttons. In this case, you can simply hand sew about 9 buttons down with a half an inch in between to get the desired look.
If you want to make your own sword pendants for the dress, you can always use Polly Plastics (or worbla if you prefer) to create them by molding and shaping to your despire. Carly from Carma Cosplay did a great job doing this, which you can see in the Instagram post below:
As for the tattoo, if you want to up your Photoshop game, you can always design the tattoo in Photoshop and then print it out on tattoo paper. I would definitely test the tattoo paper a few times, as it does take a little bit of practice to perfect.
Now onwards to the final step (and my personal favorite): makeup!
3. Makeup Look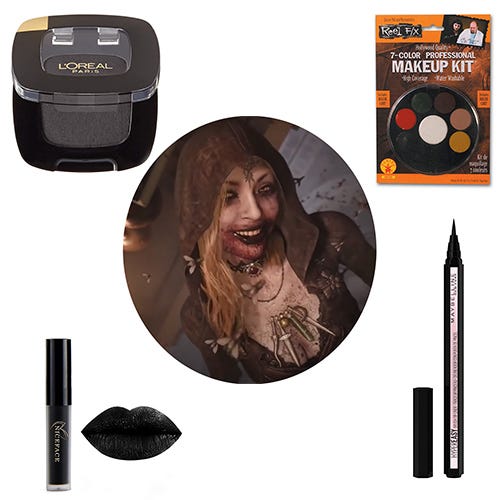 The daughters' makeup are all the same, with smokey eyes, black lipstick, and some blood that surrounds the mouth and underneath the jaw. First off, I'd recommend doing your standard makeup before using foundation and contouring. For the eyes, use the eyeliner to draw around the eyelid and underneath, followed by using the eyeshadow underneath with a small brush to have the look as if the daughters had been crying with a lot of mascara on. You could also do this with the eyeliner if you gently draw it on so it doesn't look super dark.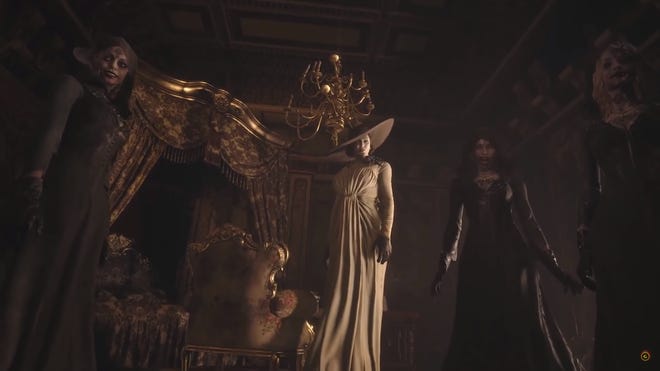 The lips can easily be done with black lipstick, but it would be wise to do the blood makeup so you can finish off with the lipstick at the end. Now you could get yourself some fake blood and put it on your jaw and face and call it good. But if you'd rather not spend hours trying to get fake blood off your face, there is another way.
Cheap Halloween makeup can be used to make the fake blood look by using red and black makeup and then watering it down significantly. By mixing these colors with water, it'll come out more of a deep red/purple, which is perfect for the look of blood. Don't worry about being precise in your brush strokes either; she's supposed to look messy!
You can also do this to your chest area as well, to make it look like there was a little bit of blood splatter there too. (Thanks to Carma Cosplay for helping us figure out how to do the blood makeup!)
And with that, you are done!