The '70s hero Legendary Lynx is headed to Image Comics via Chris Ryall's new Syzygy imprint
Alex Segura and Sandy Jarrell's restoration of the lost 1970s classic will be an Image title later this year
Anyone that's familiar with the history of the comic book industry knows that there are endless pockets of forgotten history and overlooked projects — but thankfully one such title is being brought back to the public eye by Image Comics imprint Syzygy, and creators Alex Segura and Sandy Jarrell.
Ahead of Saturday's 'Defining Syzygy: What's Coming Up for the Image Imprint in 2023 and Beyond' panel at WonderCon in Anaheim, California, Popverse can exclusively reveal that the imprint run by former IDW head honcho Chris Ryall will be bringing The Legendary Lynx — Segura and Jarrell's restoration of a fictional 'lost' '70s superhero strip — to print for the first time, following the strip's serialization by digital platform Zestworld. The run will last four issues.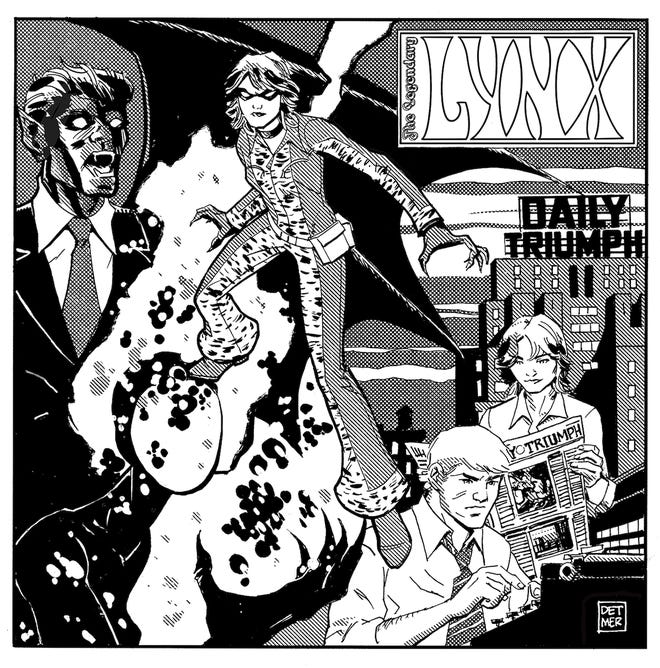 "Comic book history is packed with stories that are lost to the winds of time — erased by the machinery of companies folding, misplaced files, you name it," Segura tells Popverse via email. "We feel particularly lucky that we've been able to not only discover a nearly pristine set of The Legendary Lynx #1-4, but to have someone like Sandy to help remaster the original artwork by unsung master Doug Detmer, and Grey Allison to polish the colors. Tracking down scannable pages has been a daunting task, and I'm thankful to our team - including editor Allison M. O'Toole and the legendary Jack Morelli touching up the lettering of his own cousin, Todd."
Jarrell spoke reverently about the project: "He was workmanlike, sure, but more innovative than anyone remembers, if anyone remembers him at all. It's an honor to have a hand in restoring Doug Detmer's name to the pantheon of all-time greats. With its low print run and never having been reprinted, it's been difficult to fathom just how much the Lynx influenced almost every comic for decades."
"The Lynx is one of those mythic lost comic series I'd heard whispered about over the years but had pretty much given up hope of ever actually seeing," adds Ryall. "Just knowing that such a compelling and influential series is going to finally get remastered and released is a huge thrill for me, and even moreso knowing I get to help make that happen."
Segura continues, "I think readers will be drawn to not only the Lynx as a historical artifact — a lost piece of comic book lore that hints at what's to come - but as a fun, engaging superhero adventure comic in its own right, crafted with care by writer Harvey Stern and, if you believe the rumors to be true, a young writer named Carmen Valdez. We're thankful that Chris Ryall — a comic book historian himself — was familiar with the original Lynx stories and willing to give the book a new home, and a new lease on life in print after our initial, digital serialization on Zestworld."
There's a little bit of a twist here — The Legendary Lynx isn't entirely a reprint of a '70s classic. Instead, the character was created by Segura for his 2021 prose novel Secret Identity, which was set in the '70s comic book industry, with Segura and Jarrell creating pages of the fictional comic throughout the book itself. The Zestworld serialization of Legendary Lynx was the next step in the character's evolution, with the team creating full-length issues as they were described in the novel… and now, thanks to Ryall's Syzygy and Image, they'll be appearing in print for the first time, just half a century or so out of time. (Segura is currently at work on Alter Ego, a sequel to Secret Identity, due out Summer 2024, for those of us who read and loved the first book.)
The Legendary Lynx will launch later this year at Image Comics/Syzyrgy. Look below for some art from the series — keep your eyes on Popverse for more from Syzygy… perhaps sooner than you think.
---
Alex Segura talked Secret Identity and the Lynx earlier this year.