Meet LilithAdaryn, one of the 2023 Cosplay Central Crown Championships finalists
The winner of the Cosplay Central Crown Championships semi-finals from MondoCon, Hungary, is coming to Chicago's C2E2 2023 to win it all
Every year, cosplayers from around the world show off their creations at conventions - and the best of the best compete each year in a global tournament called the Cosplay Central Crown Championships. Each major convention has a semi-final where a winner is chosen, and that winner wins cash, prizes, and a round-trip ticket to the yearly finals - which take place this year at Chicago's C2E2 2023.
And in the build-up to the 2023 Cosplay Central Crown Championships finals at C2E2, we're talking to finalists from all over the world as they get into 'con crunch' mode before boarding a plane and meeting for one last, epic competition.
Today we're talking to LilithAdaryn, who claimed their place in the Crown Championships with a cosplay of Hua Cheng from the Chinese manhua Heaven Official's Blessing at the winter edition of MondoCon, Hungary.
Popverse: Welcome to the championships! Please tell us a little about yourself as a cosplayer?
LilithAdaryn: Hey hey! I'm LilithAdaryn, but most people call me Dana. MondoCon in 2013 was the first event I attended in cosplay. I've been more or less an active member of the community ever since. My first costume was an original design of Doctor Who's TARDIS, followed by characters from DC Comics, movies and games. In 2015 I discovered the world of anime which gave me some more detailed costumes but in the end I'm still more drawn to movie and game designs.
From 2016 until 2019 I had to take a break from cosplay in order to deal with my chronic illness and build my career in theatre. In the meantime, I learned a lot of skills from tailoring, sewing and costume design to hat and headpiece making, which is my current job at the Hungarian State Opera.
In 2019 I made my 'comeback' costume, Philippe d'Orleans from Versailles, and had the chance to meet the actor who played him. A grand experience and huge boost of inspiration. Now my work is mostly influenced by Chinese manhuas, as my qualifier costume shows!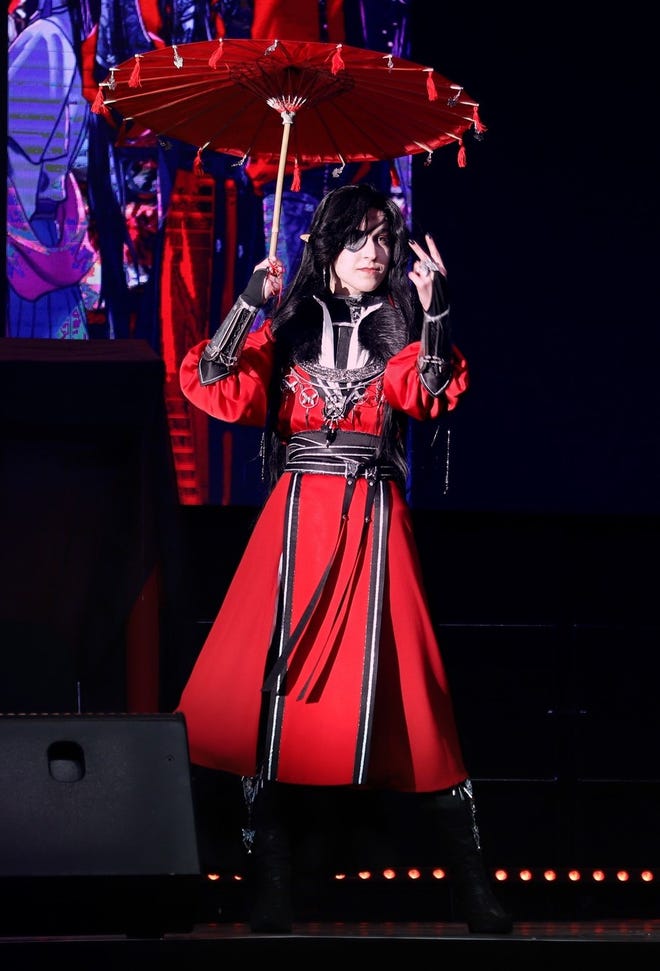 Tell us about your experience competing in cosplay?
As a beginner I had taken part in a small number of competitions, mainly entering the performance category rather than the craftsmanship. I don't have a lot of experience in presenting my costume in front of a jury and definitely no experience in talking in front of people. I've always been an introvert, able to write essays about my interests but mute during an oral exam. Haha.
With 3 good friends I often compete in the performance category and we've taken home a few trophies already since 2021. As for the craftsmanship, my first real competition was in October 2022 and the next one was the qualifier for C2E2.
I hate to admit, I get so nervous before any kind of presentation that I think of resigning up 'til the last moment before I have to enter the jury room or go up the stage. The same thing was true for the qualifier and without the support of my friends, I don't know how I would have survived, truly. Hearing them cheer and scream for me when I was up on the stage eased my anxiety and helped me focus on my performance! It's still hard to believe that in March I'm going to board a plane and cross the world to meet amazing artists and compete together. I think it's only going to feel real when I'm actually there.
What inspired you to make this costume?
I've been eyeing this design ever since it made its first appearance in the manhua and after half a year I finally decided to bring it to life. I'm very much in love with this character and wanted to do him justice. To be honest, I entered the qualifier because of the extended stage time so that I could perform a kind of compilation based on the character's background; a tiny glimpse into the story itself. I'm also very focused on details, even the kind that's never going to be seen under all the layers, so I've thought 'Why not? I've got nothing to lose if I try.'
How did you bring it to life?
3-4 weeks... A lot of leatherwork, needlework and many sleepless nights after long workdays made this costume complete.
A lot of research has been done: ancient Chinese tailor techniques, miao jewellery, proper shoe making, discovering new materials to use. Material choices were strongly influenced by the novel's description of the character, his status and personality, as well as what would look best, and what would behave the way I wanted it to. Theatre work had a huge impact on my approach to costume making and it taught me to make everything more durable and actually wearable. In the past my costumes lacked comfort, this one is not bad to wear for an entire day.
Did you learn any new techniques while making this costume?
This was my first time using worbla and foam and I even got to learn a bit of 3D modeling and printing.
Fun fact, I'm studying to become a nail tech at the moment and made use of a lot of materials while making my cosplay. Nothing ever looked so precious like chrome mirror pigment. I also used AcrylGel for sculpting my jewellery. I'm definitely going to use these more for my future projects.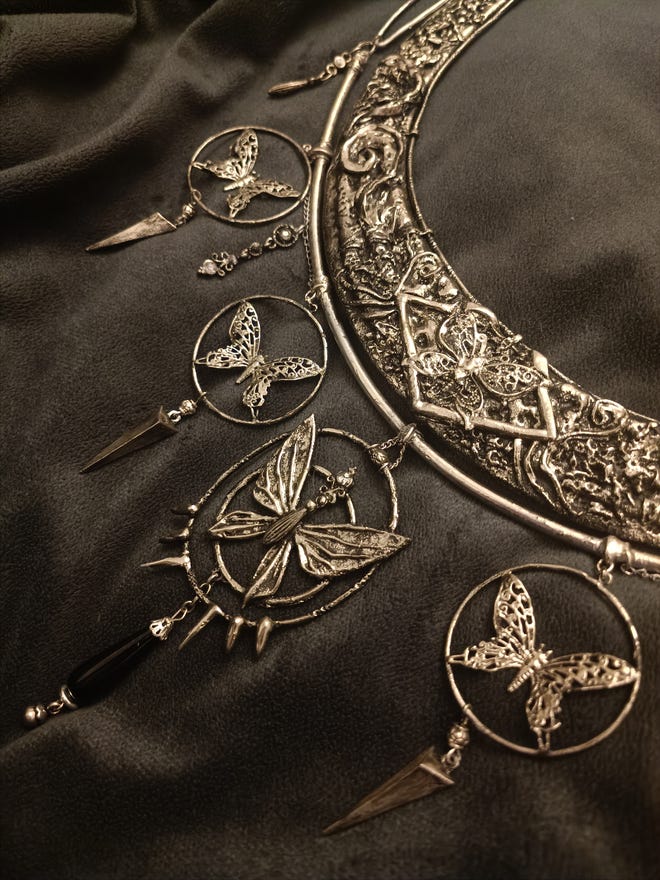 What is your favourite part of the costume? And Why?
Definitely the necklace! This is the part I've been most afraid of so I actually postponed it to the night two days before competition. The base is made of foam with steel wire sealed into black worbla. All the details are sculpted out of worbla or AcrylGel. I couldn't resist adding a long bead of onyx to the centre piece as I love crystals and like to include them on my costumes whenever I get the chance. May this be an excusable difference from the original art.
Are there any other details or features you would like to highlight?
I'm in love with the colour of the main robe! Looks stunning on photos and also it's a perfect match to the character's title: Crimson Rain Sought Flower. And it's real silk - Horrible to work with, still worth the look.
The back of the shoulder piece, which none of you are going to be seeing much, is made of a mix of real and fake leather with lots of details... covered by the cape!
What are you most looking forward to about the final in Chicago?
Excited to be up in the clouds again - I love flying - and more excited to discover a new place and meet all of the other artists! I'm going there to have fun. Meeting an online friend is a great addition, too as she is going to be my assistant and we can spend a whole weekend together!
Also looking forward to bringing my beloved character to life again and introducing him to a lot more people. TGCF fans, find me on Saturday for a little chat if you want!
Any advice for anyone thinking about entering a competition like this?
Go for it! Don't think too much about it, definitely don't overthink it. Step out of your comfort zone and show the world your interpretation of the character you love. Become the character, enjoy the freedom it brings. By completing the costume you desired, you are already a winner.
Most of the people can't even fix a button and here you are, sewing complicated costumes, building armors, props! You are using a bunch of hard-to-learn skills, growing and improving through experience in a community that accepts you as you are.
You are an artist. Show off all your hard work because you deserve to be seen.
You can follow LilithAdaryn on Instagram and Facebook
---
The Cosplay Central Crown Championship finals will be one of many C2E2 2023 panels Popverse will be livestreaming this year. Here is a round-up of everything Popverse will be doing at C2E2 2023.