From single-panel to long-form: How Maybe An Artist is Liz Montague's Mount Everest
Cartoonist Liz Montague chats about Maybe An Artist, Jackie Ormes, and serendipity
Both a personal reflection and an encouragement to other artists, Liz Montague's Maybe An Artist illustrates her relationship with expression, revealing the ways she relied on drawing to help make sense of her circumstances and the world. Maybe An Artist takes us through Montague's elementary, middle, and high school years, during which she works out artistic ways to learn and communicate while living with severe dyslexia, to the advent of Liz at Large, her self-published digital autobio cartoon that was picked up by the Washington City Paper and published in print weekly from November 2019 to May 2020, to her adulting reality where the act of cold emailing put her in front of The Nib and The New Yorker and set her on a path to this project, a picture book about Jackie Ormes set to release in Summer 2023 from Random House Children's Books, and a three-book middle grade novel series with Scholastic.
Maybe An Artist, which is set to release from Random House Studio/Random House Children's Books on October 18, 2022, is also a story about how a person who trained in classic art styles and who comes from an art-centric and -schooled family, came closer to accepting herself as an artist when she found and embraced cartooning.
In this recent conversation with Popverse, Montague shares what it felt like to make her debut graphic novel, how she found cartooning and Jackie Ormes, and her hopes for those—especially women of color—who struggle with the pursuit of 'What If.'
Edited for length and clarity.
Popverse: I wanted to start with the book's dedication, in which you list your family, your husband, and then nine-year-old you. Why did you make sure to include her?
Liz Montague: I'd run track my whole life and, when I was a kid, we would have these picture-day kind of things for track where we would get little trading cards of ourselves. I had one when I was nine years old taped to the wall in front of me while I was writing this to channel that brain space. So, it felt like she was there with me for this whole journey. It felt like a good way to honor that, to honor her.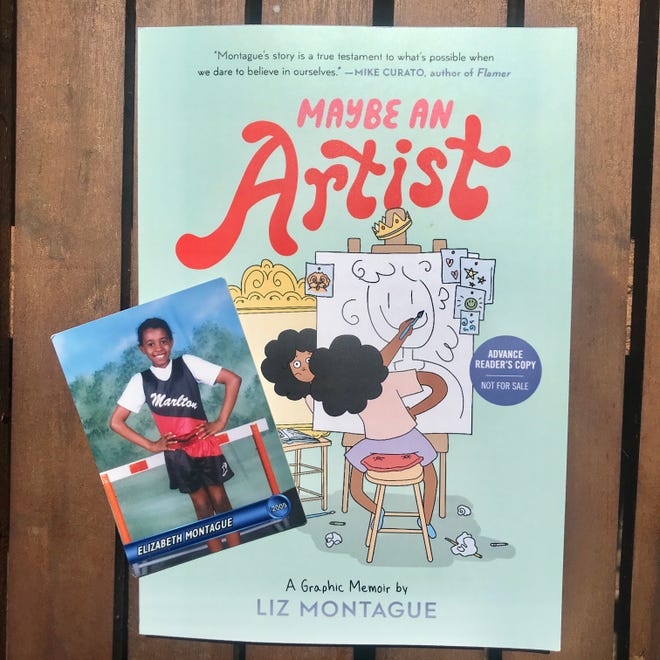 It's interesting that you call the memoir Maybe An Artist because, ultimately, the story feels like this long-standing struggle to claim the term 'artist.' How did you land on that title? And what's your current relationship with the idea of being an artist?
Annie [Kelley], my incredible editor that I worked with on the project, and I were bouncing around a bunch of ideas. I think she was the one who was like, 'How about Maybe An Artist?' We were trying to figure out something with the word "artist." And I was like,'Yeah, I think that fits.' Like you said, it kind of summarizes the whole book, like trying to claim that title.
As far as my relationship to the word "artist" now—I don't know because I feel like to this day, when people ask, 'What do you do?,' I'll be like, 'I guess I do art.' I feel like there is some hesitancy to claim it still. I feel like I'm not quirky enough. I feel like when people think "artist" or anyone in the art field, they think of a very specific kind of person, like a very specific genre of personality and I feel like I don't fit it at all. So I don't know. It's a work in progress.
Each section covers a span of years in your life, and you also timestamp moments in the story with references to the technology of the time and to world events. Why was it important to you to include these reference points?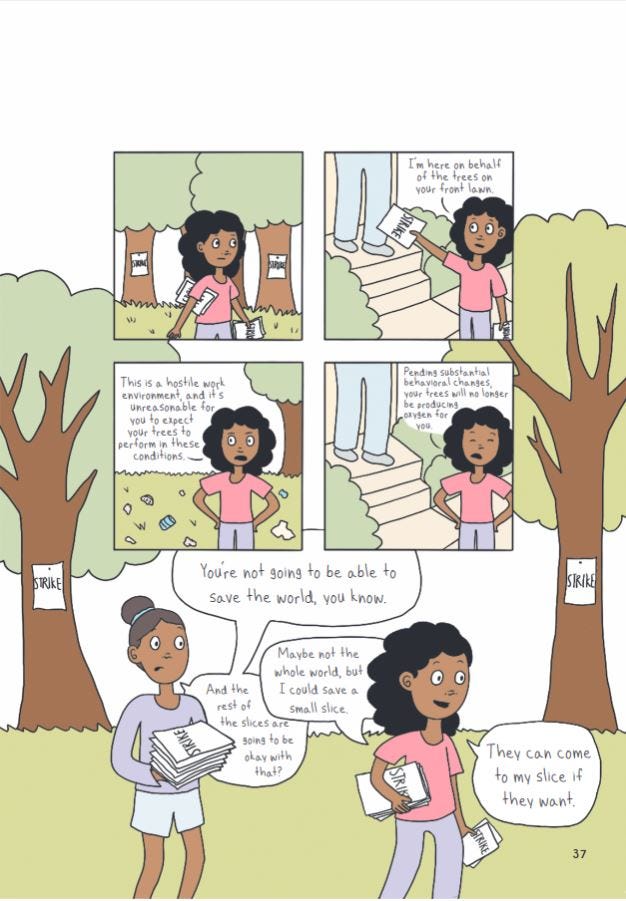 I wanted to give people an entryway that felt like, 'Oh, yeah, I remember that,' just as a way to frame time. For me, that era of post 9/11 feels like everyone should know that. But someone like my brother-in-law—he was six months old when 9/11 happened. He has no concept of any of these events or even a time before Facebook, a time before Instagram, a time before any of that kind of stuff. I don't want to assume that everyone will just know that, if that makes sense.
Yes, it makes sense. On one hand, if a reader skews younger, it could make them curious, to ask 'What's MySpace?' Whereas for someone like me, who went through these transitions, I can think back on those times. Like the moment in the story where you get a flip phone and illustrate the start of texting and online chats, and how it made speaking to someone in person awkward.
I vibe with that so much.
Composition wise, I appreciated the way you often left space open. When you do use up page space, those moments pop, but generally as I read through it, I felt calm and I was able to focus on the conversations in the panels. Besides it being pragmatic from a work delivery perspective, were you intentional about using the space that way?
Oh, yeah, totally. I read a lot of graphic novels and manga, and I get so overwhelmed to the point where if I'm reading it on an e-reader, I'll zoom in panel by panel because otherwise, I don't know where to start. I'm getting overstimulated, I'm overwhelmed. I get anxious. So I was just very cognizant of that with the book. I like to give big space to breathe.
Which came first—this project or the Google Doodle about Jackie Ormes?
Oh, this project for sure.
How were you approached about the Google Doodle?
The art director at Google at the time, Angelica [McKinley], Instagram DM'd me. The DM said something like, 'Hey, I can't say what it's about, but do you have availability in your schedule for these dates?' And I said, 'Oh, yeah. I'm free, what's up?' And then I got the email where I had to sign all these forms before she told me they wanted a Google Doodle about Jackie Ormes.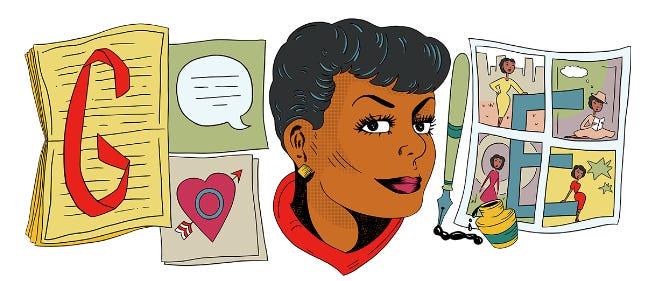 How did you feel about being asked?
It was so intimidating because it's Google's and, basically, the internet's homepage and it gets a lot of eyes. And then it's trying to figure out how to pay homage to someone like Jackie and figure out that sweet spot between her artistic style and making sure I'm putting that at the forefront while still making clear that it's me doing it. I'm really glad that I had that experience before going into the picture book.
When did you first learn about Jackie Ormes?
I feel like I knew about her in college. I did a cartoon about her for The Nib in 2019, when I was fresh out of school.
Was that something you pitched?
Yeah, I found their email somewhere and was like, 'Hey, I'd love to do a cartoon about Jackie Ormes.' The editor emailed me back and said they were gonna do something for National Cartoonists Day to showcase women cartoonists who aren't really talked about often and would I want to do it then. I think that that's how Angelica initially found me too, because I did that comic for The Nib.
Did you grow up with cartooning or comics in your household?
My parents had the Baby Blues cartoons as books. I think someone gave it to them as a gift. So those were around, but I did not know that cartooning was a profession or a field. I was not a stan in any way. But I was aware of the art world because my mom's an architect and my dad's an engineer, and they both went to Pratt [Institute in New York]. So, I was aware of the art field, but I did not grow up knowing about the subfield of cartooning at all.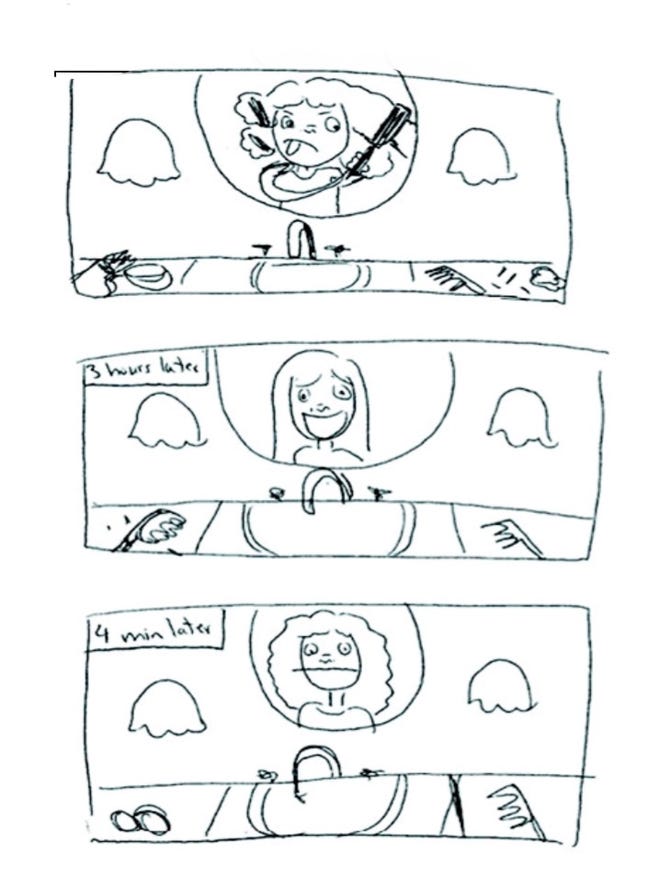 How did you find cartooning?
Honestly, it was very serendipitous. I was at Best Buy with my dad and saw a Wacom Tablet One. I got it, figured out how to use it thanks to YouTube University, and used it in my spare time. When I was in [University of Richmond] and a full-time athlete, I traveled for meets and I was a studio art major who still had to get everything done. I thought about how I was going to do classwork while I'm on the back of this bus. It occurred to me I could bring the Wacom stylus with me and my iPad, and that's how I figured out digital illustration is a thing. It was the era of the start of Instagram, when people would just post whatever. I thought, 'Well, I have one square to work with,' and my teammates wanted to see what I was doing. So I thought, "Maybe I'll just post these little drawings that I'm doing on Instagram," which turned into Liz at Large.
I was cartooning without knowing what cartooning is or having the language to describe that. It was just a series of problem solving.
How do you feel about going from cartooning to working on consecutive book projects?
For the cartoons, what was hard about it was I had to submit them two weeks in advance to the Washington City Paper, and you don't know what's going to be happening in the world. Also, in D.C. [during the end of 2019], it was a tense time—it was during the Trump presidency and then there were whisperings about this illness going around that people didn't really know what it was. A lot of feelings were around that everyone was trying to process and deal with, and I wanted the cartoons to be something that wasn't another negative story in the news. To do that, you kind of have to make things that are very evergreen content-wise, and that can kind of address everything, which is an overwhelming task. So I tried to make it hyper specific to what I was going through at the time [laughs].
With the books—in retrospect, if I knew what it was going to take, I probably never would have agreed to do it! [laughs] I had never done anything more than a single panel, and then agreed to a full graphic novel about myself. That's a quantum leap between the two. Yeah, I had no idea at the time, though.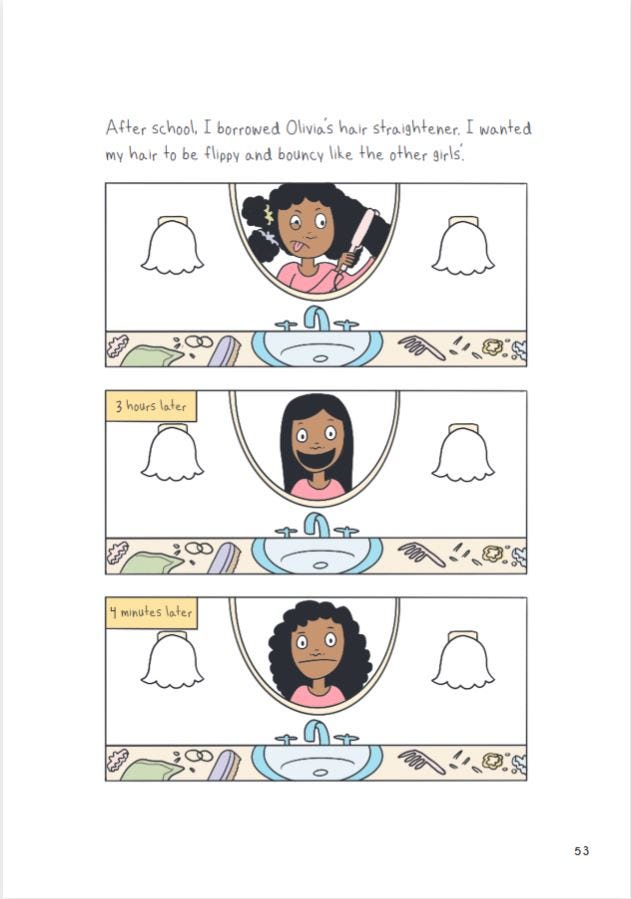 Maybe An Artist begins with a comic of you in a creative block, in which you struggle to know how to approach a blank page. How do you cope with that now, especially when you've got multiple projects in the pipeline?
What I tell myself is that this graphic novel? This was Everest. This was climbing Mount Everest, and once you climb Mount Everest, everything else is just hills. I've done what, for me, is the hardest thing because I'm not someone who—as much as I make a lot of autobiographical work and diaristic work—I don't really like talking about myself. I really don't like the attention. I really do not like having to do self analysis with an audience. So this was a huge leap for me and then trying to figure out the narrative thread through it—What do I want to talk about? What don't I want to talk about? How do I make it feel like a full story without throwing anybody under the bus? How do you talk about everything in a way that works? It was the hardest thing ever. So from here on out, everything else is cake in my mind.
There's a moment when your younger self asks aloud, "What if I don't like anything enough to do it forever?" It had me wondering how cartooning and illustrating is shaping up for you. Is this something, at least right now, that you see yourself doing forever?
I'm 26 years old. I don't know if I want to speak on forever because even three years ago, cartooning and illustrating and books seemed like entirely different things, and now I'm kind of doing all three all at the same time. But I really like what I'm doing and I want to keep doing it. There are definitely days when I wake up and I feel how I felt at the beginning of the book, where it's like I have no ideas left. And then sometimes I think, 'Do I want to be a part of the content machine?' Maybe I want to go into the forest and be a hobbit [laughs]. But I do think I want to keep doing books for the long haul.
What's your hope for people who read Maybe An Artist? What do you hope they take away?
I hope that people read it and think, 'Oh, maybe I should try that thing I wanted to that one time.' Especially for women and especially for women of color, where I feel like there's so many more barriers to bet on yourself. There are so many cultural barriers. There are so many physical, financial barriers, just so many more things to overcome. So, I hope that people feel like, 'Maybe I can actually take that leap,' and get beyond just thinking about it to actually doing it.
---
Maybe An Artist releases on October 18, 2022, from Random House Studio/Random House Children's Books.
---
Telling new stories in an old-fashioned style: Interview & Exclusive Excerpt from Melanie Gillman's Other Ever Afters