Marvel's Loki: DIY cosplay tips to create your favorite MCU variants
If you have the glorious purpose to cosplay Loki, here's a guide on how to do it!
Lately Disney+ has been giving comic fans hit after hit, from The Mandalorian to the recently finished series, Loki, based on the fan favorite trickster. These shows aren't just inspiring people to pick up the comics; they are also motivating cosplayers to put together their own cosplays based on the character's new looks.
Let's take a look at a few new Loki outfits from the show, with some pointers to get you started on creating your own cosplay version, for novice to advanced cosplayers.
Loki Variant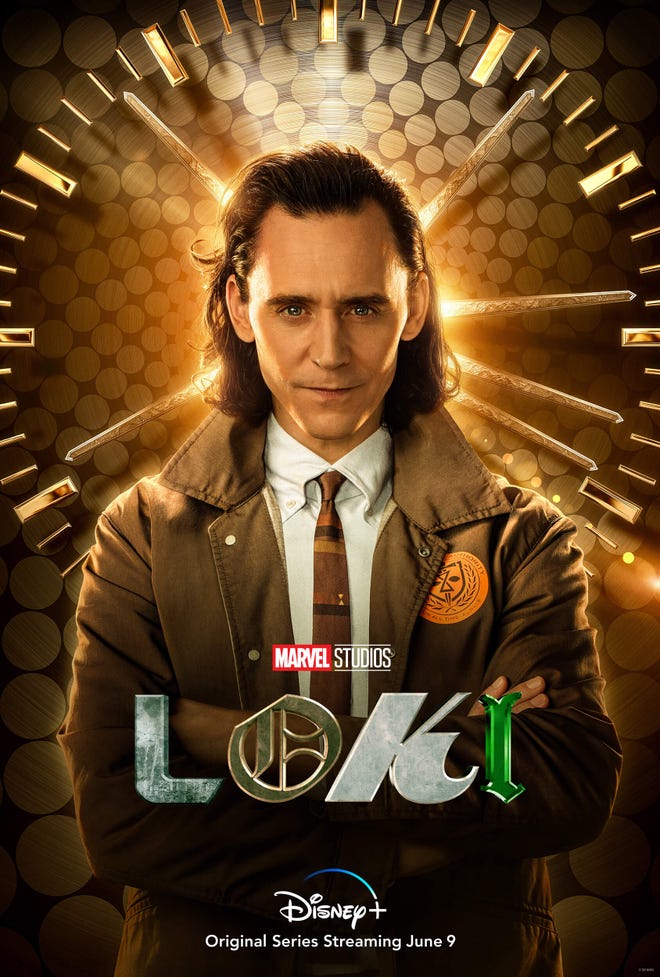 The moment episode two dropped, Loki's Variant jacket ensemble garnered attention from costumers and fashion fans alike. Within a week, there were a number of websites selling premade jackets for an easy and ready to go cosplay option.
If you want to create your own, here's an idea of what you can do:
• Jacket: Finding a jacket that matches shouldn't be too difficult (utility work wear jackets are the closest we could find) but the key are the TVA details. You can add the VARIANT lettering on the back and the chest patch by either purchasing them from Etsy sellers or creating your own with printable iron-on transfer paper. This technique can also be used to recreate Loki's prisoner jumpsuit from the first episode.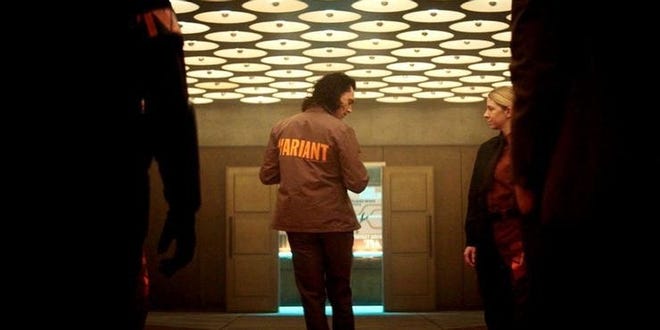 • Tie: Luckily the design is geometric, making it easier to recreate and paint on a solid color tie. For accuracy, cut off the tip of the tie and sew it into a squared end.
• Light Blue/Gray Button Down Shirt and Brown Pants
• Belt Buckle: Loki's TVA belt buckle can also be purchased from cosplay creators on Etsy or you can create your own using cardboard or foam. Use one rectangle as the base of the buckle and glue the outline of the rectangle and the letters TVA as a top layer. You can also cover this with worbla for extra durability.
President Loki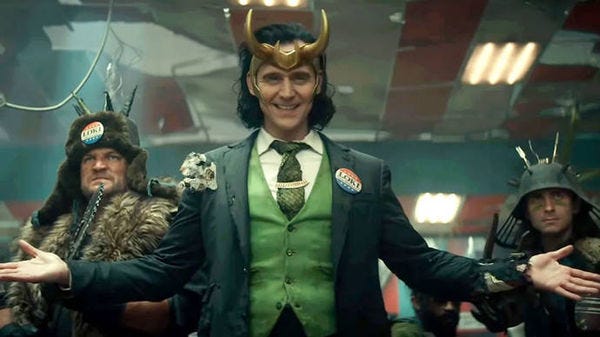 Another novice to journeyman difficulty Loki cosplay to put together is the President Loki outfit.
• Suit and Vest: You can choose to either purchase a suit and vest already made, or create your own from scratch (example: Simplicity S9241) but the important part is to distress it. President Loki looks like he's lived through some rough times and it shows on his clothing. Aside from the giant rip in his shoulder, make sure to tatter the edges of his collar, lapel and left arm.
• Tie: For ease, you could go with a basic green silk tie. Journeyman difficulty would be to then paint on a basket weave pattern similar to the structure of the original tie. Or for master level craftsmen, you can recreate the textured tie laying and securing individual squares of green fabric on a basic fabric and then using that to create a tie.
• Button: To create your own, print out the graphic and attach it to a button you don't mind recycling or creating a button using thermoplastics or a button making kit available at craft stores. You can also get the button on Amazon if you don't mind buying it.
• Tie bar and headpiece: This is where this becomes a Journeyman difficulty project. While both the tie bar and headpiece can be purchased, you can create your own using various materials and tutorials like this one from SKS Props.
Classic Loki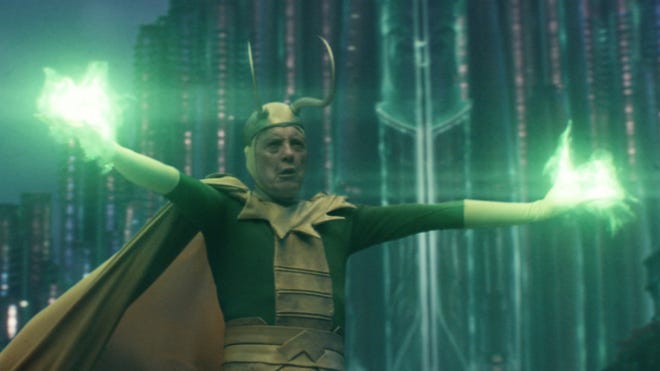 This look is pure original-comic cosplay fun and can range from Novice to Master level in completion.
• Bodysuit and cape: A basic green bodysuit can be purchased or made as a base. Patterns can be found online from various costumers or older patterns like Butterick 5874. On top, yellow briefs and a cape have been added, both being easy to put together with spandex or similar non-fraying fabric.
• Belt, Chest Piece and Collar: It looks as though these pieces were created using spandex fabric with foam sandwiched between, giving the actor flexibility and durability. Many tutorials can be found using search terms like "fabric covered foam armor" and cover various techniques. Spandex or other stretchy materials tend to work best for this so the pieces can move with the body and foam.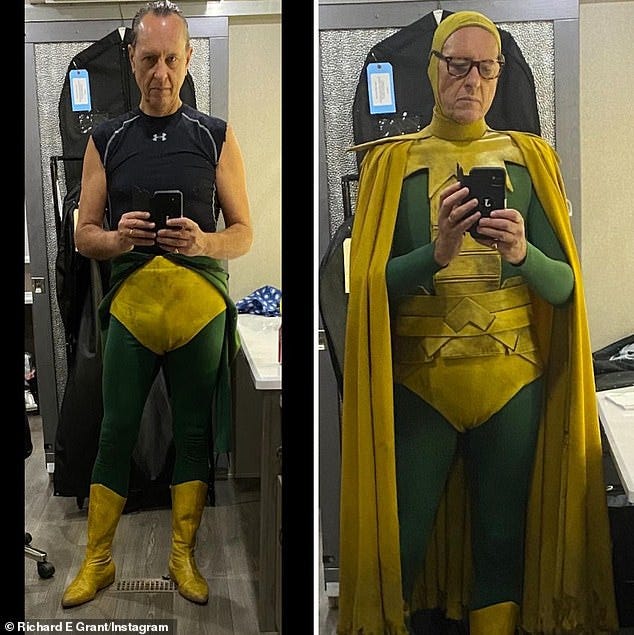 • Underhood and Helm: Finally, you will want to create Loki's signature headpiece. This one will be a little trickier to create due to the size and ensuring that it stays balanced while worn. Don't forget to create an underhood, similar to those worn by Power Ranger cosplayers, out of the same spandex used for covering the foam armor pieces.
Boastful Loki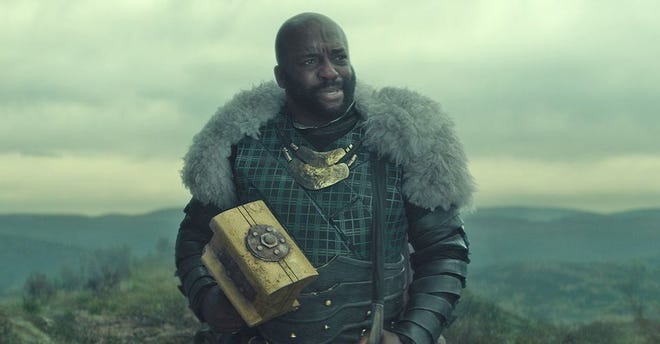 If you want to go big with your Loki cosplay and work with a variety of different materials, Boastful Loki's detailed costume is just for you. Of all the variants, this Loki really embraces his Norse background which means lots of leather, fur and texture.
• Tartan Chest Piece: Boastful Loki's top seems to be sewn strips of fabric covered thin foam worn as a vest over a base black top. The trick here is recreating the most likely, custom tartan pattern.
• Leather Accessories: While Boastful Loki's accessories can be created with foam or worbla, a soft leather or pleather would give this cosplay a more real-life feel.
• Fur Cape: Adding additional texture to this cosplay is the thick fur cape.
• Pants: Boastful Loki's pants have unique pocket detailing on both sides. Great for holding items at a con but prepare for making 8 different pockets.
• Props and other accessories: You can't forget the two "metallic" pieces to this cosplay. The hammered metal jewelry and this variants version of Thor's hammer.
Regardless of your cosplay skill level there is a Loki variant for everyone. And with the world of variants completely open, any variant you can think of is a possibility.