Los Angeles Comic Con CEO Chris DeMoulin on the convention's biggest year yet
Popverse chats with LA Comic Con's CEO Chris DeMoulin about what to expect at this year's LACC
Popverse is all about covering fan and culture, and one of our favorite parts of that is covering conventions. With Los Angeles Comic Con coming up this weekend, Popverse had the opportunity to have a conversation with LA Comic Con's CEO Chris DeMoulin on what LA Comic Con is doing differently this year and what fans can expect from the show.
First things first, there are big changes on the horizon. While LA Comic Con will be focusing on what they've been best known for, like big franchises like Star Trek, Star Wars, and Nickelodeon shows, this year, following fan feedback, they are also planning on leaning into gaming and anime. To adjust to these changes, this year the Los Angeles Comic Con will expand into the entire convention center and will feature a hall specifically dedicated to gaming and anime.
About this year's panel programming, DeMoulin says that there will be almost 200 panels at this year's event, including panels featuring Shang-Chi's Simu Liu, The Mandalorian's Giancarlo Esposito and Ming Na Wen, and more industry-focused panels about screenwriting, special effects, and voice acting. The success of this business side of the convention, according to DeMoulin, is due to the unique nature of Los Angeles. "It just feels like that stuff you really could only do at scale in Los Angeles… Since San Diego took off, it's kind of known for being where the studios go and strut their stuff, and New York came up out of the comic world. LA, we just we wanted to be a big sort of eclectic, celebration of the mashup of culture."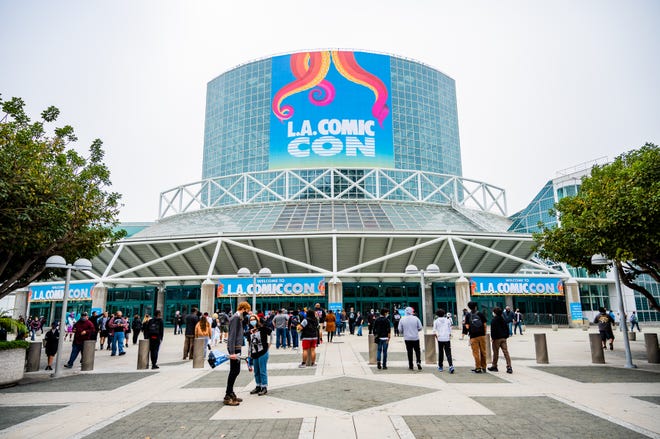 To match the expansive programming schedule, DeMoulin shares that there will be a 50% growth in the number of exhibitors this year, so that not only will this show be the largest LACC due to attendees and convention center space, but it will also be the largest LACC due to the number of exhibitors. Hot Topic will make its return (It's been exhibiting at LACC for ten years), and hat company Lids will be making their first appearance.
As for how Los Angeles Comic Con will be addressing COVID concerns during this expanded event, DeMoulin says, "I think we all are still taking appropriate precautions, but at this point they're individual precautions more than societal precautions, so people that are more at risk are either not going to come, they'll watch our online streams or they'll wear masks. We'll have a policy that recommends everybody wear masks, but [with] the current LA County Department of Public Health, it's not mandated. It's just recommended."
Regarding what the convention environment looks like regarding the panedemic at the moment, DeMoulin says, "I certainly think what we're seeing in the enthusiasm from the talent community, the sponsor community, the exhibitor and artist community, and the most of all the fans is that they're ready to get back together."
For those who cannot attend Los Angeles Comic Con due to health concerns or even simply distance, the show has expanded their online and streaming offerings, with five cameras streaming throughout the show, showcasing what's on the Main Stage, the Gaming Stage, and the Cosplay Stage, with two cameras roving around and picking up the most interesting bits of convention culture. "We still want them to be able to participate, but it does feel like most people have embraced for themselves, the ability to go out and be part of a big event."
---
To learn more about the event (or to snag last minute tickets), check out Los Angeles Comic Con's official website.
---
Exclusive: Los Angeles Comic Con announces main stage panels including Lord of the Rings, The Sandlot, The Boys