Tom King and Elsa Charretier take us inside their meta romance story Love, Everlasting
Inside the Substack-turned-Image Comics romance (but don't call it a romance) comic Love, Everlasting
Love Everlasting is one of the superstar comic book series to come out of the Substack boom.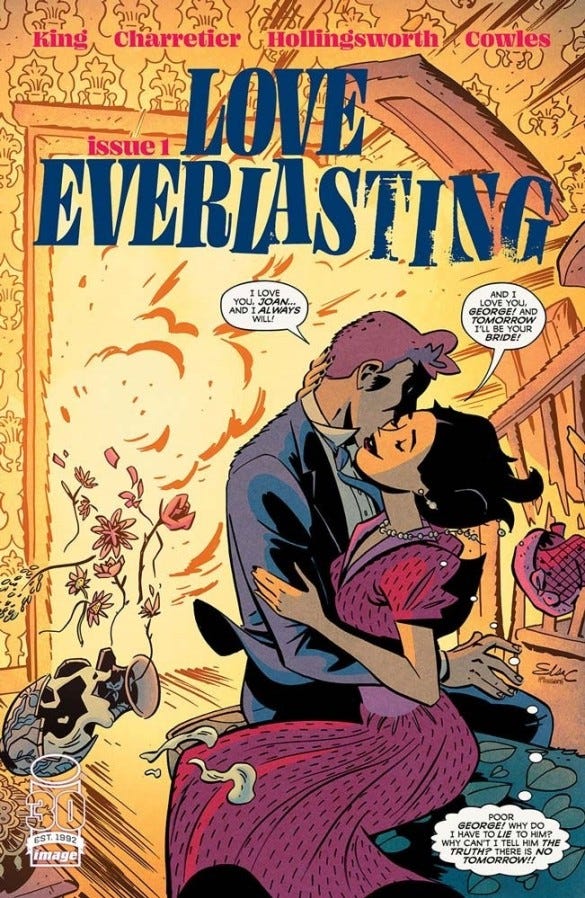 At first blush, Love Everlasting is a romance comic in the style of classic Gold and Silver Age romance comics until an increasingly horrific twist is born from the first issue. The series comes out of Eisner Award-winning writer Tom King's Substack with superstar artist Elsa Charretier bringing multiple worlds to life from issue to issue.
Lucky for us, Popverse's Ashley V. Robinson was able to chat with Love Everlasting writer Tom King and artist Elsa Charretier ahead of the series print debut at Image Comics.
Love Everlasting stars a young ingénue who has had a bad run of luck when it comes to romance, with a string of failed relationships. It all goes sideways when she realizes she's stuck in a seris of romance comics, turning into a post-modern version of A-Ha's 'Take On Me' video.
"I changed how I wrote comics," King tells Popverse, "… now I write all my comics at once like an novel. So, I'll write five Love Everlastings at a time then another five. By doing that I know exactly what's going on in issue 5 before Elsa starts drawing."
Here is our full 31-minute interview with Tom King and Elsa Charretier on the ongoing Love Everlasting comic book series:
Love Everlasting #1 goes on sale August 10, with a collection of the first five issues already planned for February 21, 2023.
---
Want to hold a copy of Love Everlasting #1 in your hands? Let us help with a guide to how to buy comics from comic shops.