Luca: Cosplay under the sea with these Pixar and Disney-inspired outfits
Dive into our latest article about these Luca cosplayers!
Pixar released Luca on Disney+ in June of 2021 to celebrate their 35th anniversary as a studio and friendship in general. The film follows a young boy and his unforgettable summer on the seaside of the Italian Riviera. He and his newfound best friend Alberto enjoy gelato, pasta, and their shared love for Vespas. There's only one problem, Luca is a sea monster in a town full of sea monster hunters. See the issue? His adventure is full of laughter, bravery, and friendship! A movie for the whole family to enjoy!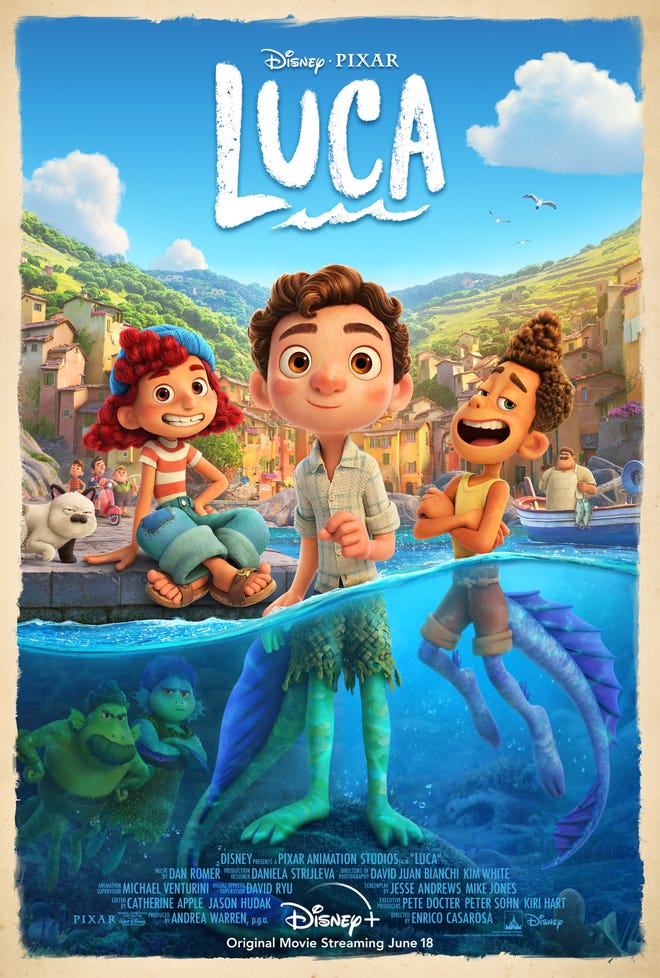 This film tells a story about identity, passing, and the way people fear others who are not like them. Luca and Alberto are fish out of water who overcome adversity and self doubt in a fantastical yet very realistic way. Many people, including cosplayers, relate to these characters even though they don't have gills. These cosplayers in particular whipped together closet cosplays or prosthetics to become these Pixar characters from Luca. Let's give them a 'sanding' ovation.
Just_jenoah_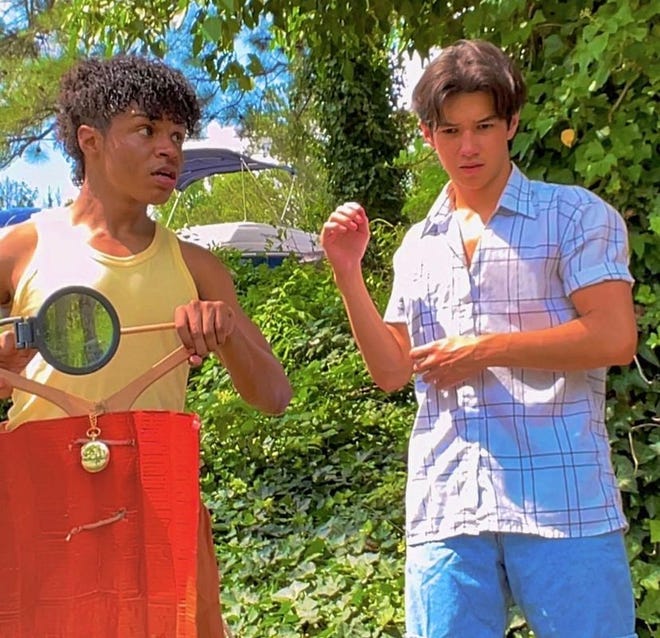 Silencio Bruno! Just_jenoah_ teaches Gabrielpchung a fundamental lesson in bravery in one of their most recent Instagram Reels. Just_jenoah_ is known for their accurate film recreations, so much so that he has become a viral TikToker with 1.3 million followers. He describes to us that the cosplay for Alberto and Luca was pretty simple. Most products were purchased from Amazon, such as the Athena Paint pallet that Just_jenoah_ used for their makeup, along with the clothes he got for both Luca and Alberto.
Though he could have cosplayed as either character, Just_jenoah felt connected to Alberto because they are both Latino. The most unique attribute of their cosplay was the infamous Vespa. Behind every great cosplayer, there is a dream of owning a Vespa. No? That's just a personal preference… Anyways, Just_jenoah_ and their family made the Vespa prop from scratch, of which the process will be shown on their new YouTube channel "Jenoah Bush"!
We asked why Just_jenoah_ chose to cosplay as Alberto from Luca, and they said, " I loved the story and how relatable the plot was because it could've been interpreted in whatever way the viewer chose. I also loved how Alberto was the first Disney character that had similar POC features as me, such as tan skin, a broad nose, and 3c curly hair!"
Dressesandcapes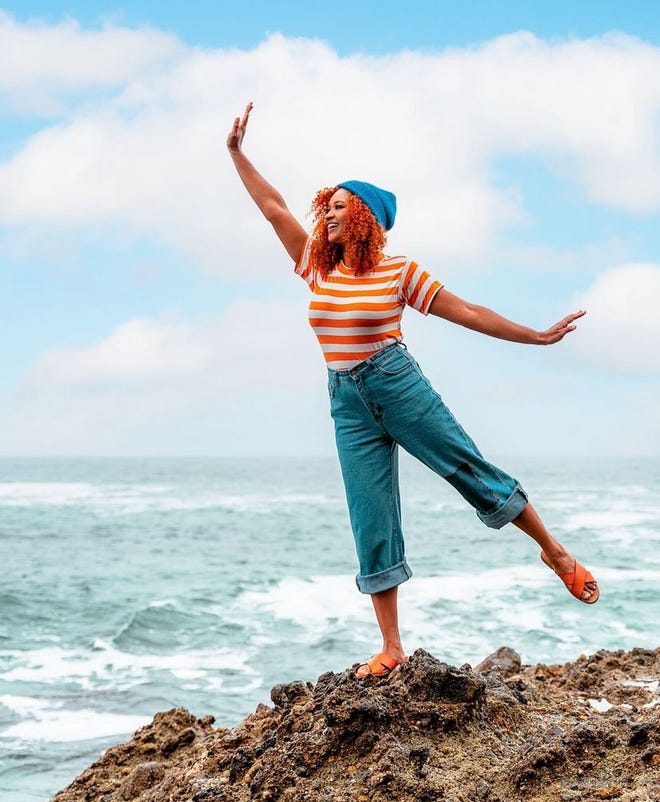 Santo Gorgonzola! This cosplay from Dressesandcapes is right out of the animation! She could be the real-life Giulia not just because of looks but because Dressesandcapes is just as clumsy as Giulia. Fun fact, this cosplayer has had a cast on three out of four of her limbs. She said that she's really good at faking being graceful, which has led her down the path to cosplaying every Disney Princess minus Frozen (She is not a fan of Frozen).
Dressesandcapes decided to make her Giulia cosplay an "easy" one and, for once, didn't make everything for it. She bought an oversized shirt-dress and jeans and altered both to fit her and the character's design. Once she added a hand-sewn patch on the pants, Dressesandcapes chose between using her natural hair or a wig. The cosplayer used her own hair in the end since it matches Giulia so well, they both have red curly locks, and we think it was a great judgment call.
When it comes to cosplaying Giulia, we asked Dressesandcapes why she chose to cosplay the character and if she learned anything from it. This is her answer to those questions: "Doing such a simple cosplay is a significant departure from my usual cosplay, usually requiring weeks of sewing and construction. It made me realize that not every cosplay has to be a massive production and made by myself. It was a nice reminder and encouraged me to look into doing smaller simple cosplay."
"I decided to cosplay Giulia because I just connected with her and her weird girl energy. I loved her determination and her open heart. Even when others didn't believe in her, she never gave up on herself and encouraged her friends. Something about underdogs sticking together and supporting each other really spoke to me. I have watched Luca multiple times now, and it has quickly become one of my comfort movies. I really do hope everyone watches it and can see the beauty of it as I do."
Zabashcosplay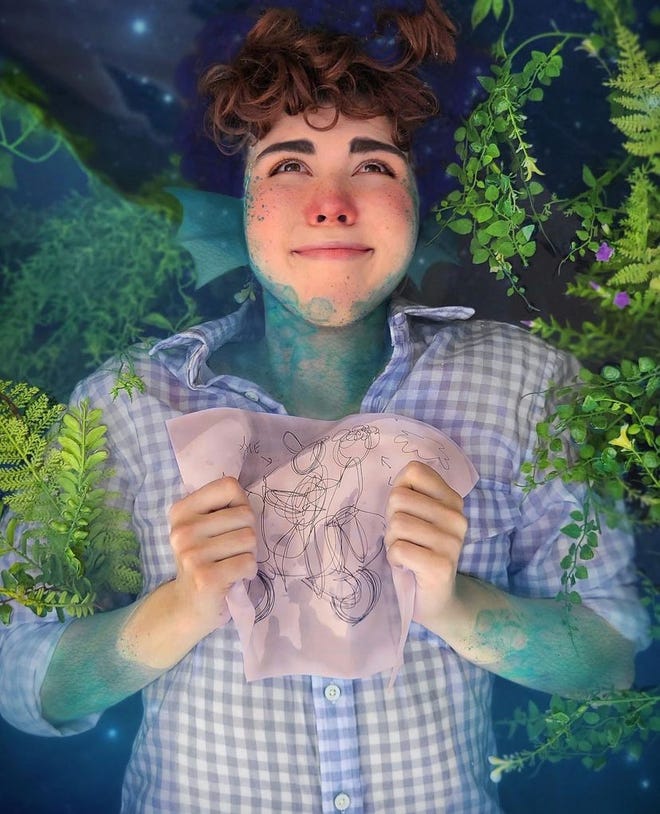 Zabashcosplay is looking all full of hope that it makes our hearts cry happy tears. How cute are they?!? Too cute, that's the answer. Zabashcosplay is crazy talented in both last-minute cosplays and drawing. Check out their story highlight titled "Art Related" to be wowed by their creativity. They also have been cosplaying for eight years and may be a bit Dungeons and Dragons obsessed (it's okay, we are too).
As for their Luca cosplay, Zabashcosplay borrowed a wig from a roommate, purchased a shirt from Target, brushed on some Mehron makeup, cut out felt (for the ears), and jumped into a kiddie pool to complete this look. Why did they have a kiddie pool on hand? Well, Zabashcosplay told us that their roommate suggested getting the pool for the weekend to do some underwater photos. It was then that the bright idea to cosplay Luca emerged.
We asked Zabashcosplay why they wanted to cosplay Luca, and they responded, saying, "I loved how the sea monster elements could play into a shoot involving water. I kind of have a baby face so, I tend to cosplay younger characters a lot. Plus, I'd never done a pool shoot before and learned a lot from this time around, and I loved doing the mid-transformation makeup, showing both Luca's sea monster & human designs."
Lnosukii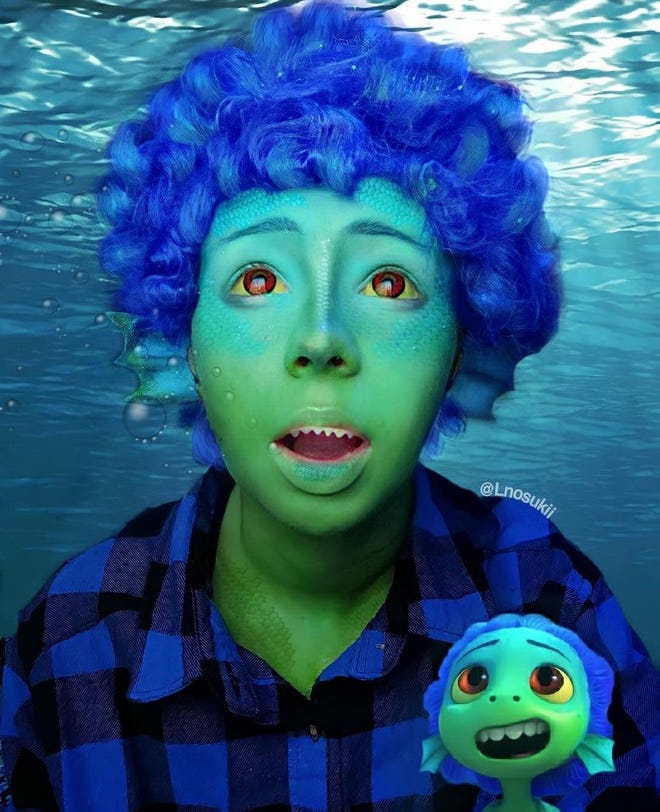 Lnosukii has completely transformed into a sea monster right in front of our eyes! This actually reminds us of a fun fact from the film. Out of all the characters in the film, Luca has the most prominent eyes in proportion to his head. The animators did this to display Luca's curiosity and eagerness to "take everything in."
This is the first time Lnosukii has cosplayed anything fish-related, and boy o' boy did they knock it out of the park. The blue and green skin tone was created by Lnosukii mixing face paint and eyeshadow together. The rest of the luck is a closet cosplay and the fortune of already owning a blue wig. He mostly just had to style the wig in a fish-scale-like shape.
After completing this cosplay, Lnosukii recommends testing your painting first on your hand before applying it to your entire face to make sure you know the paint comes off. The green color he used may have taken him a week to get off. What interested the cosplayer in picking Luca from the roster of unforgettable characters in the film was simply Lnosukii favoring the design and story of Luca.
Theasgardoescosplays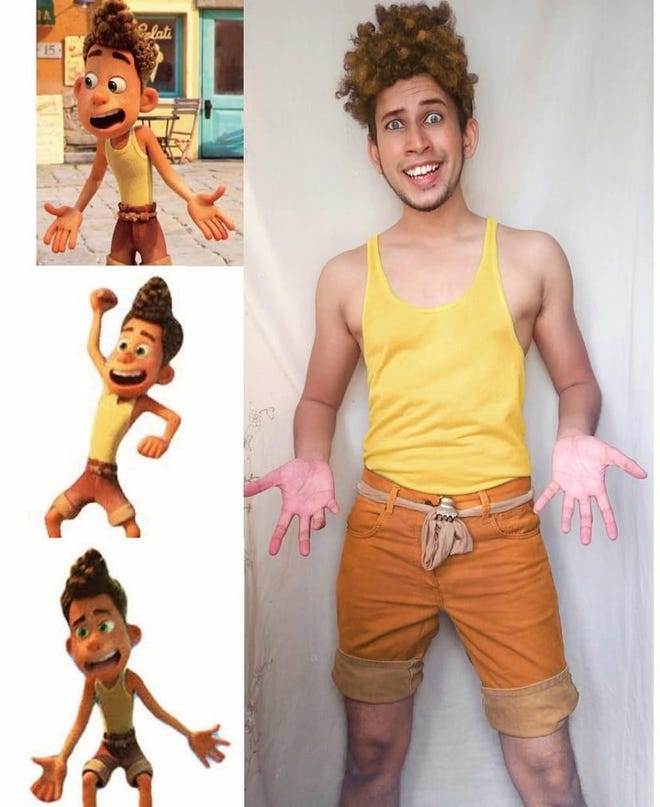 These "spot-the difference" challenges are getting tougher! Theasgardoescosplay truly knows how to recreate the exact emotion and look of Alberto! Most impressive. Theasgardoescosplay comes from a tiny island in Africa where people don't know what cosplay is yet, and when he first started cosplaying, his family thought he had joined a cult.
Five years later, Theasgardoescosplay has completed over 1500 cosplays and has convinced his family that cosplay is not the Illuminati. He also likes to call himself the "Katara of cosplay." Theasgardoescosplay told us the key ingredient in creating his cosplays begins with expressions. After he finds the perfect balance, the makeup application can start. As for the costume, Theasgardoescosplay told us their current aesthetic is stealing clothes from his family.
Once he found all those pieces, he created the rope belt by tying up a pair of stockings with a hair clip. Some makeup tips Theasgardoescosplay told us about include: use liquid eyeliner because it stays on longer, but it can sense your fear and is always ready to smudge, eyeshadow as a blusher for the orange-ish effect, and peach lip balm to get the nude lips of any animated character.
We asked Theasgardoescosplay why he picked to cosplay Alberto, and he said, "I was so drawn to this character because I looked in the mirror wearing that wig, and I looked like him. Also, I have often found myself in situations where I get random ideas, and there is nothing better than a friend to help you execute it. And, seeing Luca and Alberto's friendship took me to those moments; therefore, I had fun doing it."
Karrtia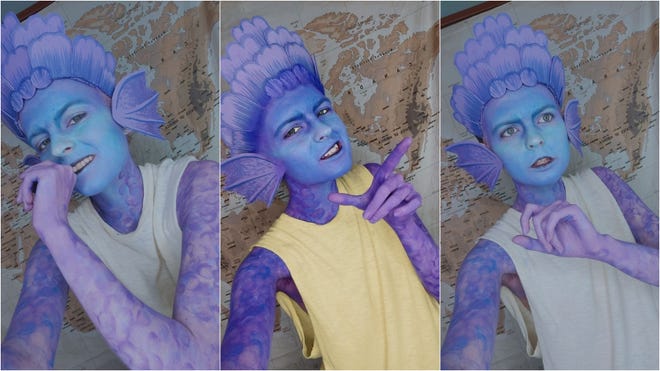 Piacere, Girolamo Trombetta Karrtia, AKA Leo, has nailed the fish-in-water look of Alberto! Fun fact, Piacere means "nice to meet you," Girolamo is a play on words for the phrase "I twist my hand," and Trombetta means "trumpet." In the film, the boys do a handshake that involves twisting their hands and pulling back as if to play the trumpet.
Leo was the first person on Tiktok to cosplay Alberto. With only human-Luca having been cosplayed at that time, he convinced quite a few of his online mutuals to join him in creating the fish version of Luca. The whole concept for this cosplay came together in a day! The headpiece and ears were made that afternoon. As for the makeup, Leo is most proud of his approach to replicating the scales on his arms. He used a round sponge to paint the scales and has noticed a lot of people across TikTokusing the technique, which is the most prominent form of flattery.
Leo told us the exact moment he started his process of cosplaying Alberto saying, "I saw Luca during a really stressful exam period at uni. The very moment I hit submit on my last assessment, I started working on the cosplay. I had only half a stick of hot glue to my name and craft foam I had stashed away- It was really a case of trusting the process for that one, haha. I am already working on my upgrades because it's not at all up to my own standards. I personally relate to Alberto a great deal, a little too closely for his story, haha, so that's why I knew I absolutely had to put a cosplay together!"
Effyanlukemars
Is Effyanlukemars an actual sea creature, or are they just incredible at makeup? The world may never know. Honestly, this cosplay is the most realistic version of Luca we have seen to date. The cosplayer tells us how they consider themselves a simple person with a beautiful hobby that not everyone in Italy sees as "normal." In short, they like everything related to art in all its forms. Also, the two deer that are tattooed on their chest represent the zodiac sign of the twins.
Effyanlukemars called this an "instant cosplay" as they made it in a single day. They cut out crafting foam into fish scales and glued it on a blue wig they already owned. The gills were made with that same method. As for the rest of the look, Effyanlukemars used body painting products, colored contact lenses, and dental prostheses.
In a one-on-one conversation, Effyanlukemars told us why they cosplayed as Luca; they said, "I chose to do Luca partly because my name is also Gianluca, and then it's a film set in Italy, and I'm Italian. Also, I must say that the film has a lot to teach, especially to closed-minded people! It teaches you to accept what others consider different, but we are all the same in the end. a very nice film that moved me a lot."
The_eco_cosplayer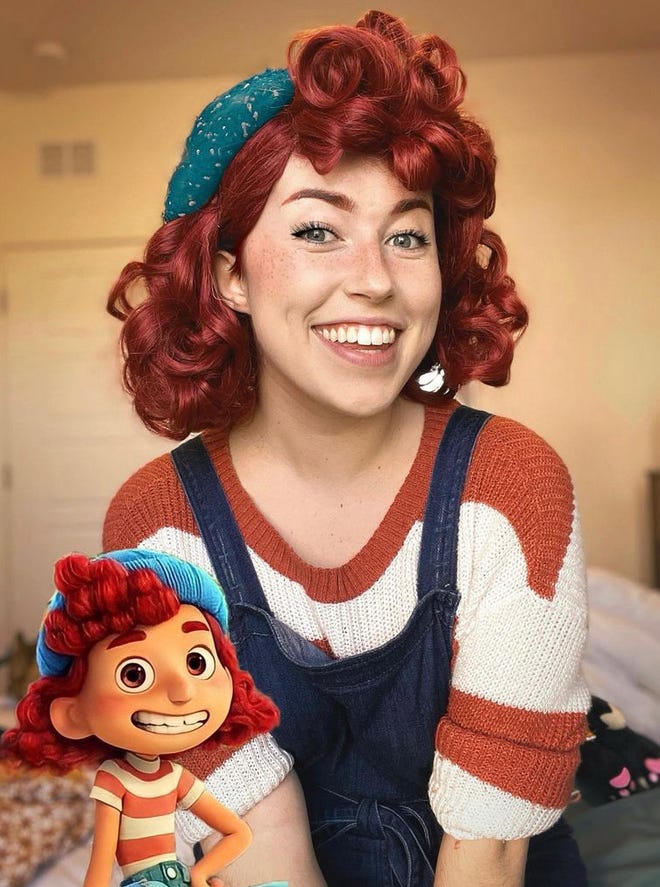 Holy cannoli! How cute is the_eco_cosplayer as Giulia! We are simply obsessed. The cosplayer began their sewing journey a bit younger than most. When she was just a kid, a family friend taught her how to sew so she could make clothes for her stuffed animals. Years later, she's a cosplay queen! As much as the_eco_cosplay loves making her own costumes, her Giulia cosplay came from the closet.
The day after watching Luca, the_eco_cosplayer was curious if she could replicate the triangular shape. After pinning the long ends of the curls to the crown of her head to create the shape she wanted, she grabbed a striped shirt she recently bought for a different cosplay and threw the hat on too.
She posted a few pictures online, and Twitter had such a positive response to what she posted that now she's deciding to go all out. She told us that since this was a closet cosplay, the costume isn't perfectly screen accurate, which she's totally okay with. Her main focus on cosplaying is capturing the feel of a character rather than making an exact recreation.
The_eco_cosplayer sent us her reason as to why she cosplayed Giulia. This is her response: "I was surprised at how much I related to Giulia's character. I was a quirky kid myself and sometimes felt like I was "too much" for certain people. So I loved seeing Giulia embracing her weirdness. She was so fiercely determined, wasn't afraid to stand up to bullies, and quickly accepted her friend's differences. I adored every character in Luca, but Giulia especially."
Louisstato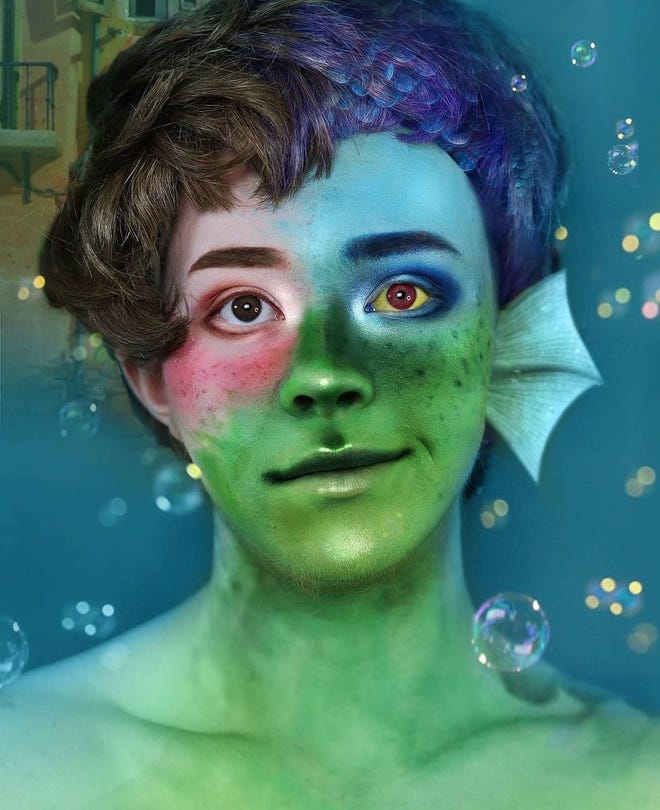 Louisstato is a makeup machine! They consistently create new looks and designs based on their favorite characters in a way that has yet to be seen. They specialize in mixing both makeup and visual effects to create cosplay wonders like this Luca cosplay. The idea of this look comes from whenever Luca or Alberto accidentally spills water on themselves on dry land.
The half-human, half-sea creature approach that Louisstato created is one of the most popular recreations from other artists we've seen. Don't believe us? Check the hashtag #lucacosplayers, and you'll notice the trend. Other popular makeup looks and cosplays they have done include Toph from Avatar: The Last Airbender, Inosuke from Demon Slayer, and Wybie from Coraline.
As quoted from an Instagram caption, Louisstato wrote that "if you haven't watched Luca already, I highly encourage you to do so!! It's really amazing, and I'll die on the hill that it was a subtle movie about coming out." We think so too and hope more animation studios present films to represent more LGBTQ+ characters in the future.
Luca is streaming on Disney+.