Meet Ludus Cosplay, one of the 2023 Cosplay Central Crown Championships finalists
The winner of the Cosplay Central Crown Championships sem-finals from Comic Con Africa is coming to Chicago's C2E2 2023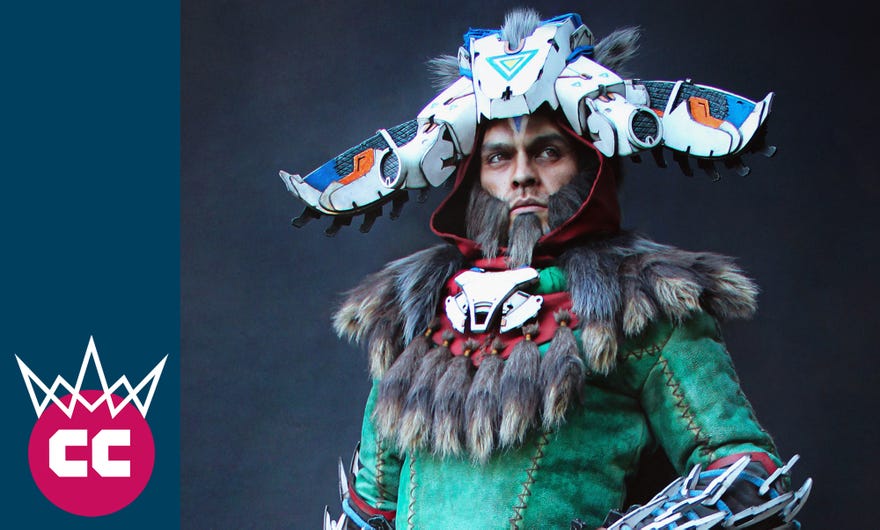 Every year, cosplayers from around the world show off their creations at conventions - and the best of the best compete each year in a global tournament called the Cosplay Central Crown Championships. Each major convention has a semi-final where a winner is chosen, and that winner wins cash, prizes, and a round-trip ticket to the yearly finals - which take place this year at Chicago's C2E2 2023.
And in the build-up to the 2023 Cosplay Central Crown Championships finals at C2E2, we're talking to finalists from all over the world as they get into 'con crunch' mode before boarding a plane and meeting for one last, epic competition.
Today we're talking to Ludus Cosplay, who claimed his place in the Crown Championships with a stunning rendition of Horizon Zero Dawn: The Frozen Wilds' Aratak at the recent Comic Con Africa in Johannesburg.
Popverse: Welcome to the championships! Please tell us a little about yourself as a cosplayer
Ludus Cosplay: My name is Luke Andalis, but I also go by my artist name, Ludus Cosplay. I have been working in the costume industry for over 12 years and in 2018 I left my job as a costume designer to pursue my own journey as a full time cosplayer and fabricator. Since then I have been creating educational content in the form of online tutorials on crafting techniques, tips, tricks and materials often used in the cosplay industry.
In addition to existing characters, I love designing and creating my own original interpretations and bringing the concepts to life how I see them in my mind.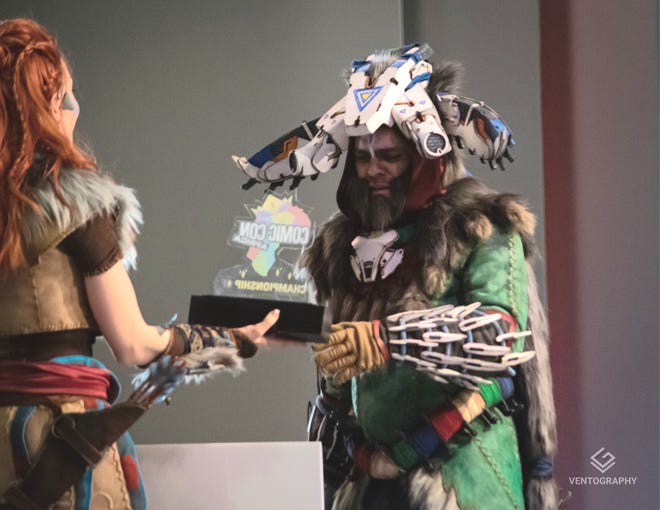 Tell us about your competition experience?
I have competed in numerous competitions, I really enjoy the challenges, learning new techniques and pushing oneself to work towards a goal. During the Comic Con Cape Town qualifier it was a flood of emotions as it was still fresh out of the pandemic and it was the first time being around people in over two years. With the Comic Con Africa qualifier it was even more emotional because I spent so long working on the costume and felt like I won within myself as an artist but when they announced my name, it was like real and I immediately thought of hugging my dog and how proud him and my family are back home.
What inspired you to make this costume?
I really wanted to choose something that would challenge me as an artist but also something I would enjoy working on based on the type of elements. I've always enjoyed working with fake fur and love the grunge or battle damaged aesthetic. The main goal of mine with this costume was to create the illusion that he walked off the game screen into reality. Also the characters story in the game is a captivating one that made me love the character more.
What was your process to bring it to life?
I worked on Aratak for almost nine months, almost every day. I wanted to use techniques on the costume that would hold the most realistic results, so I hand dyed fabrics, added lots of weathering, airbrushed the fake fur and wanted to use fabrics that marry well texture wise – so I did a lot of fabric hunting to find the right look. I also really enjoyed added some fake snow onto everything, it really ties in the theme from the DLC, the Frozen Wilds that the character is from.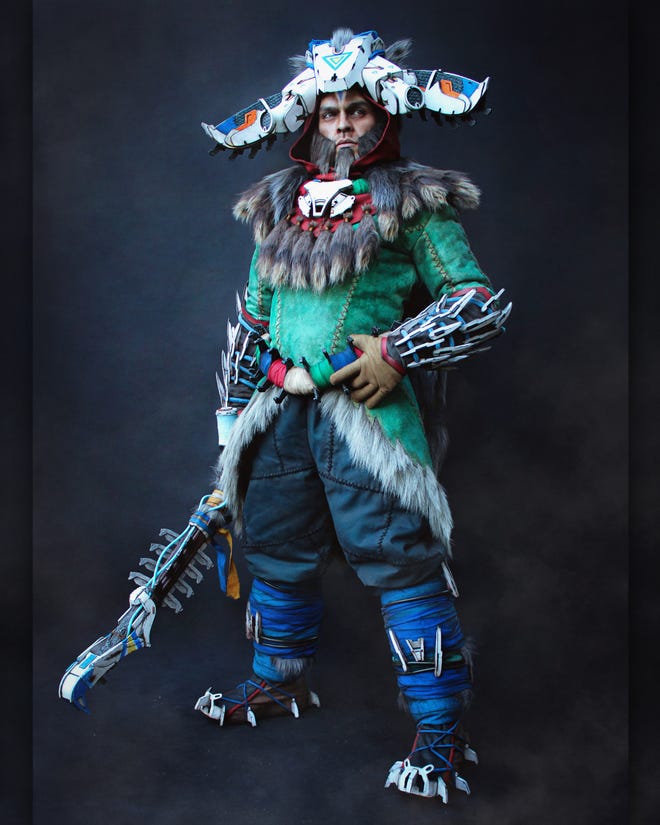 Did you learn anything while making this costume?
I learnt so much! I feel like even after doing this for so long, one never stops learning and this costume taught me a lot about dying techniques and how important proportions are based on one's own body. I'm a short guy and the character is big and burly so I did lots of sizing options during the pattern making process and learned a lot about how important the fit is.
What is your favourite part of the costume? And Why?
Definitely the headpiece, although it gets quite heavy after a while. I feel really powerful wearing it and definitely feel like I could lead a pack of hunters into the Wilds while yelling with a thundering voice.
Are there any other details or features you would like to highlight?
I'm really happy with how the rifle turned out, because of the Frozen liquid effect. But his snow boots I really love too!
What are you most looking forward to about the final in Chicago?
Meeting other artists! I've been very lucky to have connected with some incredible artists worldwide on social media and now I have the opportunity to meet them in person. This is my first time traveling and competing overseas and but of course the opportunity to potentially take a new title home would be really awesome, so I'll be doing my best for the actual competition but so honoured that I'll be up there on stage with everyone!
Any advice for anyone thinking about entering a competition like this?
I would definitely recommend challenging yourself if you are able to! It's a great motivation to start working on a costume that had perhaps been a goal of yours for while. But also the opportunities to travel, meet other artists and being on stage showcasing your work is such a great incentive! Go on and DO IT!!
You can follow Ludus Cosplay on Instagram and Facebook
---
The Cosplay Central Crown Championship finals will be one of many C2E2 2023 panels Popverse will be livestreaming this year. Here is a round-up of everything Popverse will be doing at C2E2 2023.