Mike and Laura Allred have solved how to store your lunch: a Madman Lunchbox
What ginchy thing will the Allreds think of next?
If you're like me, you eat lunch. Maybe its an early lunch (brunch), maybe it's a late lunch... but its a lunch. But what do you store it in, before and after you eat it?
From the folks behind Madman and Red Rocket 7 comes... a lunchbox. Novel idea, wouldn't you say? But as fine purveyors of comic enjoyment for the past 33 and a third years, Mike and Laura Allred are upping the ante by making their next project a Madman lunchbox - the Madmaniverse Mod Metal lunchbox, to be exact - complete with a ginchy comic.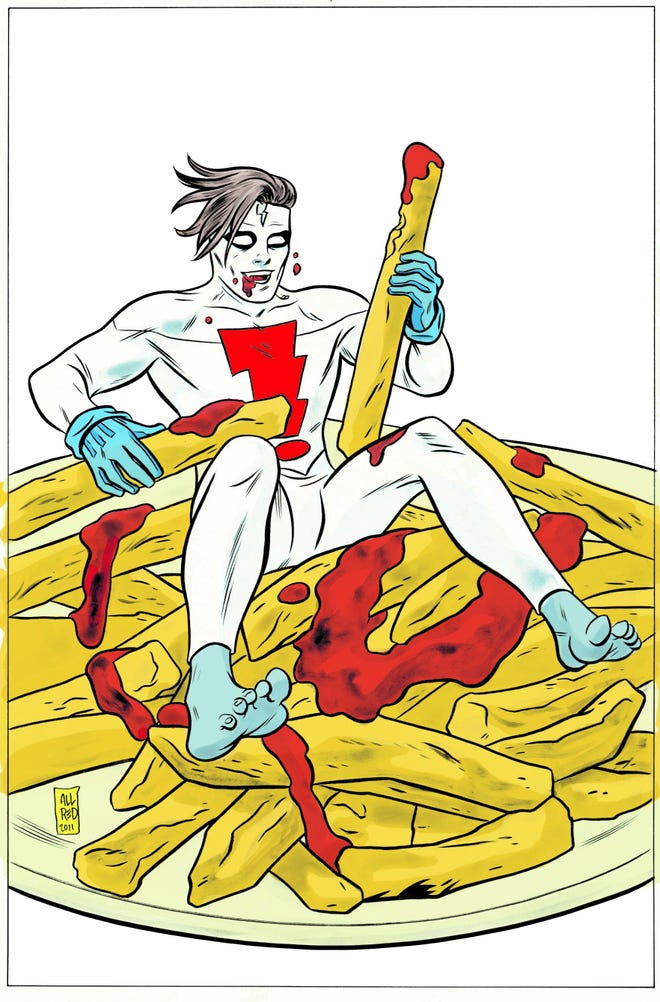 Madmania Lunchtime Digest is a rare, 64-page comic book reprinting some of Mike and Laura Allred's favorite Manman stories, along with pin-ups and some fun surprises. The idea is you can read this digest while you digest your lunch... get it?
"Personally, this lunchbox is a HUGE deal to me: I've been making a ton of Madman swag for the past six years, and I'm now venturing into bigger and more ambitious things, first with the Oddity Odyssey action figure, and now with this," says Christopher Irving, who is working with the Allreds on this project. "Most of my motivation behind it is blamed on my son, Grayson; this Lil' Madman does actually want his own new Madman lunchbox. When this is funded and produced by the end of the year, he'll be the coolest kid in his Kindergarten class."
The Allreds are currently taking pre-orders for the Madmaniverse Mod Metal lunchbox via a Kickstarter campaign that has, in just the first five days, already amassed 80% of its goal.
I know what you're saying - what if I don't need a lunchbox but want the comic? Well... everyone needs a lunchbox. But omitting that, the Madman Lunchbox Kickstarter is the only way you'll be able to get the Madmania Lunchtime Digest, as it'll be exclusive to this event. If you miss out, you could be stuck foraging those dusty bins at the local flea market or setting up automatic search system for it on eBay. I've been there. You don't want to do that if you don't have to.
Did I tell you Mike and Laura Allred created a new Madman illustration for this lunch box?
The deadline to pre-order this Madmaniverse Mod Metal lunchbox is June 30.