Centering visibility with MariNaomi's comics and databases
How the veteran cartoonist inspires community, connection, and gumption.
It's been 25 years since MariNaomi started cartooning and they're still coming to terms with the idea.
"I can't believe I'm still doing it," she says. Back in 1997, the Texas-born artist was a video game writer living in Northern California and making autobiographical comics on her down time after discovering the work of Mary Fleener and Ariel Bordeaux in underground anthologies.
"It was just something fun I was doing as a way to blow off steam," says MariNaomi.
Between the rest of the '90s and through the '00s, MariNaomi self-published a variety of print zines that humorously illustrate the ways life isn't straightforward for a queer person of color. Not-so-butch tells the story of a queer femme looking for love in the wrong places. Said While Talking is a collection of comic vignettes based on real conversations with friends and lovers. Estrus Comics is a seven-issue series that reflects on topics like happiness, death, love, and sex.
"I didn't find the comics community really until about 2004 or 2005," recalls MariNaomi, who mainly met fellow cartoonists and alt comics fans at zine fests. Although WiFi had started to gain traction and the first social media platforms had launched, the internet wasn't yet a thing.
"I was on bulletin boards and stuff, but all we would do is quote The Simpsons to each other and talk about new comics," she says of the dozens of people she interacted with online. "It was so small."
Today, MariNaomi has tens of thousands of followers on Instagram and Twitter, and hundreds of fans on TikTok and Patreon, a fanbase that's grown since the publication of her debut graphic memoir Kiss & Tell: A Romantic Résumé in 2011 by Harper Perennial/HarperCollins. Set during MariNaomi's young adult years in San Francisco, Kiss & Tell draws from an issue of Estrus Comics and explores romantic relationships, identity, and sexuality.
"My world has definitely grown as far as comics is concerned," she says.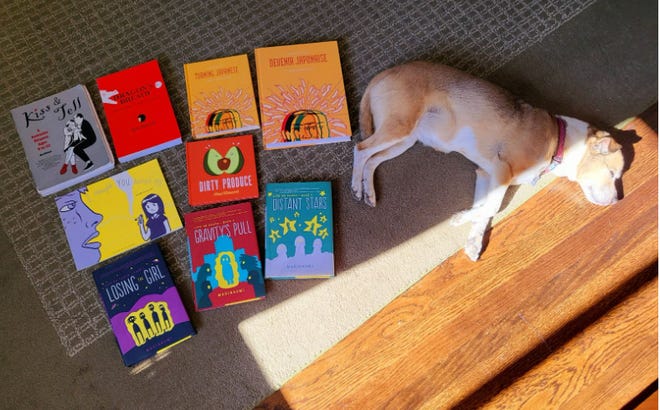 Her work appears in over 80 print publications from newspapers to anthologies, and she's authored and illustrated eight stand-alone books including Losing the Girl, the first graphic novel in the Life on Earth trilogy published by Graphic Universe/Lerner Books that was recently banned in Texas. As a whole, the trilogy stands out for the way illustration styles are visually different depending on the character through whose eyes we see the story play out.
"That's what I want that book to be known for—not because it was banned in Texas, but because it did something new," MariNaomi says. "My favorite thing about comics is there's so many things that haven't been done. You can really forge new ground."
Her upcoming graphic memoir I Thought You Loved Me arrives in Fall 2022 from Amble Press/Bywater Books. It mixes prose, collage, and comics to illustrate a story about MariNaomi working to uncover a long-lost best friend that she can no longer remember but can't let go.
"If I'd known that my comics would become such a big thing, I might not have been so carefree about all my personal information," says MariNaomi with a laugh.
Yet it's exactly that practice of telling vulnerable, personal stories from her lens as a bisexual biracial Japanese American that validates and inspires us. Memoir cartoonists like James Spooner and Shing Yin Khor regard MariNaomi's Kiss & Tell as influential to the start of their comics careers. Communities of Asian Americans in Southern California can feel seen in the lows and highs of the Together We Are Stronger comics mural she created through a commission by L.A. Care Health Plan as part of the L.A. vs. Hate campaign, installations which were defaced in Cerritos and Alhambra near the end of May 2022 but quickly restored because of widespread support among community advocates and local government.
Countless more people around the world benefit from MariNaomi's work behind the Cartoonists of Color Database, the Queer Cartoonists Database, and the Disabled Cartoonists Database— free online resources that she founded in the '10s and continues to maintain.
The visibility and community of MariNaomi's databases
"A lot of people have told me they've gotten their first gigs or their first art show or their first published comics from [the databases]," says MariNaomi. "Every time that happens, my heart warms up a little."
The idea for the first database – Cartoonists of Color – came in 2014 as she prepared to write the article "Writing People of Color if You Happen to be a Person of Another Color" for Midnight Breakfast #4.
"I didn't want to just go to the same five people I knew of," she says. "It was really hard to find people online just by Googling 'creators of color.'"
So they set up a Google form and shared the link on their MariNaomi Twitter feed in August 2014. Hundreds of submissions poured in. At the time, people in publishing told her that stories about her experience as a person of color weren't universal enough. The flood of responses to her call for the Cartoonists of Color Database proved that those publishing contacts were ignorant.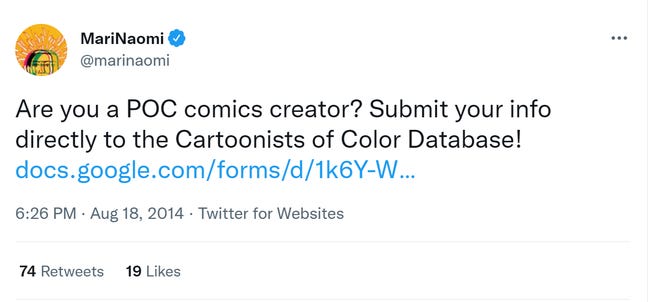 "I was being told to downplay my ethnicity," says MariNaomi. "I'm like, 'Well, I want to hear those stories.' And once I realized how many people were out there making comics who also have those identities, I'm like, 'They want to hear those stories, too.'"
The first version of the Cartoonists of Color Database launched on September 2, 2014 as a single HTML page alphabetically listing creator names and portfolio websites.
"I got a lot of criticism because it was just really ugly," she says with a laugh.
The Queer Cartoonists Database launched later that same year, followed by the Disabled Cartoonists Database in 2018. Current versions of each database are more functional while maintaining the ability for creators to submit themselves to be listed, thanks to website designer Cameron Decker of Houndstooth Designs.
"There's thousands of people in there now, so an alphabetical list would not be very helpful," says MariNaomi.
Because she doesn't want to assume anyone's identity or out someone, MariNaomi doesn't populate the databases. It's an opt-in process: cartoonists who identify as a person of color, LBGTQ+, and/or disabled and are interested in being added are encouraged to fill out the submission form available on any of the websites. Upon verifying that an entry is by a cartoonist who identifies with one of the centered identities and is neither a bot nor troll, MariNaomi updates the database with the new listing.
Visitors can filter searches by such categories as ethnicity, gender, state, country, and genre. Searches can also be done across two or all of the databases, resulting in lists of creators who exist at the intersections of race, sexual orientation, and disability.
Individually and together, the databases provide visibility to thousands of creators from historically marginalized communities. They boost the possibility of such creators getting noticed by editors, educators, curators, and convention organizers who are eager to provide equitable access to job and networking opportunities. And just as MariNaomi felt in seeing the first submissions come in, so too can we feel reassured that stories typically othered by the mainstream are in fact central and universal to many of us.
"The landscape has changed a lot since 2014. The publishing landscape is just so much different now. You see so much diversity," says MariNaomi. "I mean, I think we were all kind of working towards that, but I like to think that I helped."
---
To read about another amazing cartoonist, check out Popverse's Q&A with cartooning legend Stan Sakai.