Super Mario Bros: Mario Kart cosplayers recreate the game in real life
Instagram and TikTok stars race to the finish line in their Mario Kart cosplays!
NOTE: To view gallery click the "View Gallery" button above. To see gallery captions on mobile, be sure to click on the "i" button in the top left corner.
Cosplayers gathered from around the country to Belmont Park in San Diego, California, to dress as their favorite Mario Kart characters for the race of a lifetime! This massive cosplay gathering was organized by Caitlinchristinee/caitchristinee, who brought this concept to life with photographers Benjamin Farren (benjamin_farren) and Jacob Halter (stlshrp).
Belmont Park enthusiastically held the event while accommodating every character's need. We just know the amount of squid ink and red shells on the track were a mess to clean up after this project.
The brilliant minds behind the concept for this photoshoot came from MissBriCosplay, JustinSaiyann, and Caitlinchristinee. What began as an idea for friends to go go-karting as Mario characters for fun transformed into a group of 15+ cosplayers creating content and the beginning of the most glorious competition there ever was. And yes, they still had a blast. The party purchased most of their iconic props like the Green Shells and Red Mushroom plushies from FUN.com.
As for who won the race, well, it's definitely up to debate amongst the bunch. The group raced several times to get video clips for drone footage; however, each individual took their roles very seriously and competed with full vigor and determination.
Caitlinchristinee told us her personal opinion on who the winners were, saying, "Baby Mario and Yoshi (IQSimms/ThatBabeinToyland) would have gotten the gold, Mario and Peach (rebeccaseals/jasminepaigemoore) got the silver, and Bowser and Bowsette (w_dubb/Itstyreek) finished third for bronze."
Those seem pretty legit, but it's tough to play real-life Mario Kart without the benefits or detriments of Blue Shells, Bananas, and the infamous Bullet Bill.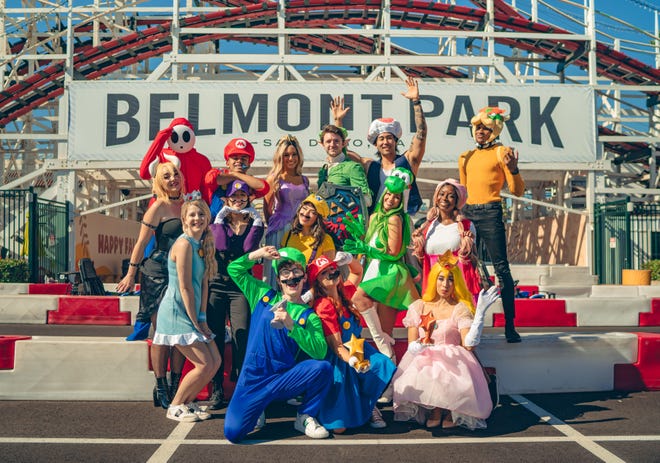 In the future, the group hopes to do more collaborations when they plan on hanging out next. Caitlinchristinee mentioned the possibility of Mario Party, saying, "With how competitive we were in Mario Kart… our friendships might really be tested if we do Mario Party!"
No matter what upcoming shenanigans will ensue, we can't wait to see what epic content, cosplays, and imagery will come from these cosplayers and photographers. For now, enjoy this gallery from their fun-filled day.
List of Cosplayers involved: