Marvel Age #1000 celebrates the long, storied history of the Marvel Universe
Prepare for stories from the eight decade history of the world of the Avengers, et al
It's been four years since Marvel celebrated the 80th anniversary of its very first comic with Marvel Comics #1000 — which means that it only makes sense that this year sees the release of Marvel Age #1000… celebrating the… 80th anniversary of a title that launched in 1983…? Wait, that can't be right.
Although the August anthology shares both a title and a logo with the promotional magazine that Marvel launched four decades ago, it's actually intended as a birthday celebration of Marvel, with the publisher describing it as "a massive commemorative issue that includes contributions from some of the most storied creators in Marvel history, as well as a few surprises!"
Amongst those creators are J. Michael Straczynski, Dan Slott, Mark Waid, Ryan Stegman, Jason Aaron, Rainbow Rowell, and Michael Allred, with stories so far announced for the issue featuring characters including Thor, the Silver Surfer, Spider-Man, Daredevil, the original Human Torch, and a younger version of Cyclops and Jean Grey. Oh, and Captain Marvel, as well… but which Captain Marvel, given Gary Frank's cover artwork…?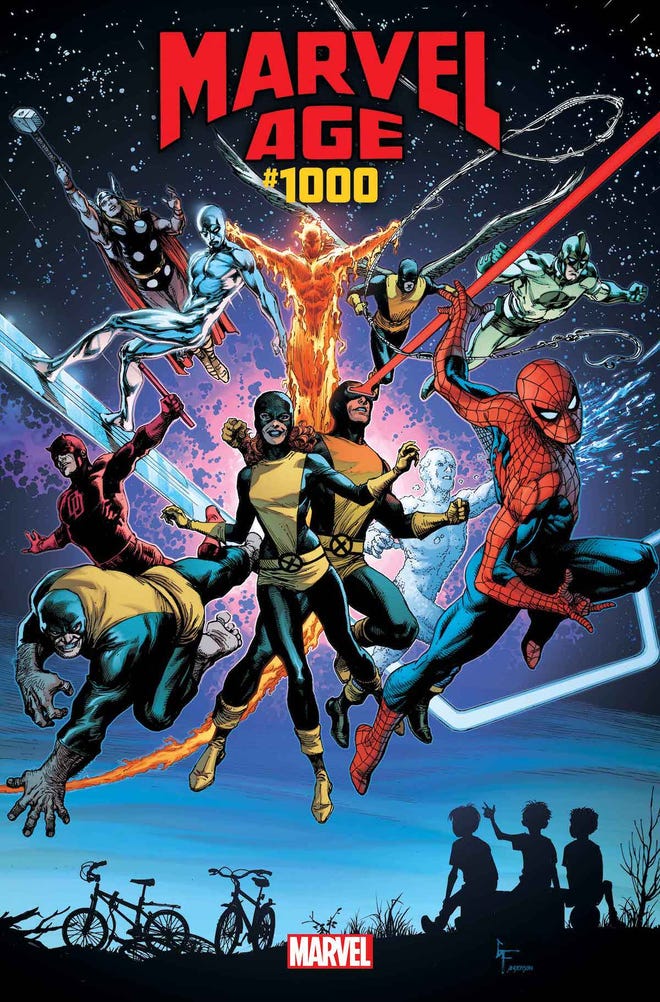 (Yes, that's the original costume for Mar-Vell that can be glimpsed on the far right of the image, above Spider-Man… Does this mean we're seeing Marvel's very first Captain Marvel back in action inside the comic…?)
That's not all, of course: the issue is also being promoted as bringing back "a classic and beloved Marvel Comics Value Stamp" — a tradition from the 1970s that was most recently revived for a brief period in 2017 as part of the Marvel Legacy line-wide relaunch. Marvel Age #1000 will feature Marvel Value Stamp #1000 — yet another numbering jump, but one that's in keeping with the issue number of the book itself, given that the first run of Marvel Age ended with #140, back in 1994.
Marvel Age #1000 will be released August 30. Expect more information about creators and stories as the release date grows closer.
---
Marvel has published far more than 1000 comics, but maybe you want to read them all, nonetheless.