Guardians of the Galaxy comic relaunch: The cast, the story, the creators, the release date, and more
The new Guardians of the Galaxy series launches in April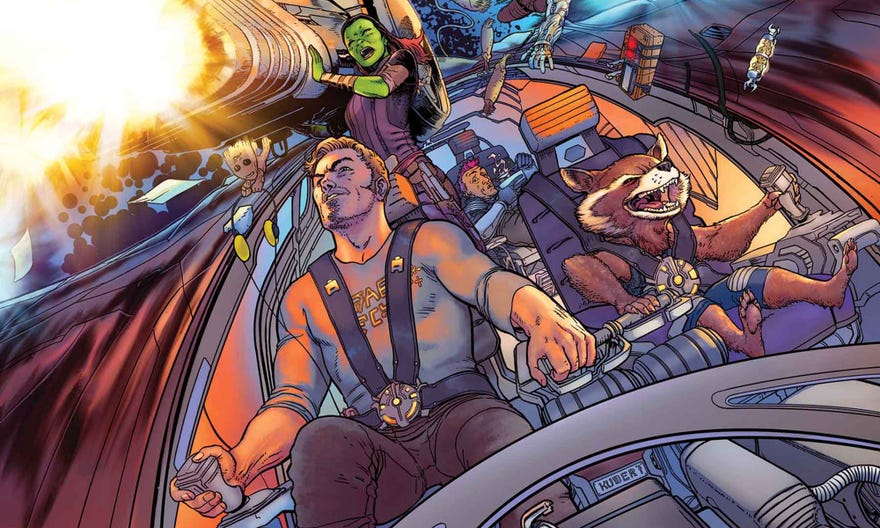 With the third and final Guardians of the Galaxy movie just months away, it's hardly the biggest surprise that Marvel is bringing the team back to comics — but what might be more surprising is just what's happened to the Guardians as they return.
Written by Jackson Lanzing and Collin Kelly (Captain America: Sentinel of Liberty, Star Trek) with art by Kev Walker (Predator, Judge Dredd), the new Guardians of the Galaxy series is set a year after the end of the team after they were betrayed by one of their own; as what remains of the team tries to survive on the outskirts of charted space, the group struggles to find new purpose and move past their shared history.
In a statement shared by the publisher, Lanzing said, "Welcome to a whole new era for the Guardians of the Galaxy, riding like mad through an endless alien dust storm of sun-soaked tragedy, intense violence, and deeply dysfunctional heroes. The optimistic peacekeepers that defeated the reborn Olympian Gods and overcame 'The Last Annihilation' have fallen about as far as they possibly could — and now Peter Quill and what remains of his found family will have to fight like hell in a new western-fueled frontier to find a scrap of forgiveness. After all, the Guardians are a fire — and a fire only ends one way."
"Sharing the reins with us is the amazing Kev Walker, our partner from Captain America & the Winter Soldier Special #1," Kelly added. "His unique blend of realism and wild imagination brings the alien frontier of the Manifold Territories to windswept life like no one else could. Together, we're guiding the Guardians on a new trail - one that will make them look inwards, even as they face the threats over the next horizon. Grab your element gun, True Believers - it's time to go for a brand new ride."
Here's a look at many of the covers to Guardians of the Galaxy #1:
The new series will be the first time Marvel has published a Guardians of the Galaxy comic since September 2021, when the previous volume ended with the final chapter of the Last Annihilation crossover. That series, written by Immortal Hulk and Venom's Al Ewing, challenged a number of preconceptions about the various members of the team, including a restoration of Star-Lord's original backstory after his apparent death and rebirth. By the end of the series, the team roster had been significantly expanded to include Nova, Hercules, Moondragon, and a number of different long-standing Marvel cosmic characters.
Guardians of the Galaxy #1 debuts on April 12, a month ahead of the theatrical release of Guardians of the Galaxy Vol. 3.
---
If you want to know more about the final Guardians of the Galaxy movie, we have you covered right here.