Carol Danvers is about to have some serious mommy issues in Captain Marvel #42
When your dead mother comes back to check in, you know something's wrong - and it is for Carol in Captain Marvel #42
You've grown up, you've moved out, you have a life of your own. But what happens when your mother comes to visit? That's the type of thing that can be fraught for anyone, but when you're Captain Marvel and you have the complicated history she does, it's even more so.
In October's Captain Marvel #42, Carol Danver's mother Marie Danvers (aka Mari-Ell) will be coming back into the picture in a AXE: Judgment Day tie-in that will have a bit of a mother-ly judgement in it, for both Carol and her half-sister Lauri-Ell.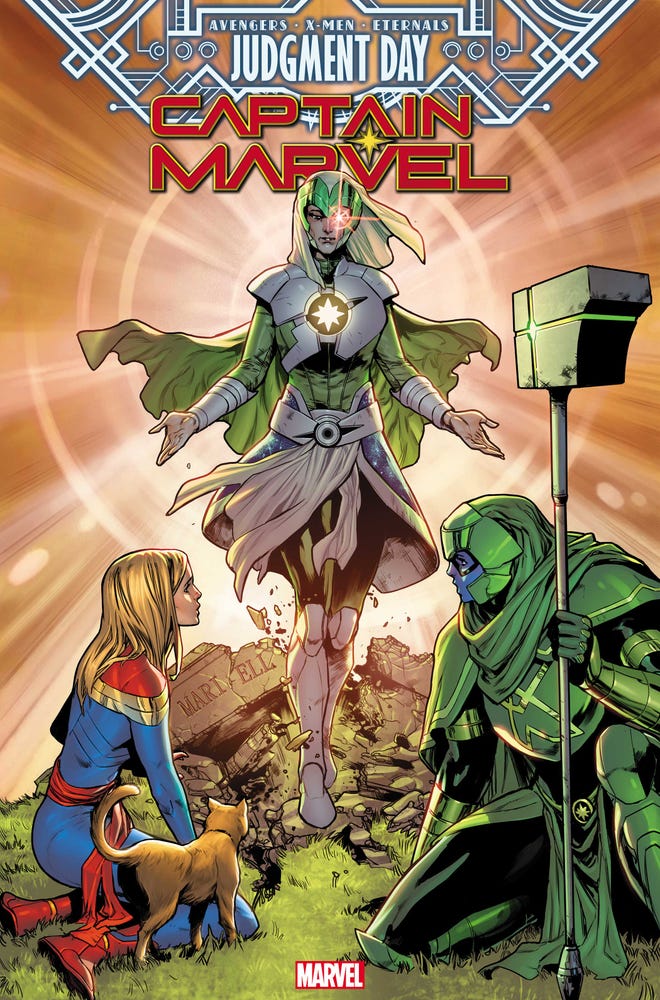 "Though Carol has had more than enough of being judged lately, there's no escaping THIS Judgment Day as it determines whether Earth lives or dies," reads Marvel's description of Captain Marvel #42. "But as Carol and Lauri-Ell give their heroic best to prove their worth an...unexpected new player emerges."
This is part of series writer Kelly Thompson's three-plus year run on the Captain Marvel comic book title, which launched in January 2019 coinciding with the February 2019 film of the same name.
"So on Captain Marvel we were just coming out of our own quite 'judge-y' arc when we tied in, so we had to get really creative in how to approach this story and still keep things fresh, and I'm so delighted that it happened that way," Thompson tells Popverse. "Sometimes a limitation like that actually helps you create something a bit different -- and our guest artist Andrea Di Vito really embraced the idea in the most amazing way."
That's right, veteran Marvel artist Andrea Di Vito is coming in to draw October's Captain Marvel #42 - coming off the recent The Union series, but also having worked on the MCU Captain Marvel in 2018's Marvel's Captain Marvel Prelude #1 official tie-in comic.
Look for Captain Marvel #42 in comic shops and digital platforms this October from Marvel Comics.
---
Just can't get enough of Marvel Comics? Get your fix with our recommended
best Marvel Comics stories
of all time.