Marvel is teasing an end to the X-Men's Krakoan island adventures
From Fall of X to Fall of the House of X, two new miniseries will evolve the X-Men even further starting in January 2024
It's the end of the world as we know it. Or, at least, the beginning of the end of the Krakoan era of Marvel's X-Men franchise, which is going out the way it came in… kind of. Marvel has announced two new series to launch in January 2024, which will start the story of "the final battle of the X-Men's Krakoan Age."
At this point, very little is known about the two series, save for their launch month, their titles — Fall of the House of X, and Rise of the Powers of X — and their creative teams, with Gerry Duggan and Lucas Wernick being named alongside Kieron Gillen and R.B. Silva as the two teams handling the titles. Judging from their placement on the teaser image, which you can see below, Duggan and Wernick would appear to be handling House of X, while Gillen and Silva are on Powers of X… but time will tell.
Specifically, three weeks or so — because Marvel is promising more details about the new series during the Marvel Next Big Thing panel at New York Comic Con on October 14. Yes, Popverse will be there, reporting live and giving you all the information as it happens. How could you expect anything else?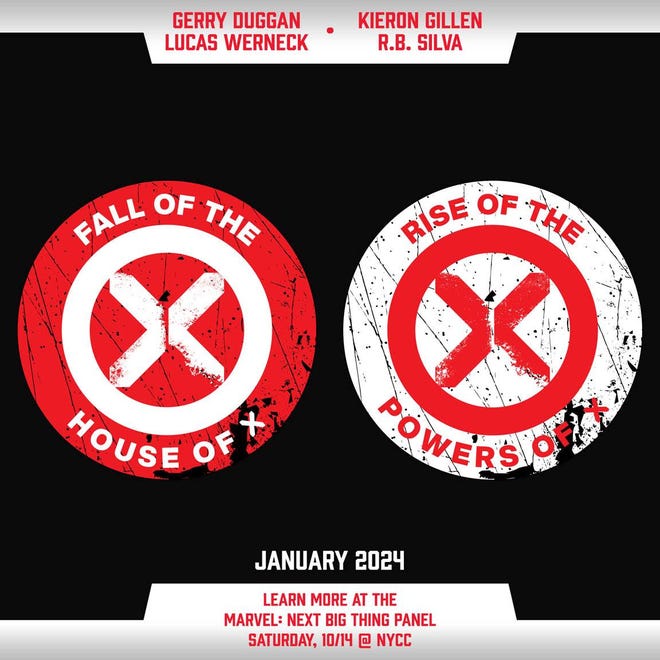 The choice of the two titles is telling; the so-called "Krakoan era" of the X-Men franchise launched in 2019 with two parallel miniseries both written by Jonathan Hickman, titled House of X and Powers of X — and pronounced "House of X," as in the letter, and "Powers of 10," for those curious. Those two titles introduced a new status quo that saw mutantkind ascendant and separate from humanity, living on the island of Krakoa. The titles were illustrated by Pepe Larraz, now working with Hickman again on the upcoming G.O.D.S. series, and R.B. Silva, who returns for this latest chapter.
House of X/Powers of X then led into subsequent "eras" of the franchise, with specific names. Immediately following was Dawn of X, which was followed by Reign of X, Destiny of X, and the current era, Fall of X. What comes after Fall will, of course, rely on how things turn out during the Fall of the House of X and Rise of the Powers of X… but we'll have to wait until 2024 to find out just what that looks like.
---
Maybe you should be thinking about how to keep up with NYCC through Popverse. It's only a few weeks away, after all…