15 times Pink Floyd and Marvel referenced each other
Pink Floyd songs have been used in a number of Marvel film projects since 2016's Doctor Strange, but believe it or not, it was Pink Floyd who started it - decades prior. Here's 15 times the band and the company referenced each other, in chronological order.
Pink Floyd songs have been used in a number of Marvel film projects since 2016's Doctor Strange, but believe it or not, it was Pink Floyd who started it - decades prior. Here's 15 times the band and the company referenced each other, in chronological order.
Pink Floyd - A Saucerful Of Secrets (June 1968)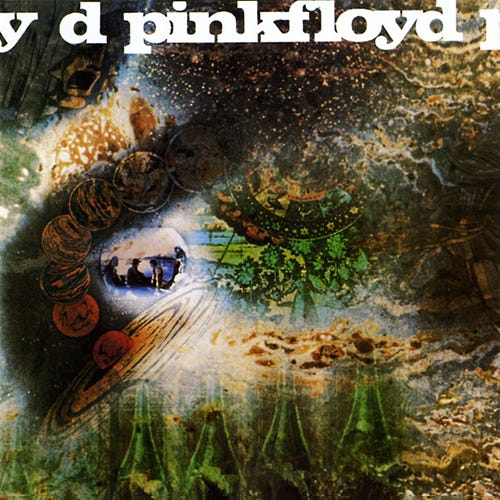 The album that started it all. The cover to Pink Floyd's A Saucerful Of Secrets featured an image of Doctor Strange fighting the Living Tribunal.
Wait, you don't see them? Okay, how about if I do this?: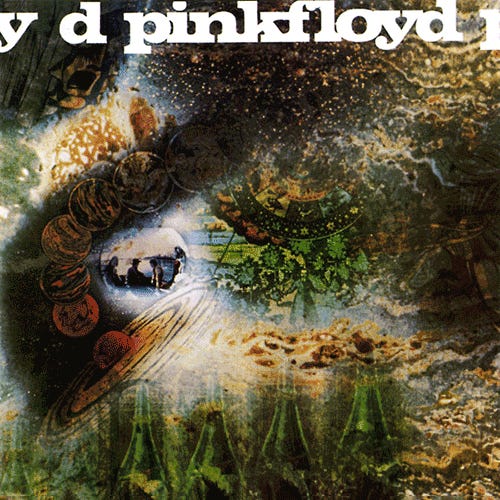 The album sleeve was designed by their buddy Storm Thorgerson, who volunteered after one of their other friends apparently failed to deliver. Thorgerson would end up becoming sort of a visual secret sixth member of the band, designing or co-designing all the artwork for the band during the rest of their recording career, with the exception of The Wall and The Final Cut.
In his book Mind Over Matter: The Images Of Pink Floyd, Thorgerson explained that the idea for the ASOS cover was to represent the music by creating a swirling psychedelic collage of things that the band liked, which he says included Marvel comics. Unfortunately he did not name names, so we still don't know the answer to the lingering question: Which one's Pink Geek?
The comic images in question were taken from a story in Strange Tales #158 illustrated by Marie Severin, who sadly passed away in 2018. I wonder if she was aware that she'd been a secret Pink Floyd cover artist?
Pink Floyd Tour Programme (May 1969)
The theme continued in the programme book for Pink Floyd's summer tour the following year, which contained several pages that were designed around images cut out from various Marvel comics. I'm going to be a mature adult and not point out the first image's similarity to a certain meme. Instead I'll ask: Do you recognize which issues each of the images come from? Let me know in the comments!
Pink Floyd "Cymbaline' (June 1969)
In between studio albums, Pink Floyd wrote the soundtrack for a French film called More. The film made no mention of comic books, but that didn't stop lyricist Roger Waters from including the line: "And Doctor Strange is always changing size." Maybe he was the band's secret comic geek? Or maybe he was merely a fake geek, since we all know that Marvel's size-changer was Ant-Man/Giant-Man, not Doctor Strange!
Rejected Pitch For Pink Floyd Dark Side Of The Moon (March 1973)
After A Saucerful Of Secrets, Storm Thorgerson co-founded a design studio with his pal Aubrey 'Po' Powell called Hipgnosis. For Dark Side Of The Moon, the outfit worked up ten cover ideas to present to the band, only for each of them to immediately point at the sketch of the prism and say "that one!"
But among the rejected sketches was an idea that featured the Silver Surfer. In the book The Dark Side Of The Moon: The Making Of The Pink Floyd Masterpiece, Powell explained:
"We were all into Marvel Comics, and the Silver Surfer seemed to be another fantastic singular image. We never would have got permission to use it. But we liked the image of a silver man, on a silver surfboard, scooting across the universe. It had mystical, mythical properties." He laughs. "Very cosmic, man."
Getting permission probably wouldn't have been that hard, since Joe Satriani got permission in 1987 for his album Surfing With The Alien. But this Powell's story would appear to accidentally confirm that they never went about asking Marvel permission to use Doctor Strange for A Saucerful Of Secrets, or for this next album…
Al Stewart - Past, Present And Future (October 1973)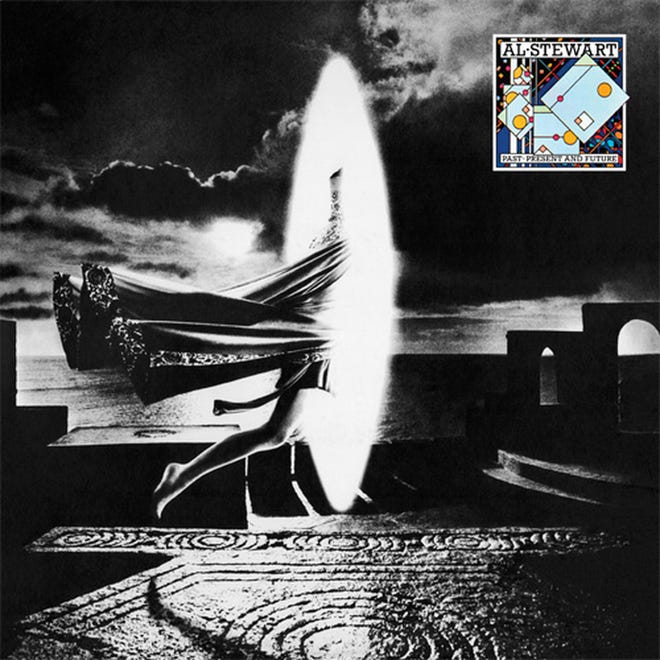 This isn't a Pink Floyd album, but I'm counting it because it's Hipgnosis. They must've been the true Doctor Strange fans, since they couldn't resist throwing the character on the cover even when they were pitching designs to other musicians.
Nov 1974: Pink Floyd '74/'75 Tour Programme (November 1974)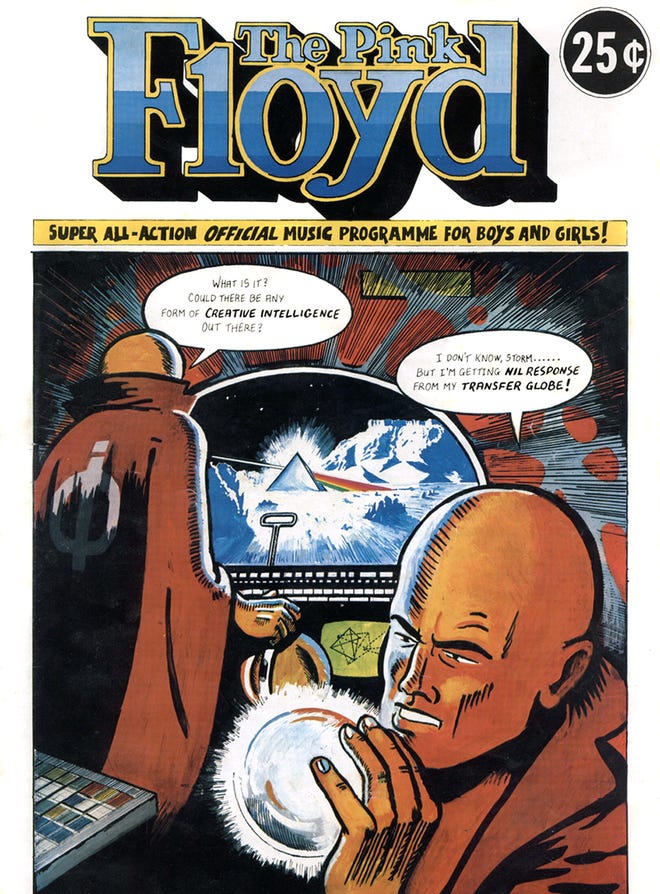 While Pink Floyd was traveling on Dark Side Of The Moon tour, Hipgnosis worked up a concert programme that was basically a comic book, only this time they commissioned original art. The stories inside have little to do with superheroes, but the cover depicts Storm Thorgerson and Po Powell as beings who look suspiciously similar to Watchers, possibly in reference to Uatu The Watcher's base being located on the dark side of the moon.
Dazzler #1 (December 1980)
More than a decade after Pink Floyd's first referenced Marvel, Marvel finally made its first Pink Floyd reference in Dazzler #1. The story opens with a group of thugs pursuing Dazzler down an alleyway, but they've chosen the wrong mark. Dazzler surprises them by turning around and activating her sound-based powers with the help of a miniature radio, defending herself using the power of Pink Floyd.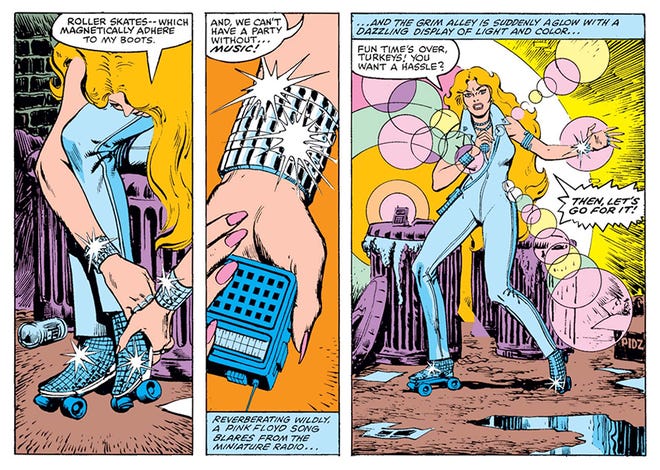 The caption doesn't tell us which song, but I'm betting it was their big disco single, 'Another Brick In The Wall (Part II).'
Skrull Kill Krew #1 (July 1995)
Skrull Kill Krew was a mini-series with a wacky premise: In 1965's antastic Four #2, the team defeated the shape-shifting Skrulls by convincing them they were cows; but what happens when those cows are inevitably eaten?
This Grant Morrison/Mark Millar take on Mad Cow Disease was filled with music references. For example, the original title was going to be 'Skull Kill Kult,' a reference to Thrill Kill Kult, and the skinhead Moonstomp is a reference to the Symarip single 'Skinhead Moonstomp.' But Moonstomp's character design by Brendan McCarthy (left) also includes a t-shirt with the words 'Atom Heart Nutter,' a reference to Pink Floyd's album Atom Heart Mother, whose cover (right) famously featured an intentionally bland portrait of…a cow.
Doctor Strange (November 2016)
When it was Doctor Strange's turn to finally get the movie treatment, director Scott Derrickson wasn't going to pass up the opportunity to insert some Pink Floyd. Unfortunately, he didn't pull a track from A Saucerful Of Secrets, which would've been *chef's kiss*. But the song 'Interstellar Overdrive' — from the band's debut album Piper At The Gates Of Dawn — features one of the coolest riffs in rock history, so I don't blame him.
Legion, season one episode one (February 2017)
David Haller might come straight from the pages of X-Men, but everyone else on the show (aside from two spoiler reveals) are more like vague parallels of characters from the comics. For example, Syd is a Rogue-like who David meets in a psych hospital. But her full name is Sydney 'Syd' Barrett, a reference to Pink Floyd's original band leader, Roger 'Syd' Barrett.
Syd's tenure in the band didn't last long; he was kicked out while recording their second album, A Saucerful Of Secrets, when his bandmates didn't know how to handle his sudden change in personality, a shift that's often attributed to (but never officially diagnosed as) schizophrenia.
Legion, season one episode eight (March 2017)
Legion's season finale featured the tracks 'Breathe' and 'On The Run' from Dark Side Of The Moon, an album that was partly inspired by Syd. The album's title is as much about 'lunacy' as lunar-cy, originally carrying the subtitle 'A Piece For Assorted Lunatics.' The 'luna-' in 'lunatic' comes from the word originally being coined to refer to someone whose mental state was impacted by the phases of the moon.
Guardians Of The Galaxy: Telltale Games #1 (July 2017)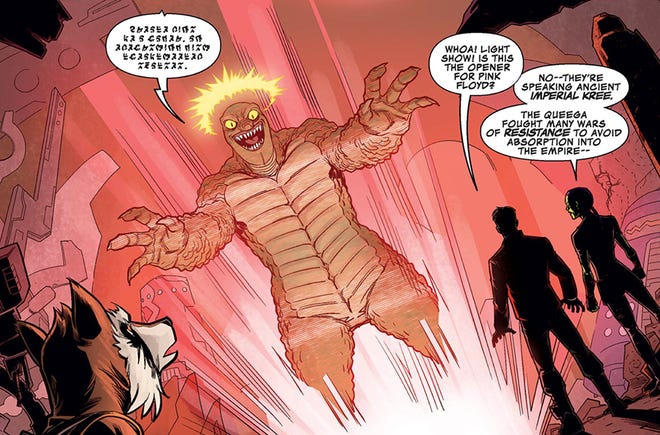 Star-Lord makes a confusing joke: "Whoa! Light show! Is this the opener for Pink Floyd?" While Pink Floyd were known to have impressive light shows, they weren't known to have openers. And if they did, it's unlikely they'd have a competing light show. If I were the editor, I would've suggested something like: "What's with the light show, is this a Pink Floyd tribute act?" (This would be funnier if the enemy looked like a pig instead of a turtle.)
Legion, season three episode 10 (August 2019)
In maybe the most cringe-worthy scene of a TV series that started out strong but eventually lost the plot (both literally and figuratively), David and a vision of his mother sing a thematically inappropriate cover of Pink Floyd's 'Mother,' about a woman who is emotionally abusive to her son. It would be kind of like writing a scene where the Police's stalker ballad 'Every Breath You Take' is portrayed as romantic.
Venom: Let There Be Carnage (October 2021)
Leaning against the wall next to the record player in Eddie Brock's apartment is a copy of Dark Side Of The Moon, perhaps likening his symbiotic relationship with the alien Venom to the album's line "the lunatic is in my head."
Eternals (November 2021)
The first notes of a Pink Floyd song were the last thing I expected to hear during the open a Marvel movie that wasn't Doctor Strange, but 'Time''s lyrics about realizing life started without you thematically perfect for Eternals.