Marvel Studios has "big names" on its wishlist for the Fantastic Four director
Who could direct the next Fantastic Four film? We have some ideas
'Would you like to direct Marvel Studios' Fantastic Four movie?'
That is the question that's being asked right now in closed-door meetings, phone calls, and email exchanges as Marvel Studios president Kevin Feige begins hunting for a director to replace Jon Watts, who left the project in back in April.
"We were looking forward to continuing our work with him to bring the Fantastic Four into the MCU but understand and are supportive of his reasons for stepping away," Feige and Marvel Studios co-president Louis D'Esposito said after Watts' departure. "We are optimistic that we will have the opportunity to work together again at some point down the road."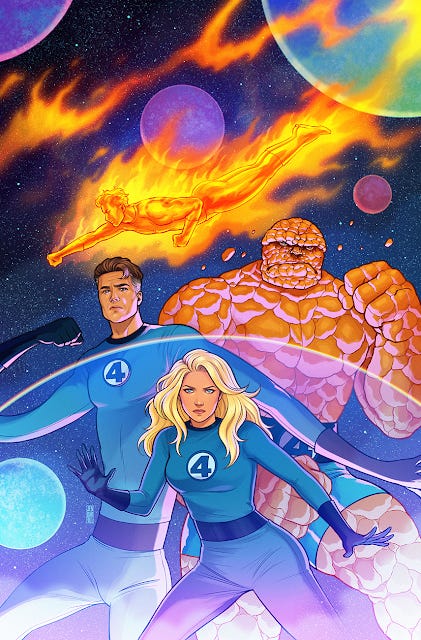 Deadline senior film reporter Justin Kroll says he has some inside information, but for some reason instead of reporting it for Deadline tweeted it from his personal account Wednesday evening.
Kroll says that Marvel Studios has a "long list of candidates", with some "big names" atypical of Marvel Studios' normal directorial hiring strategy. Deadline's senior film reporter quotes a source saying that, due to the amount of candiates, "I'd be shocked if a choice is made before Labor Day."
(A Labor Day decision would be quite fortuitious, as DIsney's D23 Expo takes place the weekend following - and a Fantastic Four film is quite the mainstream picture alongside Pixar's The Incredibles and Disney's Tomorrowland.)
So what does Kroll mean by "big names" given Marvel Studios is the one of the biggest names in Hollywood? Remember, Marvel Studios typically recruits up-and-coming directors before they've made their first successful blockbuster - even names like Joss Whedon (Avengers), Taika Waititi (Thor: Ragnarok), James Gunn (Guardians of the Galaxy), Anthony and Joe Russo (Captain America, Avengers), Cate Shortland (Black Widow), Destin Daniel Cretton (Shang-Chi), and Chloé Zhao (Eternals) weren't blockbuster directors before Marvel.
But there are a few anomalies to that - Marvel Studios' first director, Jon Favreau, came in with the atypical hit Elf. And Marvel Studios' most recent director, Sam Raimi, had a strong series of successes including (but not limited to) three Spider-Man films.
"Kevin doesn't want oversee entire shoot and after not having to worry about that with Raimi, he is very game to same outcome with this shoot," Kroll quotes another source as saying. That could be taken to mean someone who has experience with directing CGI-heavy blockbusters and the cast, budgets, and headaches that go along with it.
So who could it be? There's a couple 'big names' that come to mind, one being the originally planned director of a late '90s Fantastic Four film, Christopher Columbus. Yes, that Christopher Columbus - director of Home Alone, Mrs. Doubtfire, and Harry Potter and the Sorcerer's Stone. Back in the '90s he went so far as to write multiple drafts of a script, but it never came to fruition - so I wonder if there's still a passion there for FF after all this time.
Another option is writer/director Adam McKay, who Marvel fans might know from co-writing the two Ant-Man films but is better known for the Ron Burgundy films, Vice, and the recent Netflix film Don't Look Up. McKay recently expressed interest in doing a Silver Surfer film for Marvel Studios - so there's something to the idea of him doing a Fantastic Four film.
Whatever shape Marvel Studios' Fantastic Four film takes, it would presumably include John Krasinski as Reed Richards/Mister Fantastic after his surprise debut in Doctor Strange in the Multiverse of Madness.
Who do you think should direct the next Fantastic Four film? Tell us in the comments or on social media.