Meet Matthew Barry, one of the 2023 Cosplay Central Crown Championships finalists
The winner of the Cosplay Central Crown Championships sem-finals from Birmingham's MCM Comic Con is coming to Chicago's C2E2 2023 to win it all
Every year, cosplayers from around the world show off their creations at conventions - and the best of the best compete each year in a global tournament called the Cosplay Central Crown Championships. Each major convention has a semi-final where a winner is chosen, and that winner wins cash, prizes, and a round-trip ticket to the yearly finals - which take place this year at Chicago's C2E2 2023.
And in the build-up to the 2023 Cosplay Central Crown Championships finals at C2E2, we're talking to finalists from all over the world as they get into 'con crunch' mode before boarding a plane and meeting for one last, epic competition.
Today we're talking to Matthew Barry, who claimed his place in the Crown Championships with an amazing Anjanath Hunter costume from Monster Hunter World at MCM Birmingham Comic Con.
Popverse: Welcome to the championships! Please tell us a little about yourself as a cosplayer.
Matthew Barry: I'm just a guy who cosplays for fun. Cosplay was always something I wanted to do, but I never had a reason to do it until one day my girlfriend, Chloe, asked me to go to MCM London with her. Overnight I excitedly put together the worst Vegeta cosplay ever. It was amazing, I discovered that I really enjoy being lost in the creative process.
I love cosplaying because it's a great way to make friends. I love making friends through cosplay - some of my best friends I made at MCM comic con, I find it hard to make connections like that elsewhere.
I like cosplaying characters from video games, usually ones with some importance to me such as Baptiste from Overwatch, Squall from FF8, and Geralt from the Witcher. I prefer characters who wear armour, but I think after wearing bulky armour for so long I'm ready for a nice break from that after Chicago!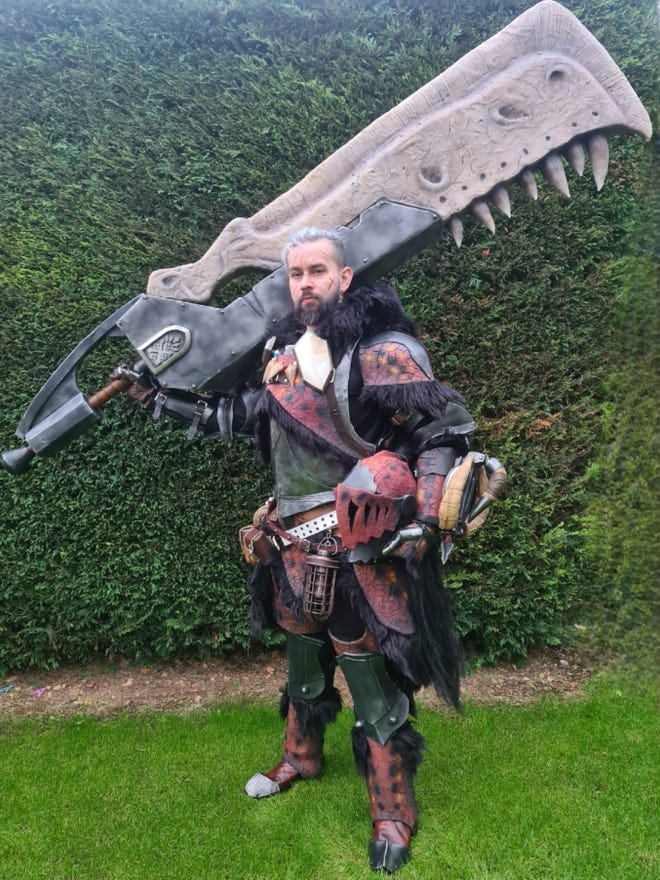 Tell us about your experience at the qualifier.
This was my first time competing ever, I haven't even entered a masquerade or anything before. I have really bad tunnel vision with my own work, and I am absolutely my biggest critic. My Partner twisted my arm, convincing me I was good enough to enter, but I really felt unsure if I could. Looks like she was actually right in the end, it's really helped to change my perspective on how I look at my work.
The competition itself gave me tremendous anxiety the more I thought about it. After actually meeting the other competitors I stopped seeing them as 'rivals' and really saw them as the passionate, amazing people they are. We all got along so well that we stay in touch, and a few of us even met up a few weeks after the contest. I learned a great deal from them, and fondly look back on the experience.
Being up on the stage, having people cheer for me, and seeing so many of my friends that I met over the years of cosplaying… well. I'm really glad I could make you all proud. My heart has never felt so full. They went out of their way to watch the contest for me and it was truly touching. This really highlighted some of the best parts of the cosplay community to me.
What inspired you to make this costume?
I love Monster Hunter and I love Monster Hunter cosplays. I instantly fell in love with the look of the Anjanath armour when I first saw it. It's always been a cosplay that I've wanted to build but never thought I could. I met a fantastic zinogre cosplayer, whisperwindsc, who really hyped me up to finally build it. It was mainly the lack of space in my house that put me off trying, but they convinced me to 'just do it'. My close friends, Eatsleepcosplay, also spent some time after that con convincing me until very early in the morning to go through with it. I woke up the next day with an incredible passion and it began there.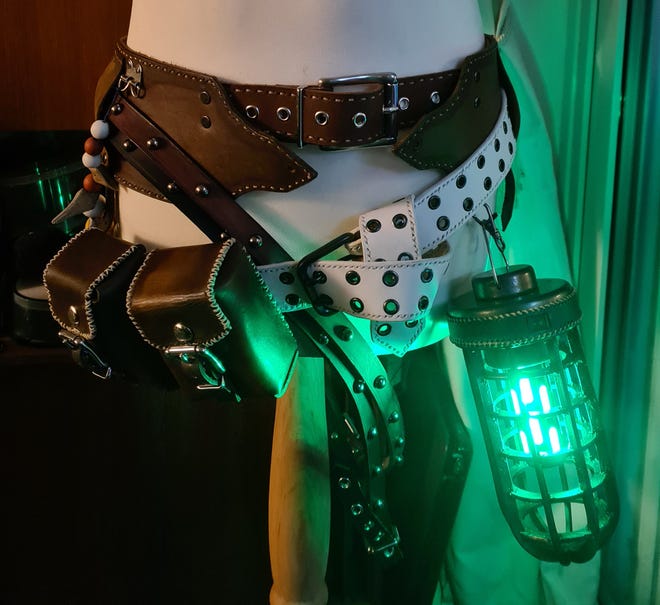 What was your process to bring it to life?
Before I created the costume I had to spend many hours 'researching' it. On my Playstation. Quest after quest. Monster after Monster. Until I remembered I should actually be working on the costume…
The costume itself started coming together when I built the coil. There's a LOT of belts there. I used veg tan leather which I tool, dye, and stitch by hand. Hand crafting the leather really helped to get into the hunter/gatherer mindset of monster hunter. What I was working on felt more authentic this way. I spent a long time getting every detail down on the belts, pouches, carving knife, and those weird circular dangly things on the back.
I used about 10 tubs of foam clay to build organic textures across the armour. Then about 3 meters of worbla to strength the metallic surfaces. There was about 30 hours spend individually hand soldering foam clay scales on the fleshy hide. If I were to make a low rough estimate of the time spent on this project; it was probably just over 1,000 hours. On that note if I were to go back in time and tell myself how much the project would cost me through materials alone I would have *seriously* considered it instead of diving head first at it. Then have an existential crisis when confronted by my future self.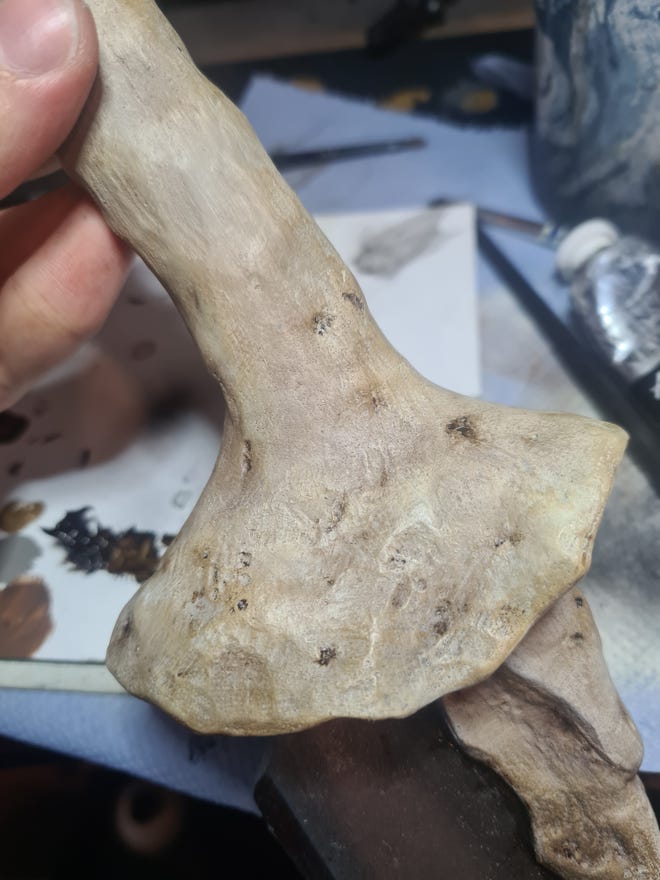 What did you learn while making this costume?
I learned a great technique for making bone effect. It involves sanding a texture into foam clay, soft layers of primer, a variety of shades of paints, and brown oil paint that is smudged thin to stain and create a discoloured bone enamel effect. I'm honestly flattered by how many people have asked me about it. I would describe my creative process as being 'chaotic', so having anyone take a sincere interest has been humbling.
Within myself though I have learned not to doubt my abilities so much and I have gained a great amount of confidence.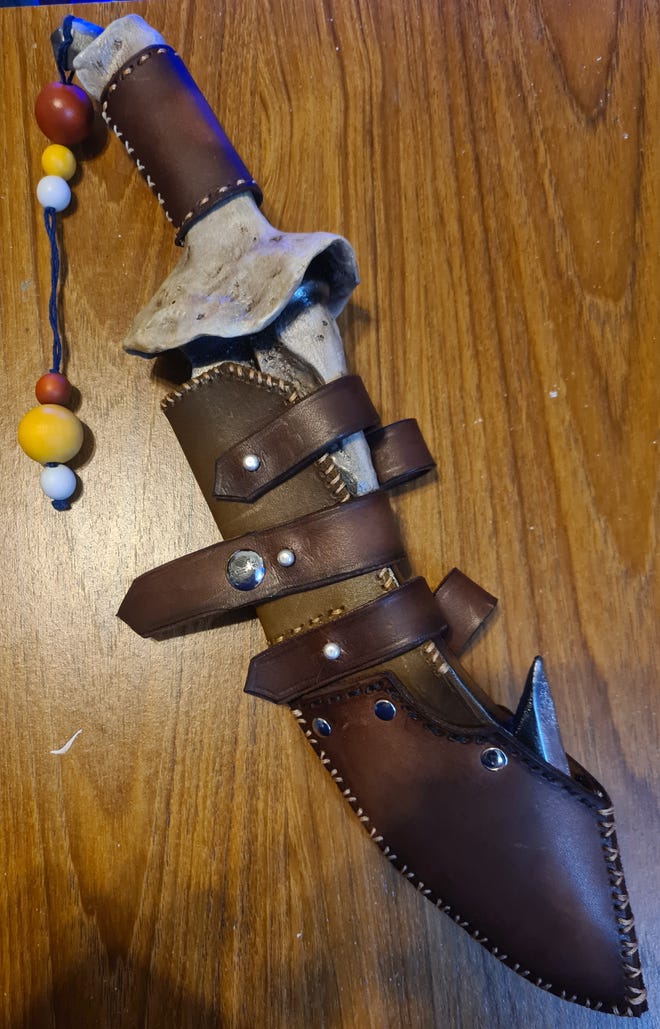 What is your favourite part of the costume? And Why?
I would say it's the carving knife on the back. I spent a long time getting it perfect. Getting an authentic metal effect on the blade, a good texture on the bone, the right stitch for the leather edges, and the button even has the Astera logo laser engraved onto it. The amount of detail I wanted to capture (on what is often an overlooked part of monster hunter cosplays) was very important to me. It is one of the first times I have finished working on something and felt happy. I couldn't see anything I wanted to change or could criticize myself on. That's a rare moment for me. Sadly, most of it is hidden inside of it's leather sheath on my back so basically nobody is going to see it!
Are there any other details or features you would like to highlight?
The Bone Greatsword isn't going to be realistic for transport, so I'm currently considering alternative weapons to build for Chicago that can fit in a plane.
A detail I'm proud of was the subtle coat of arms effect on the chest shield – In the game it's a flat gold surface, but in the original concept art it is heraldry. I'm really pleased with the middle ground I stuck using different shades of gold.
I reupholstered an old pair of cowboy boots with leather that I airbrushed with leather dye, that was fun. And the fur collar around the neck of the armour is padded with teddy stuffing. I can have naps standing up. It is very convenient!
What are you most looking forward to about the final in Chicago?
I have never been to an international convention before and I'm super excited to see what it's like.
I have no idea what to expect so I am really excited to try something that's both familiar in concept, but a totally new experience in reality. One of my best friends who lives in America has said he would travel out to see me and I'm really excited to spend time with him. It's comforting to know that whether I place or not in the finals that one of my best friends will be there for me.
Also Chicago pizza.
Any advice for anyone thinking about entering a competition like this?
You can do it.
Competing when you have no experience of the competitive circuit is daunting. You'll see big name cosplayers with massive followings and years of experience of winning trophies and you really weigh yourself up by comparison. Art is a deeply personal thing and the thought of having your art critically judged is terrifying. I kept talking myself out of the competition because I'm a nobody cosplayer and thought what I've done isn't "good enough".
I didn't think I could succeed because I couldn't see what others saw in my work. You absolutely can compete, and you have every chance to place regardless of any self-doubts. It is important to remember though that just because you don't place in the top 3 doesn't mean you've 'lost'. You've only ever lost if you don't try, everything from that point is a learning experience. You will meet great people and learn so much from having experts examine your work.
My advice is to try your best and enter if you feel passionate about what you've made and want to give it a shot. You've nothing to lose and everything to gain.
You can follow Matthew on Instagram
---
The Cosplay Central Crown Championship finals will be one of many C2E2 2023 panels Popverse will be livestreaming this year. Here is a round-up of everything Popverse will be doing at C2E2 2023.