Matthew Lillard shares what it means for actors to appear at conventions and meet the fans
The Scooby Doo and Hackers actor got real during the chaotic Scream cast reunion panel at ECCC 2023
If Friday afternoon's Scream cast reunion panel was more chaotic than might have been expected — thanks to Matthew Lillard's dogged determination to both stay offstage and answer as many fan questions as possible during the panel's runtime — that didn't mean that there wasn't time for a tender moment, when he talked about what it meant for him and his cast mates to appear at shows like Emerald City Comic Con.
For anyone who wasn't at the What's Your Favorite Scary Movie? Scream Cast Reunion panel, all that really needs to be said is that you need to watch it for yourself to get a sample of the genuinely off-the-wall energy that filled the room, as Neve Campbell, Jaime Kennedy, Skeet Ulrich, and Popverse's own Veronica Valencia found themselves on stage dealing with Matthew Lillard roaming the audience with a microphone and a seemingly irrepressible need to hug as many fans as possible. It was such a surreal experience at times that no description can adequately describe it; you really need to check it out for yourself.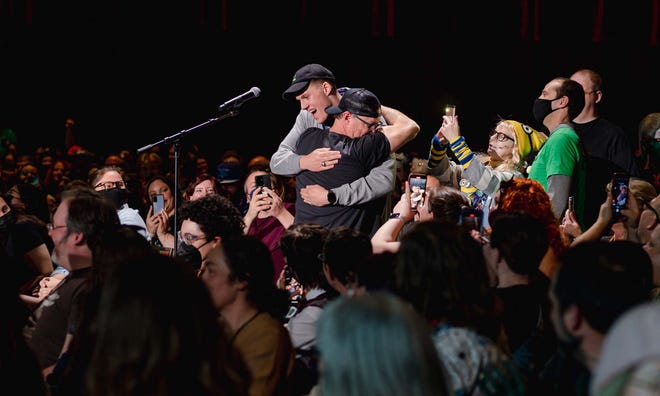 In the midst of this, Lillard did take a minute to talk about the realities of what it means to be a working actor, and the importance of making appearances at shows like ECCC — and it proved to be a surprisingly touching moment.
"Just so you're clear, I haven't done in a movie in, like, four years. I've done TV. Do I want to do movies? Yes! But they're hard jobs to get," Lillard says in response to a question about whether or not actors got input into their on-screen deaths. "It's not like you're going, 'Oh, I auditioned seven times, I have notes on those lines. We are constantly — maybe not Neve — but we are constantly begging for work, looking for jobs, and trying to feed our families."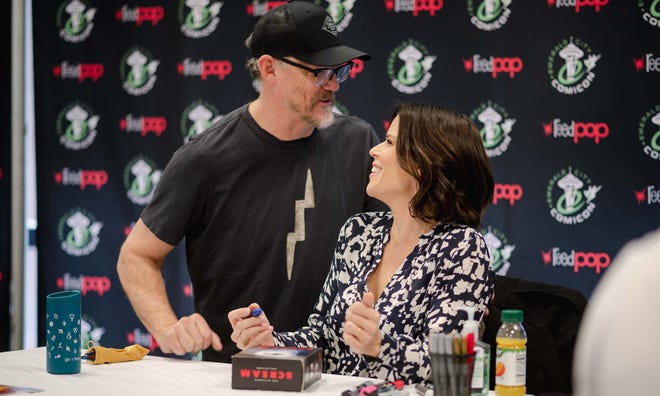 He continues, "I'm doing a movie called Five Nights at Freddy's, which I predict is going to be the single biggest thing to happen to my career since Scream… but it's been a long time for that to happen, so make no mistake, these weekends are super powerful for us, because you're helping us feed our families. So you may not hear thank you enough in these halls, but we are grateful."
Of course, the audience loved to hear that — and not just because of the cheers that greeted the mention of Five Nights at Freddy's. That wasn't the only future project that Lillard mentioned that excited the Main Stage audience: he also revealed that there are plans to make a sequel to 1995's Hackers, telling the crowd to "angry tweet the world" to help it happen. If that's not hacking the planet, what is?
---
Everything Popverse is up to this Emerald City Comic Con.