Matthew Vaughn announces Kick-Ass: The Reboot is on the way
The director says the reboot will be "like nothing that's ever been done on film before."
Matthew Vaughn has announced that Kick-Ass: The Reboot will begin shooting before too long. The news was revealed at New York Comic Con 2023, as Vaughn promotes his upcoming movie Argyle.
The first Kick-Ass movie was released in 2010 and starred Aaron Taylor-Johnson as Kick-Ass and Chloë Grace Moretz as Hit Girl. Both stars returned for the 2013 sequel, Kick-Ass 2. However, Vaughn says that at this point, returning to these familiar characters isn't in the cards.
"I felt with Kick-Ass, I would like to make a Kick-Ass 3 with those characters," Vaughn told SyFy Wire. "But I think we just need to use a sorbet, shall we say, to cleanse everyone's palate, remind everyone that Kick-Ass is crazy and different. This movie will be talked about like, everyone like 'What did they go and do?'" While he didn't reveal any specific details, he did say, "It's the spirit of the first Kick-Ass done in a modern way."
It is possible that Vaughn's vision for Kick-Ass: The Reboot will be an all-new story. However, it's also possible that it will take direct inspiration from the comics by Mark Millar, which went on to featuring a second character shouldering the mantle of Kick-Ass: Patience Lee.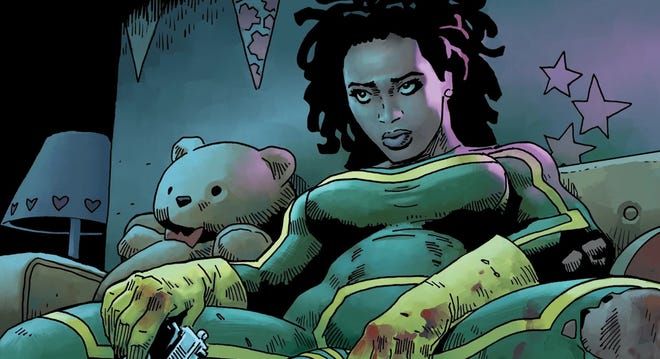 After the original Kick-Ass, Dave Lizewski, retires in the third volume of Millar's Kick-Ass comics, Lee adopts the vacated persona in his place. A Black veteran of the War in Afghanistan, Lee is a mother of two who dons the costume in order to fight crime in New Mexico.
But who might play this new Kick-Ass, should she be the subject of Vaughn's movie reboot? Back when the comic was being released in 2018, Millar himself shared his thoughts on Twitter. "A lot of fans asking who I'd want as this new Kick-Ass," Tweeted Millar. "To be honest, one choice really jumps out and that's Tessa Thompson."
Want to watch all of Vaughn's Argyle panel at New York Comic Con 2023 right here, right now on Popverse? Then simply click this link!
---
Popverse will be providing wall-to-wall coverage of New York Comic Con 2023, with an all-star crew of writers, editors, and video producers there all four days (and nights), as well as in advance of the show. You can follow along to this coverage as well as the panels we're streaming with our
NYCC Popverse coverage guide
.