Max's Doom Patrol is back in October with the surprise return of an old cast member
New episodes debut starting October 12
It's a classic good news/bad news situation, in that we have a date for the return of Doom Patrol to Max — but it's for the final episodes of the show ever. Here's some more good news, though: there's a new trailer for the final episodes, and they look as batshit as ever — and include an entirely unexpected returning cast member.
The show will return with two episodes October 12, and then run one new episode every Thursday following until November 9. The official description of the final episodes — which technically constitute the second half of season 4 — goes a little something like this: "In the series' gripping final episodes, the Doom Patrol meet old friends and foes as they race to defeat Immortus and get back their longevities. Battling between saving the world and each other, the Doom Patrol are forced to face their deepest fears and decide if they are ready to let go of the past in order to take their future into their own hands... and away from the zombie butts."
Yes, the zombie butts are still around. But take a look at the trailer below for something a little more surprising: Timothy Dalton is also back, it seems… but what, exactly, is the Chief doing wandering around after he died in the previous season?
There's some new key art for these final episodes, just to underscore the sad end of all things...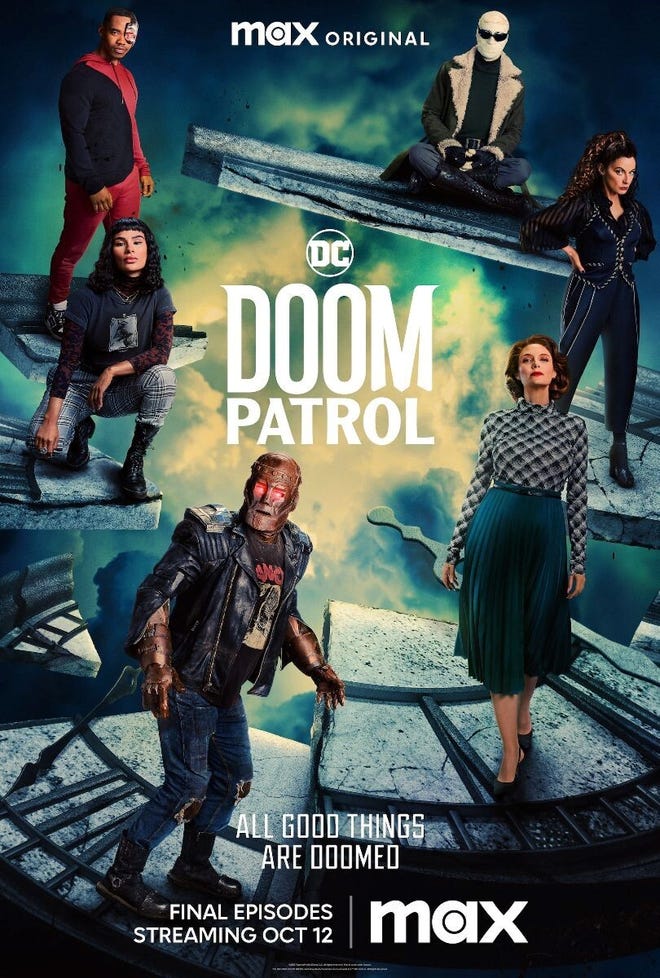 As ever, Doom Patrol stars Brendan Fraser, Matt Bomer, Diane Guerrero, April Bowlby, Joivan Wade, Michelle Gomez, Skye Roberts, Riley Shanahan, and Matthew Zuk; the show continues to be shown b Jeremy Carver, with Greg Berlanti, Sarah Schechter, Chris Dingess and Tamara Becher-Wilkinson attached as executive producers.
---
Doom Patrol and Titans were both cancelled in January of this year.