Mean Girls will be getting a limited-edition pink frosting creamer from Coffee Mate
Plastics-approved extra flavor for every morning as long as supplies last.
Mean Girls is staying relevant in modern pop culture and inspiring new products that no fan could've possibly predicted. Up next is... a pink frosting-flavored creamer?
Yes, it's true: Coffee Mate is bringing Mean Girls into the world of hot and cold beverages with a limited-edition creamer that should be as striking as the movie's signature pink tone and as sweet as a good frosting. Given Mean Girls and Coffee Mate's popularity, this should be an easy win, right?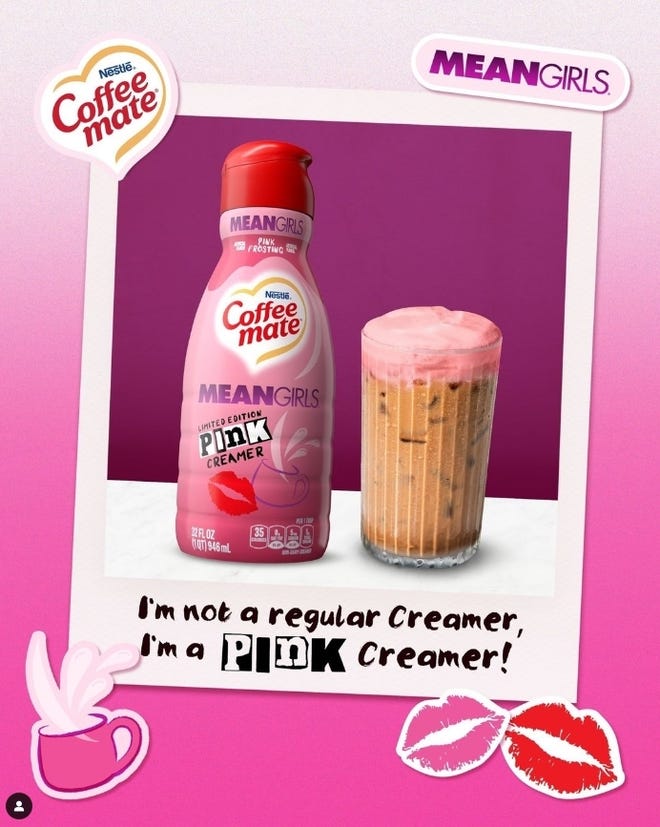 This announcement came via Instagram on October 3, the fan-created Mean Girls celebration day. The "so fetch" and "Plastics-approved" creamer has "notes of sweet, delicious pink frosting flavor in every sip." Marketing talk aside, we must admit it does look pretty good. However, casual coffee drinkers and fans alike will have to wait until January 2024 to get their hands on the creamer, as it was created to celebrate the milestone 20th anniversary of the legendary teen comedy movie. It will available at US stores everywhere, though we must underline its "limited-edition" nature, meaning it's likely to sell out fast. Coffee Mate hasn't specified for how long it'll be sold either.
Mean Girls was released on April 30, 2004, and grossed $130.1 million worldwide on a $17 million production budget, quickly becoming a cult classic among millennials. Critics also praised Mark Waters' direction and Tina Fey's screenplay, claiming it was "comic gold" and a welcome, refreshing twist on female-fronted humor and teen comedies. Of course, it also greatly elevated Lindsay Lohan, Rachel McAdams, Lacey Chabert, and Amanda Seyfried's careers to the next level. It even spawned a musical which premiered on Broadway in March 2018 and played for two full years.
---
Looking for more theatrical and streaming comedies? We have you covered with our guide to all the major films coming soon to theaters and streaming.